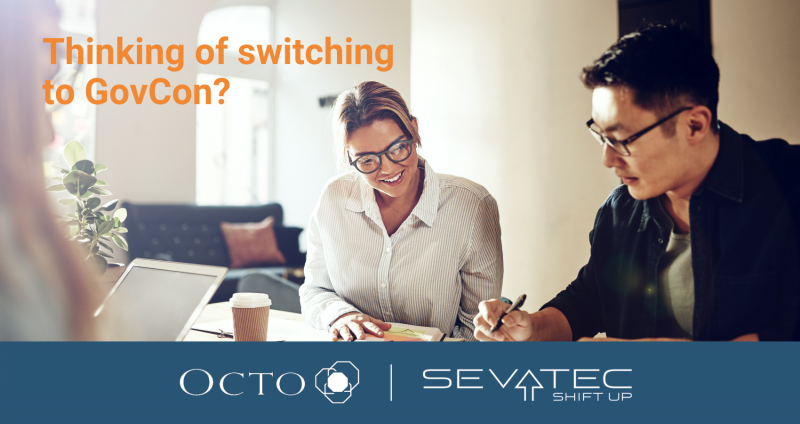 If you're thinking about switching industry gears, working in government contracting (GovCon) might seem like a viable option. And why not? GovCon companies are critical to the success of agencies and organizations throughout the world, augmenting staff hired directly by the Federal Government. It's a $600 billion industry that offers a plethora of career paths in sectors like defense, intelligence, health, finance, technology and more. Before you make that change, however, it's important to recognize that GovCon is a unique space. If you've been working in a business-to-business or business-to-consumer position, a business-to-government job can require adapting to serious differences. Following these guidelines from Octo's recruiters can help you create a strategy for success as you plan your transition from one industry to another.
Research the agencies.
GovCon companies support a variety of agencies and organizations, each of which offers a unique environment with opportunities and challenges. Prior to applying for positions, in addition to researching the GovCon companies themselves, learn which federal agencies jobs of interest typically support. Become familiar with agency missions, current programs and future initiatives. In addition to using information on an agency's website, explore online publications that provide relevant news on the Federal Government and contracting space. Be prepared to share what you know about the company's customers during an interview, demonstrating you're interested in their purpose. This will leave a positive impression on hiring managers and differentiate you from other candidates, but more importantly, it will help ensure you are selecting a suitable career path.
Analyze the job description.
Knowing what the company is looking for and how you may fit can help you effectively convey your transferable skills on your resume and during a conversation. Before jumping into GovCon, carefully review job descriptions from different contracting companies. You'll discover each job description can demand any number of qualifications, depending on the customer and position. Once you narrow your search to positions you want to apply for, create a comparison chart of the job requirements versus your related experience. Make sure you meet the necessary requirements. For example, if you see a security clearance is needed for the position and you don't have one, then you aren't qualified, unfortunately. However, if you see, "ability to obtain" a security clearance, that means you can apply if you are confident/comfortable completing the investigation process.
Do you have experience working in different industries? If so, communicate how you were able to quickly learn and navigate a new sector. Explaining how you adapted to an unfamiliar industry and applying it to your transition to GovCon shows you have the kind of flexibility required to make this move.
Learn the lingo.
Government has its own language, one filled with acronyms and verbiage that may sound strange to the untrained ear. It's okay to feel a little lost at the start, and anyone who knows you are new to GovCon will understand. To help ensure your interview process and initial days as a government contractor go smoother, learn key terminology associated with GovCon, your desired position and the government sector. While you will not become fluent overnight, your efforts will go a long way toward ensuring a more rapid, successful transition.
Prepare for a new environment.
Working for a federal contractor may mean you end up supporting diverse customers, depending on your new company's portfolio. From supporting agencies that lead in health research to those that foster a strong economy, keep our skies safe, protect critical data or defend our nation's borders, contractors' projects are mission-based and make an impact. It's a great motivator, knowing what you do directly contributes to the quality of so many lives. But remember – working in diverse environments and/or supporting myriad customers also means you will need to exercise your flexibility.
Operating in a tight-knit community might also be new for you. GovCon is unique in that many contracting companies collaborate, necessitating constant communication and networking. Keep this in mind as you navigate your career and be careful not to burn any bridges.
If you have done your homework and you are ready to apply for a position in GovCon, go ahead – update your resume and social media profiles. Fill out that application and upload your documents. Reach out to recruiters on LinkedIn. You'll be on your way to a fulfilling career with new experiences and opportunities.
"Corporate Meets Community" is a column highlighting Octo's corporate culture and opportunities. Based in Reston, Virginia, Octo solves the Federal Government's most complex challenges by providing Artificial Intelligence, Blockchain, Agile DevSecOps, Cloud Engineering, Open Source, Cybersecurity, and Data Science solutions. We continually develop ways to transform IT, producing results vital to national security, intelligence, health care, and more. Our approach is collaborative, and our outcomes are superior. Join our team of innovators. Explore careers with Octo.