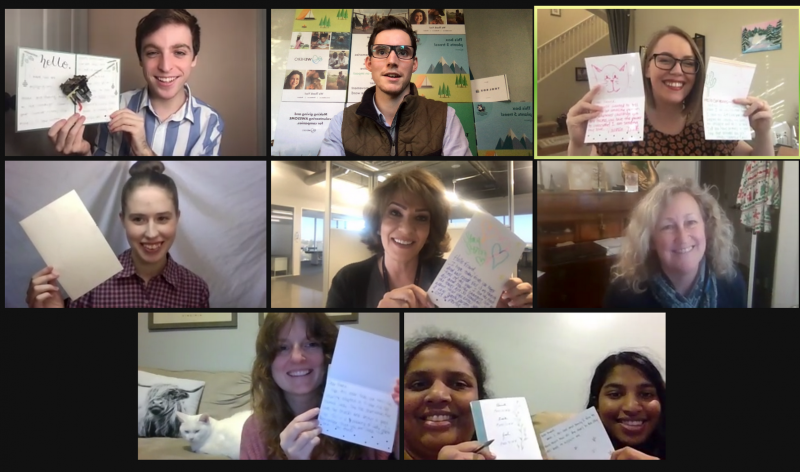 The COVID-19 pandemic will alter many holidays and other traditions this year, but there is still so much we can do to spread cheer and support others. At Octo, a Reston-based federal IT modernization services provider, this time of year has always been our "Season of Giving." And while we can't volunteer in-person this year, there are still many ways we will give back. Here are a few ideas we're eager to share with our extended community, along with activities for you to consider participating in.
Write away loneliness – It is more important than ever to fight loneliness with love, especially for our elders. The CDC advised early on that those with weakened immune systems are at higher risk for complications with COVID-19. Because of the risk, nursing homes have not been able to accept visitors for several months now, and in many places residents aren't able to socialize. Resulting loneliness poses a number of different risks, such as lowered immune resistance, sleep issues, and symptoms of depression. Each of us can help spread happiness, combat loneliness and give our elderly neighbors the boost of endorphins that typically comes with receiving a hand-written note, even if it's from someone you've never met.

To support our elderly community, Octo recently teamed up with WeHero and the non-profit Love for Our Elders to host a virtual volunteer activity during which Octo staff and their families wrote letters to seniors. "We may need to social distance, but that doesn't mean anyone should feel alone," said Jacob Cramer, founder and executive director of Love for Our Elders. "Generosity right now is so important. This letter writing can help fill us all and give us some control and agency during a time when it's very easy to feel powerless."

The greatest part is that anyone can do this from the comfort of their own home. You likely already have materials and stamps, and if not, there is always the option to send a video message. Together, we can send waves of homemade cards, handwritten sentiments, and recorded messages of hope, humor, and love across the country. Learn more at loveforourelders.org.

Virtual volunteering – There are still many options to give back virtually, even if time is limited. Browse the web for virtual volunteering opportunities and find one that suits your skills, interests, and availability. org is a great place to start. You can choose your project based on how much time you have to give. Thirty minutes? Two hours? There's a job for you, and your charity of choice will thank you for it!
Donate money to a cause close to you – Since the start of the pandemic, charities and other non-profit organizations continue to see increased demand on their programs and services. And yet, a survey conducted this summer by the Charities Aid Foundation of America found that close to a third of these organizations predict they may have to shut down by sometime next year as a result of the pandemic. COVID-19 has caused the cancellation of or drastically altered many annual charity events that non-profits rely on to fund their programs and services. So, whether you are passionate about feeding the hungry, providing educational programs for kids, protecting vulnerable populations, or addressing climate change challenges, there are many great causes you can support while staying safe at home.

One great cause Octo is proud to support this Giving Season is the Walk for a Day fundraiser, matching up to $10,000 in employee and public donations for the Pediatric Brain Tumor Foundation and the National Brain Tumor Society. This fundraiser is led by two of Octo's own, colleagues and friends who both overcame brain tumors and have now committed to walking over 100 miles to raise money and awareness. To give, visit https://octogiving.wespire.com and donate by December 31, 2020.

Festive lights – Even if you don't go all-out like Clark Griswold in National Lampoon's Christmas Vacation, you can still reap the mood-boosting benefits of colorful, twinkling lights. Science says so. Each different color on a string of holiday lights has a unique frequency and vibration, like the nerves, muscles, and organs in our body. Chromotherapy, better known as color therapy, unleashes the regulating vibrations of each color to help the body regain balance. So, go ahead and string those lights up for neighbors and passers-by to enjoy!
Support small businesses – Many small businesses have been forced to close because of the pandemic, and many more are struggling. Restaurants and minority-owned small businesses have been hit the hardest by COVID-19. The good news is we all have the power to lend our support by ordering items for pick-up or delivery and by purchasing gift cards. Can't exchange gifts physically this year? No problem! Pop a gift card into a handmade card filled with personal sentiments, funny jokes, or anything else that will bring your loved one joy. Make a friend or family member happy AND support a small business at the same time!
We can all play a part in preventing the spread of COVID-19 while helping to spread some cheer. This holiday season especially, make a point to give back however you can. You'll benefit, and so will others. Happy holidays from all of us at Octo!
"Corporate Meets Community" is a column highlighting Octo's corporate culture and opportunities. Based in Reston, Virginia, Octo solves the Federal Government's most complex challenges by providing Artificial Intelligence, Blockchain, Agile DevSecOps, Cloud Engineering, Open Source, Cybersecurity, and Data Science solutions. Octo enables the government to meet the needs of rapidly changing missions with agility. We challenge the status quo, empowering federal agencies to leap IT hurdles by using emerging technologies to create solutions for rapid modernization, enhanced citizen engagement, and maximized human impact. We continually develop ways to transform IT, producing results vital to national security, intelligence, health care, and more. Our approach is collaborative, and our outcomes are superior. Join our team of innovators. Explore careers with Octo.