Provided by BadWolf Brewing Company | Photos by Nikki Weih
BadWolf Brewing Company is about family. This year, a new series will allow the public to come in and help brew for a day for free. The only catch is that there are limited spots. "It's a really fun opportunity for anyone looking to come brew on a professional level for a day all on a small system," says Sarah Meyers, owner. "If you have ever home brewed or thought about taking it to the next level, this is a great way to do it and the only cost is your time!"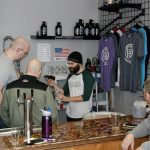 Participants from the first Brew Day in February really enjoyed themselves. They all met promptly at 11:00 a. m., talked about a recipe, and brewing commenced. While they worked, they came up with the perfect name: "Too Many Cooks". The beer of choice: a sour New England IPA. Jeremy Meyers, owner, says, "It will be ready in the next week or so for the public to come and try. It was truly a joy to meet everyone and brew with them." One of their long-time customers and home brewers, Nikki Weih, was kind enough to take pictures of the event.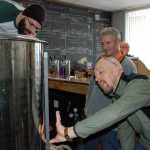 The next Brew Day is scheduled for March 25. The event details are listed here.
For Valentine's Day, BadWolf is releasing a Chocolate Raspberry Stout, along with a giveaway promotion of cake pops hand-crafted by the Lemonade Bakery in Manassas. There is a limited supply, so try to get there early. There will be free hot chocolate for the kids. The event starts at 4:00 p. m. on Feb. 14.