Hope is real. That might sound cliché. Nonetheless, we believe it at Octo and so do the students who have graduated from H.O.P.E. Project DC, a community IT training program benefiting young adults, starting with those in DC's Ward 8.
H.O.P.E. stands for Helping Other People Excel, and the program achieves this by bringing new hope through technical training and professional development to young adults who are economically and socially disadvantaged. The training program was founded by Raymond Bell in 2009 and he continues to lead and expand it today—over a decade and 2,000+ graduates later.
Service at the Core
At Octo, seva—serving a greater purpose—is one of our core values. Seva is visible in the ways our employees find purpose in serving the missions of the Federal Government. It is also apparent in our corporate social responsibility (CSR) priorities to serve vulnerable communities and advance food security, technology education, and health and wellness. Octo's CSR partnership with H.O.P.E. Project DC encompasses all these priorities.
Through the partnership, Octo is directly impacting technology education outcomes by engaging our experts to create career pathways, provide mentorship, and lead training sessions for young adults in underserved communities. Meanwhile, we also provide impact indirectly, by breaking down barriers and building the community necessary to open high wage career opportunities that help these communities close food security and health gaps. The big picture goal is to lift communities from a vulnerable state to a thriving one.
A Partnership of H.O.P.E.
In April, we shared our plans for advanced IT training career pathways with the H.O.P.E. Project DC community during a Day in the Life webinar on AWS/Cloud Engineering, led by Matt Simon, Director of Octo's Cloud Center of Excellence. With support from a few team members, Mr. Simon walked attendees through what it's like to work in cloud engineering, what it takes to get there, and what a career progression in cloud could look like. The first career pathway will engage students in a series of self-paced, guided, and hands-on training experiences over the course of several weeks. We anticipate launching six training groups during our first year, to achieve our goal of helping 100+ students get the training and guidance needed to secure gainful employment in technology roles in the DC area. When asked for his insights on the program so far, Mr. Simon shared, "It is great to see how enthusiastic and curious the students of H.O.P.E. Project DC are about learning about cloud and the types of career opportunities available in that technical space. I'm really excited about working with this dynamic group and helping them launch into new careers in the cloud space." 
In May, Mr. Simon led a kick-off meeting for the first cohort of students selected for AWS/Cloud Engineering training, the first of several training paths. Future pathways are envisioned to align with Octo's Technology Centers of Excellence to provide advanced technology training for roles including AWS/Cloud Engineering, Cybersecurity, Artificial Intelligence, Data Science, and more. The program engages students in hands-on learning, with access to self-paced training materials, small-group learning sessions led by Octo experts, mentorship opportunities, as well as other non-technical business and life skills training.
Beyond Our Own Walls
We already offer professional training for our staff, through our internal Octo University, and we are now working to adapt Octo University's programming to best fit the needs of H.O.P.E. Project DC participants, whether that means a fully online program or a hybrid version including immersive in-person experiences. According to Vanessa Davis, Octo's Manager of Employee Engagement and CSR, "These advanced IT training career pathways are designed to put students on track toward a career that positions them to earn a livable wage. This is the greater purpose, to provide individuals living in the communities served by H.O.P.E. Project DC with a friendly helping hand and a life-changing opportunity to rise above intergenerational poverty."
It takes a village to make a real difference. With that in mind, members of Octo's Employee Engagement & CSR Committee have also been reaching into their networks to secure support for the H.O.P.E. Project DC. So far, we are proud to be in early talks with both Cloud Academy and The Motley Fool Foundation. Cloud Academy has provided 20 unlimited usage licenses which will help Octo support up to 20 students at any given time by giving them access to a self-paced, tech skills development platform that accelerates knowledge and forms learning habits with baseline skill assessments, guided learning paths, and hands-on labs. Cloud Academy is focused on eliminating painful skill gaps through a programmatic approach that scales across people and teams. The company delivers role-specific training on leading cloud platforms (AWS, Azure, Google Cloud Platform, Alibaba Cloud), essential methodologies to operate on and between clouds (DevOps, security), and capabilities that are unlocked by the cloud (big data, machine learning, IoT). Additionally, The Motley Fool recently conducted an engaging webinar with the students from H.O.P.E. Project DC—covering topics like responsible spending, investing, and mindful money management.
With the growing presence of advanced technology career opportunities at large companies like Amazon, Google, and Salesforce, as well as at government contracting firms like Octo, the DC area has a distinct opportunity to leverage partnerships with training programs like H.O.P.E. Project DC to increase diversity in the technology industry. Founder and President of the training program, Mr. Bell says, "H.O.P.E. Project DC is the RIGHT Program at the RIGHT time to help end poverty in Washington, DC through Information Technology training, coaching and mentoring with the support of great organizations like Octo." What's more, DC H.O.P.E. is expanding beyond its own boundaries by offering the program online for anyone. That's great news for disadvantaged communities in the DC metro area and beyond.
Looking Forward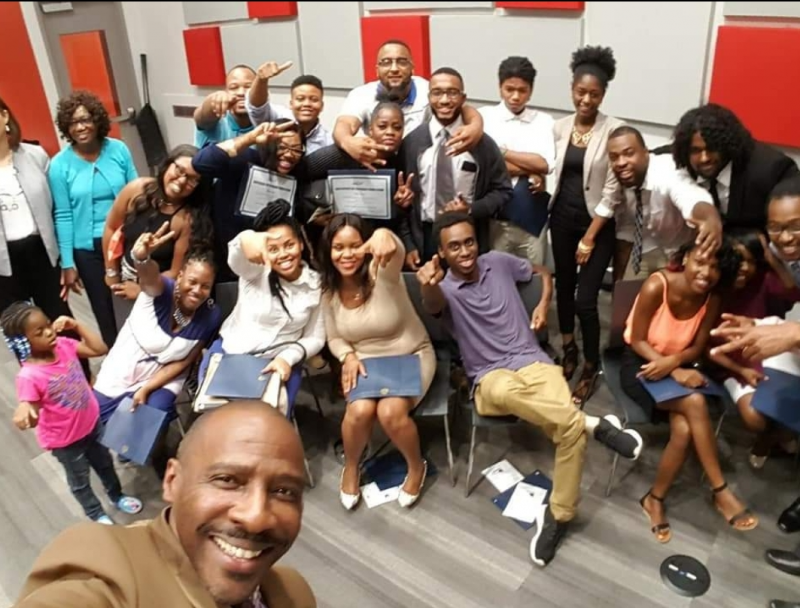 At Octo, we are always eager to collaborate to achieve sustainable outcomes across the communities and causes we serve. We feel strongly that the graduates of H.O.P.E. Project DC are proof of a growing community of residents in and around the District using technology to create a better life for themselves and their families. Take it from 2015 H.O.P.E. Project alum Hameed Paul who currently serves as an Associate Business Systems Analyst on an Octo contract with the Defense Health Agency (DHA). Mr. Paul shared that, "Graduating from the H.O.P.E. Project was a major personal achievement that led me to a successful IT career. I am proud to be a part of the H.O.P.E. and Octo families!" Through seva, hope is real.
Looking to work for an employer that supports employees and serves the community? Visit our careers page. 
About Octo
Octo is a technology firm dedicated to solving the Federal Government's most complex challenges, enabling agencies to jump the technology curve. We don't just modernize. We create lasting change through best practices that help agencies implement and integrate at-scale next-generation technology and innovation. With a mission and service first mentality, we provide Agile, DevSecOps, Artificial Intelligence, Cybersecurity, Blockchain, Cloud, Open Source, and Data Science solutions, collaborating to solve customers' pressing problems. Headquartered in Reston, Virginia, Octo delivers proven technology vital to the intelligence community and health care, defense, national security, and civilian agencies that directly impact our nation. Visit www.octoconsulting.com.