Provided by Prince William County Schools (PWCS)
Students and new Superintendent share that first day excitement
Superintendent of Schools Dr. LaTanya D. McDade knew exactly what students in PWCS were feeling on Monday, August 23. It was the first day of the 2021-22 school year for students, and also the first, first day of school for Dr. McDade as the new Superintendent of PWCS. She visited nine schools throughout the Division and spent time speaking with students and staff about their first-day experiences.  Watch video.
Reminder to submit your New School Year Packet as soon as possible
Log in to the ParentVUE app or the ParentVUE website using your ParentVUE UserID and password. Click the Online Records button at the top of the screen.
PWCS Community Events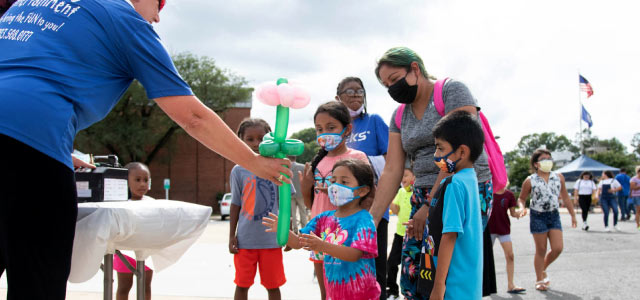 Most of the time, when you pull into a school parking lot, you normally see parked cars and school buses. However, at two recent community events held at Rippon and Unity Braxton Middle Schools, the parking lots were filled with food trucks, parents, students, and school staff enjoying an evening of community engagement.
Prince William County Public Schools (PWCS), in partnership with SPARK, the education foundation for the School Division, hosted the events. Families from Rippon and Unity Braxton were invited, as well as families from the feeder elementary schools for each middle school. Families had the opportunity to meet staff and families from the various schools in attendance and the new Superintendent of Schools, Dr. LaTanya D. McDade.
"I am excited to meet so many families, students, and staff," said Dr. McDade. "Listening to parents, caregivers, and community members is vital as we chart PWCS' path to academic achievement."
Attendees enjoyed food from various food trucks, and entertainment provided by magician Mike Hummer, also a substitute teacher for PWCS, balloon artist Carol Turman, DJ, and photo booth. Families also received free grocery kits from the Curbing Hunger on Wheels (C.H.O.W.) Wagon and school packs donated by the Staples store in Manassas totaling $7,000. Free information on resources were available from INOVA Partnership for Healthier Communities, as well as PWCS Department Human Resources. Other sponsors included Omega Psi Phi Fraternity, Inc. – Pi Lambda Lambda Chapter, Spell It Out Prince William, and Virginia American Water.
First day of school snapshots – the tradition continues
On August 23, schools across PWCS welcomed back students for another school year. Opening Day 2021 was a great one across the School Division and in classic first-day tradition, parents captured the annual milestone with pictures. Check out some of these photos in "This Week in PWCS – First Day of School Edition."