Provided by Keep Prince William Beautiful (KPWB)
A Note from KPWB Executive Director Aleta Daniels
We're very much so missing out regular in-person education and outreach events and community cleanups, But – we are joyfully taking this time to discover new ways of interacting with our community.  We've been making do-at-home videos and activities, and collaborating with our partners on projects that will hit the ground running once it's safe to gather in public.
We are noticing that, with a decline in larger-scale litter cleanups and an increase in single-use items (those gloves and masks we're all wearing), the amount of litter has increased tremendously.  We are working on an ongoing compilation of heavily-littered locations that we can tackle as a community once it is safe to do so.  If you are aware of any litter eyesores, please drop us a line so we can record the location!
Prince William County has seen a staggering 40% increase of items for trash pickup.  Many of those items are too big to put in the trash bins. These recommendations were provided by the Prince William County Solid Waste Division:
Minimize waste and maximize care:
Do not set extra bags outside the cart
Keep your spring-cleaning pile in the basement, attic or garage for now
Flatten cardboard boxes to create more room in the recycling cart
Grass-cycle lawn clippings
Make sure all trash is in a bag and bags are securely closed
No plastic bags in recycling. Make sure recyclables are empty, clean and dry. Check with your county, city or town for what to include in recycling.
Dispose of used wipes, tissues, and paper towels in trash bags that are tied shut and place inside trash containers for disposal. Never dispose of disposable wipes, paper towels, rags and similar items in the toilet. These items damage sewer systems to the point of system failures and potential backups.
Don't litter! When outside the home, properly dispose of masks, gloves, wipes and other items in the trash.
Events
All of our events are currently on hiatus while we hunker down and weather this storm.  But, we do have a fun line-up of daily challenges for you and your family!
We featured this in our last newsletter, and while we're phasing it out in exchange for new engaging offerings, we'd still love your participation!  Check our Facebook Page for a complete list of past Challenge Weeks.
We've introduced a series of weekly challenges.  These are family-friendly activities. Each Daily Challenge is posted on our Facebook page, so make sure you're following us to be alerted when each challenge is announced.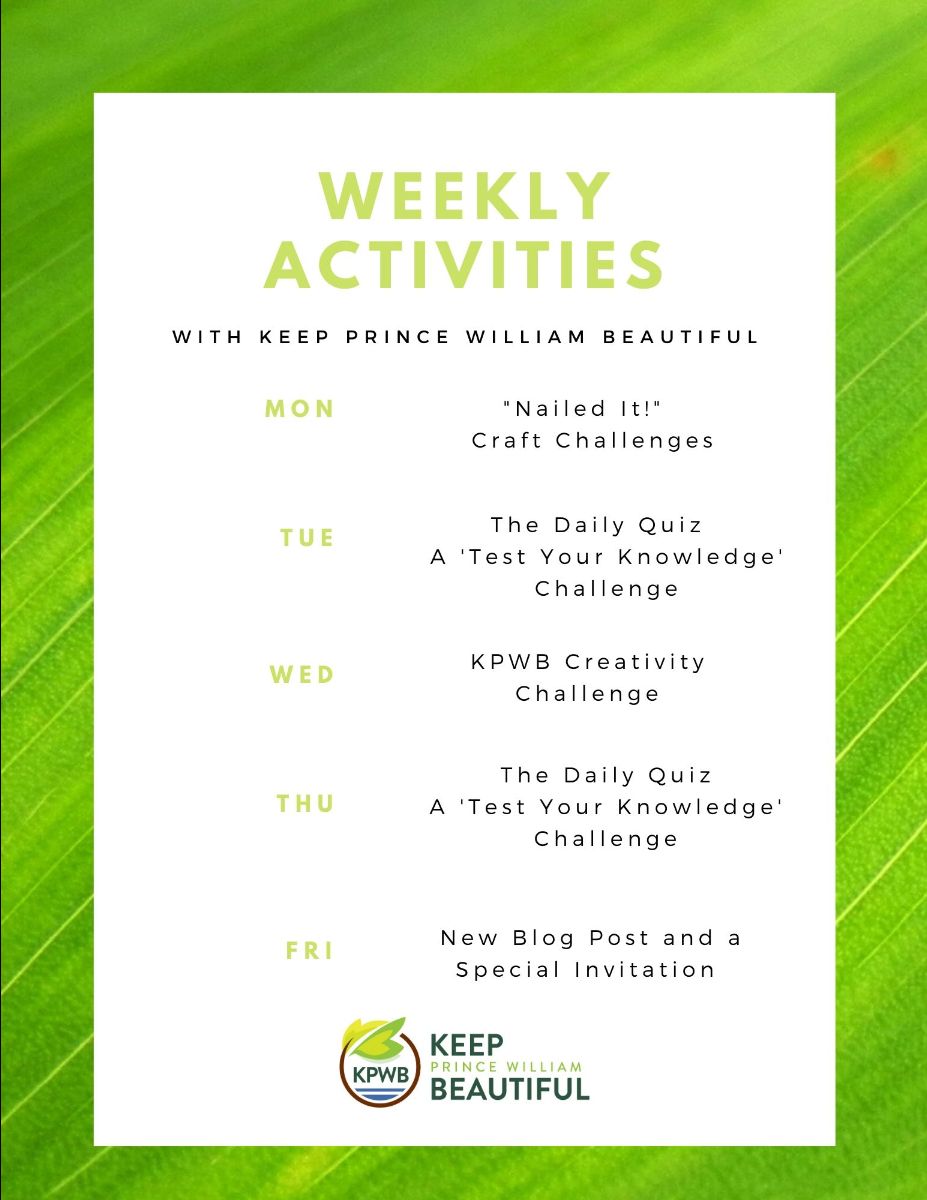 Adopt-a-Spot
Spot of the Month: Kipp Hanley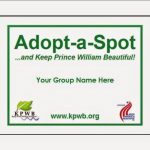 This month we are highlighting Kipp Hanley's Adopt-a-Spot, located along a section of Ridgefield Road. Although a new Adopter, he's hit the ground running (well, walking) and has shown an enthusiasm for a clean community.
For a chance to be featured, make sure you're regularly reporting your cleanups and fulfilling the required amount of cleanups (at least four per year).  We'd also love to receive your cleanup photos!
Spot to Adopt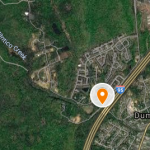 The corner of Mine Road and Van Buren Road is awful lonely, and looking for someone to clean up litter!