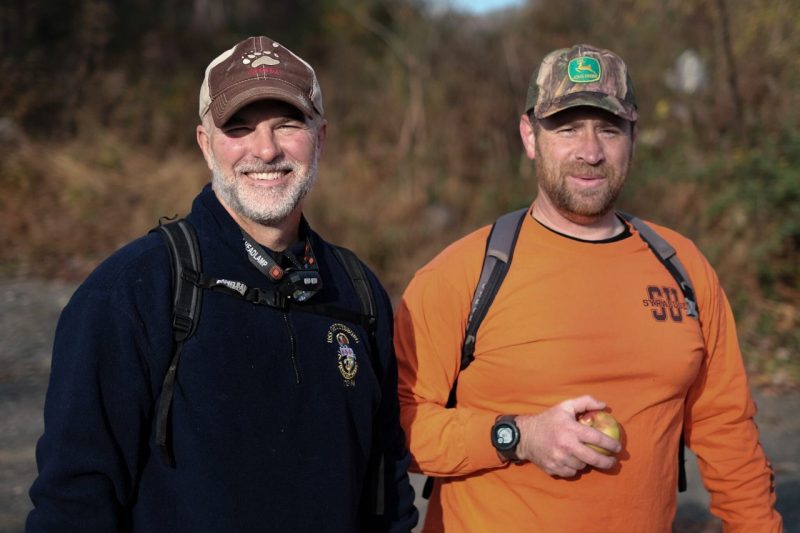 Meet Marv McGuire and Jim Vant, brain tumor survivors who became long-time colleagues and friends over the course of their careers at Reston-based government contracting company Octo. Their journeys have brought them through decades of public service and careers in GovCon. But those journeys also brought challenges that connected them and helped them discover their joint passion for setting and achieving personal goals, including taking to the trails to raise awareness.
Surviving Brain Tumors, Setting Goals
McGuire and Vant say their hiking-for-awareness goals came in recognition that "life is short, family is the most important thing in life and being able to physically engage in life fully is an incredible gift from God."
As a three-time brain cancer survivor, McGuire has his own story. While on active duty as a Navy Supply officer in 2006, he unexpectedly had a grand mal seizure that led to the discovery of a cancerous brain tumor. He underwent brain surgery to remove the malignant tumor, and since 2006, has battled and overcome two recurrences. Having endured brain surgery, seizures, post-operative paralysis and extensive chemotherapy and radiation treatment regimens, he says he now possesses a unique perspective on "what is truly important in life."
In July 2001, Vant survived a major seizure and subsequent brain surgery for a benign brain tumor. While he recovered, he lost some function in his left foot, and remnants of the tumor require periodic exams. That same year, Vant was living in Manhattan during the Sept. 11 attacks. He says he was also greatly impacted by the death of one of his closest cousins, Rebecca Pratt, on Sept. 28 that same year. Pratt had been battling lymphoma. Most recently, a dear friend of the Vant family, Joanne Crane, passed away in March 2020 at the age of 44 as a result of terminal brain cancer. She is survived by her husband and two young daughters. Vant says the culmination of these events set him on a path working towards what is truly important in life.
"These events, a strong friendship and a desire to live life fully generated some deep conversations between Marv and myself," says Vant. "We started exploring our joint interest in completing the Appalachian Trail within the next three to five years."
While discussions about the Appalachian Trail undertaking ebb and flow, the colleagues and friends set their eyes on two more immediate "in a day" physical challenges in 2020.
The first challenge was to hike the length of the Fairfax County Connector Trail, Fairfax County, into Occoquan, Prince William County, on Nov. 14, 2020 – about 43 miles in 18 hours. "Although the hike was an incredible physical and mental challenge, the support we received from our Octo friends and our families made it all worth it," McGuire says. "Knowing our efforts are raising awareness for and supporting a great cause made the journey something I will remember for the rest of my life."
The second challenge will be to walk more than 50 miles of the Pinellas Trail in Tampa Bay, Florida on Dec. 12, 2020.
Garnering Community and Corporate Support
Inspired by Vant's and McGuire's efforts, Octo has taken the opportunity to help raise further awareness and funds for brain tumor and cancer-focused charities that support families of brain tumor/cancer patients. Octo is matching up to $10,000 in employee and public donations for the Pediatric Brain Tumor Foundation, a non-profit dedicated to the childhood brain tumor community and serving more than 28,000 U.S. children and teens and their families. Donations will also support the National Brain Tumor Society, a non-profit organization dedicated to the brain tumor community in the United States. Gifts will be doubled by Octo to provide twice as many supplies, offer twice as much assistance and do twice as much good.
To give, visit octogiving.wespire.com and donate by Dec. 31, 2020.
"Corporate Meets Community" is a column highlighting Octo's corporate culture and opportunities. Based in Reston, Virginia, Octo solves the Federal Government's most complex challenges by providing Artificial Intelligence, Blockchain, Agile DevSecOps, Cloud Engineering, Open Source, Cybersecurity and Data Science solutions. Octo enables the government to modernize faster and meet the needs of rapidly changing missions with agility. We challenge the status quo, empowering federal agencies to leap IT hurdles by using emerging technologies to create solutions that enable rapid modernization, enhance citizen engagement and maximize human impact. We continually develop ways to transform IT, producing results vital to national security, intelligence, health care, and more. Our approach is collaborative, and our outcomes are superior. Join our team of innovators. Explore careers with Octo.