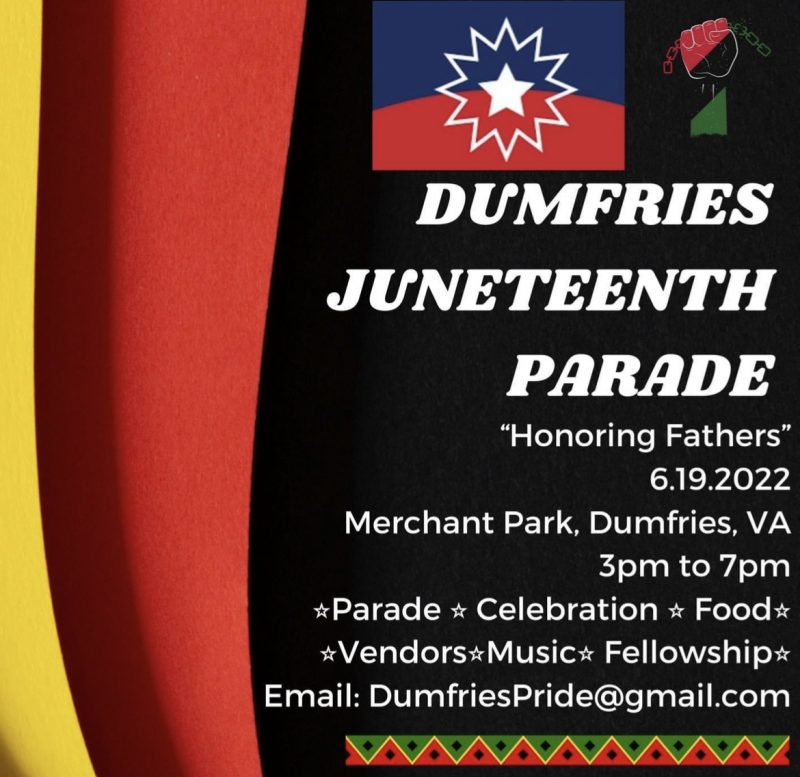 Provided by Juneteenth Parade Committee
Greater Prince William and surrounding communities are invited to participate in the Annual Juneteenth Parade & Jubilee Honoring Fathers! The parade is being hosted by the Honorable Councilwoman Cydny A. Neville and a dedicated volunteer Juneteenth Committee.
Dr. George M. Hampton is the Grand Marshall for the parade. The parade route will begin at Dumfries United Methodist Church (3890 Cameron St.) and conclude at the Dumfries Slave Cemetery, where there will be a presentation by the Friends of the Dumfries Slave Cemetery, and time to honor the ancestors.
Following the reflection and remembrance at the Dumfries Slave Cemetery, participants will gather at Merchant Park for a Jubilee honoring fathers!  The jubilee will feature speakers Neabsco Supervisor Victor S. Angry and Dr. Michael I. Otaigbe. There will be community informational tables from the Sheriff's Office, local nonprofits, and PWCSA will be present with their Aqua Water Van to provide educational games, cold water, and PWCSA water bottles. Island Flavourites will be the food vendor. Historic Dumfries Virginia will be on hand to share stories and educational resources about the Town of Dumfries. Participants are asked to bring a blanket/chair and enjoy the beautiful Merchant Park with their families.
Youth organizations, The Divine Nine, elected officials, candidates, businesses, nonprofits, and more will be walking in the Annual Juneteenth Parade.
"There are several Juneteenth events taking place in our community this year, and I am excited to be working with an amazing group of volunteers to close out the full weekend of events celebrating Juneteenth with a parade and jubilee!" said Councilwoman Cydny A. Neville
Participants are asked to park at Dumfries Elementary School (3990 Cameron St.) and stand along the front fence of Merchant Park and Dumfries elementary school to cheer on marching groups.
Stay connected with updates for the Inaugural Juneteenth Parade via Facebook, as well as the Facebook event page.