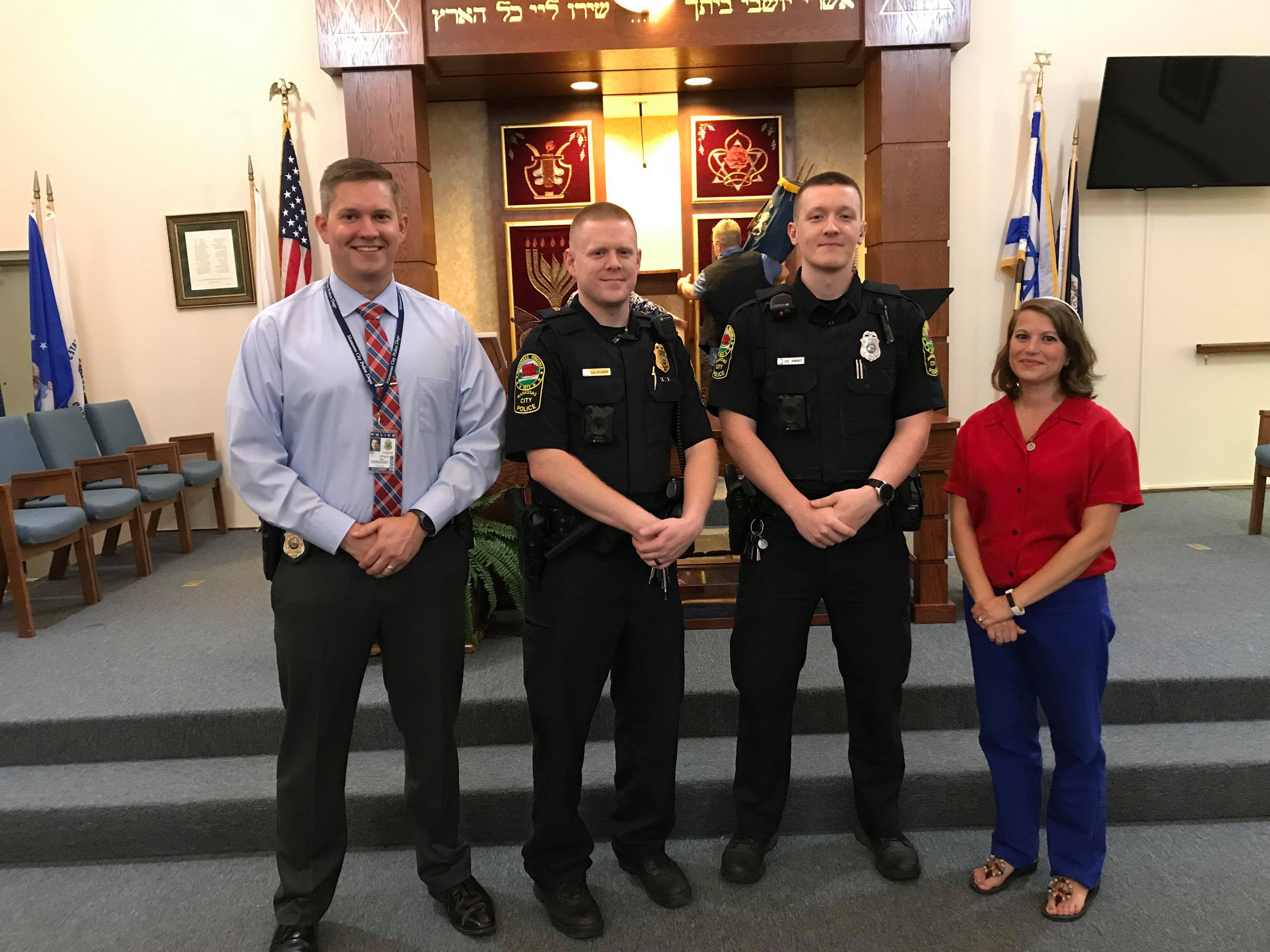 By Rabbi Lizz Goldstein, Congregation Ner Shalom
On Friday, Sept. 13, Congregation Ner Shalom hosted its Sixth Annual Patriot Day Shabbat Service. This special sabbath evening service honored Prince William County's first responders, including firefighters, police officers, EMT, and active and retired military personnel. Congregation Ner Shalom, located in Woodbridge, is Prince William County's only synagogue and is pleased to connect with the whole community when opportunities like this service present themselves.
Rabbi Lizz Goldstein led the service, which was broadcast live to members of our armed services via live streaming on YouTube  With Cantorial Soloist Amanda Jensema, she led the congregation in song, opening the evening with "America the Beautiful." After Alec Levy, CDR U.S. Navy, Retired, and President of the synagogue, welcomed the honored guests, the congregation rose and sang the National Anthem.
Service Leaders and Dignitaries
Local dignitaries attending the service included Occoquan District Supervisor Ruth Anderson, Neabsco District Supervisor Victor Angry, Police Chief Barry Barnard, Manassas City Councilman Mark Wolfe, a congregant of Ner Shalom, and State Delegate Elizabeth Guzman. A contingent of police officers from the Prince William County Police Department and the Manassas City Police Department was also in attendance, as well as Fairfax County Police Officer Howard Mergler, treasurer of our congregation. Chief Barnard spoke, reflecting on Sept. 11, 2001 and the bravery of the first responders on that day and since, locally and around the country.
Ner Shalom's Harry Kantrovich, a Retired Navy Command Master Chief Petty Officer, addressed the congregation. His speech honored the local county heroes who have died in the service of their community and their country, including Colin Wolfe, a member of Congregation Ner Shalom.
In deference to those in attendance not of the Jewish faith, most of the service was done in English instead of the traditional Hebrew. However, when a prayer was in Hebrew, the Rabbi explained where the meaning of the prayer could be found, and the integrity of the Jewish prayer service was maintained with thoughtful spirituality.
The service concluded with Amanda Jensema leading the congregation in singing Lee Greenwood's "God Bless the USA."
Congregation Ner Shalom
Congregation Ner Shalom is dedicated to preserving the traditions of the past, pledged to serving the spiritual, cultural, educational and social needs of our congregation and the community in the present, and committed to providing innovative and progressive ideas to meet the challenges of the future. Ner Shalom is a diverse congregation reaching out to all people. We welcome everyone who is interested in participating in the lively, vibrant world of Reform Judaism. Ner Shalom is your Jewish community, as well as your extended family in Prince William County. For more information please call us, (703) 878-6904 or email our Chair of Membership, Membership@nershalomva.org.
Lizz Goldstein is the rabbi at Congregation Ner Shalom in Woodbridge, the only synagogue in Prince William County.  She resides in Vienna and also works to build Jewish community among millennial activists in the DC area.  She can be reached at rabbi@nershalomva.org or through nershalomva.org/