By Amy Falkofske
Aurea Franklin of Woodbridge is a veteran of the 101st Airborne Division who released her debut book Silent Freedom in September of 2021. This memoir details her time in Iraq and examines life at war from a woman's and mother's perspective. Franklin said she was inspired to write the book because she wanted to tell what the men and women who served went through.
"This book talks about our fallen heroes, our comrades and my friend, who didn't make it back. Writing this book was getting the pain out of my heart, and now that I have written it, it makes the pain easier to bear," she said.
A Four-Part Memoir
Franklin wrote her book in four parts, highlighting her different deployments. In Part I, Destination: Mosul, she talks about the miracle of being able to rejoin her unit in northern Iraq. This was a difficult time for Franklin. She left her young son home, was going through a divorce and did not have anywhere to go once her deployment was over.
"The president of the United States finally found a replacement for us. So you know what? Hallelujah, we will be able to rejoin our families again. But I was homeless, so I entrusted everything to God. He was with me. So I said, I'm not going to worry about it. He'll take care of me. He'll provide a home. He'll provide shelter. He will provide everything. And that's what happened," said Franklin.
Part II, Second Deployment. Destination: Tikrit, Iraq, details her time on the support team ensuring soldiers got paid on time and coordinating their trips back home if there was an emergency. Franklin refers to this time as "historic" and talked about spending a lot of time with "pilots and warriors."
"I enjoyed my time with them. I was not a pilot. I didn't fly a helicopter, but they gave me an experience of a lifetime," she said.
Part III, Back to Iraq. Destination: The Zoo covers Franklin's return to Iraq after retiring from the Army. She decided to go back because she wasn't feeling fulfilled in her role as a civilian contractor at Fort Campbell. While there, her mission was to hire and manage linguists to translate Arabic into English.
"We were responsible for deploying linguists to military units. The Zoo was used to house the animals of Saddam Hussein and his sons. We were told that Saddam fed the animals people he disliked. I tried very hard to discard that thought as we lived in the Zoo," she said
Part IV is called The Fertile Soil of Iraq. During this deployment, Franklin administered contracts with linguists assigned to the southern part of Iraq. She chose the title for this section, because she was amazed to find something besides desert in Iraq.
"I didn't know about Iraq's fertile soil until I traveled to the south. It was the first time I saw green fields in Iraq. I had been seeing distressed places, sand and weathered dust storms since I deployed to Iraq. I had never seen such vegetation, and even better, it lay along one of my favorite rivers, the Tigris River," she said.
Silent Freedom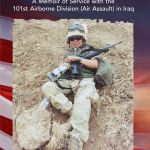 Franklin defines "silent freedom" as the right to think what you want and be what you want that starts with an idea inside of you. She points out that her "silent freedom" is powered by her hope and faith in God.
"We're supposed to walk or live by faith and not by sight. And during the war, I cherished my 'Silent Freedom.' When I didn't hear any gun fighting, when I didn't hear anybody hating each other so much, when I felt peace, when I had good food to eat, I cherished my 'Silent Freedom,' and my faith in God, and the hope that we're going to have a better future. And 'Silent Freedom' is to think what I want to think and to do what I wanted to do," she said.
Miracle in Iraq
After Franklin completed a critical mission in Southern Iraq with a hospital, she wanted to rejoin her unit in Mosul. Still, she was told by her commanding officer it was impossible and would take a miracle, because she was a woman. It turns out she got not one, but three miracles.
Miracle one: She met a man she calls Saint Michael, a pilot who showed up supposedly to pick up a patient from the hospital, but there was no patient needing to be picked up. Franklin asked if she could be his passenger, and he said "yes."
The second miracle was when a soldier showed up in a Gator and offered to take Franklin to the helipad to meet the pilot. She then rode in a Blackhawk helicopter and arrived in Baghdad.
"And then my third miracle was when I saw the first soldier wearing a combat patch of 101st Airborne Division, air assault combat patch. I was really, really happy and crying at the same time. I hugged him. He was one of our IT guys that was separated from our unit because he had to perform a critical mission. He added me to the list in a Chinook (that was going to Mosul)." said Franklin.
Needless to say, Franklin's commanding officer was surprised to see her.
"My commanding officer said, 'It would take a miracle to come here,' and so I told him, 'Sir, that's exactly what happened,'" she said.
Franklin has received two Bronze Star Medals for meritorious service in a combat zone. She is a lifetime member of Veterans of Foreign Wars. Additionally, she is a lifetime member of the Federal Asian Pacific American Council, where she served as a chairwoman, and now as an advisor. Currently, she works in
Washington, D.C. helping veterans and supporting several non-profit organizations.
To learn more about Aurea Franklin or to get your copy of Silent Freedom, go to silentfreedom101st.com.
Amy Falkofske is a freelance writer and photographer. She has a Master's degree in Film-TV with a concentration in screenwriting. She lives in Bristow with her husband, two boys and two Beagle dogs.