The Bald and Beautiful Campaign started with a conversation between two friends, Katia Aguirre and Lizbeth Rodriguez. After Lizbeth had purchased a bald Barbie doll for her daughter, the two of them had a thought: "Wouldn't it be great if we could give these dolls to little girls who are going through cancer and might be losing their hair?" That thought soon became the cornerstone of their campaign.
In the case of Lizbeth, she has personally dealt with cancer in her family and she knows the devastating impact it can have on everyone. Hair is so important to us and losing it can be so traumatic, especially if you're a little girl who has dolls with full heads of hair. Changing this norm has become their mission. Their hope is that by providing dolls with no hair to little girls fighting cancer, they can show them that they can be beautiful with or without hair! Through their GoFundMe Campaign, they have been able to raise donations to do just that!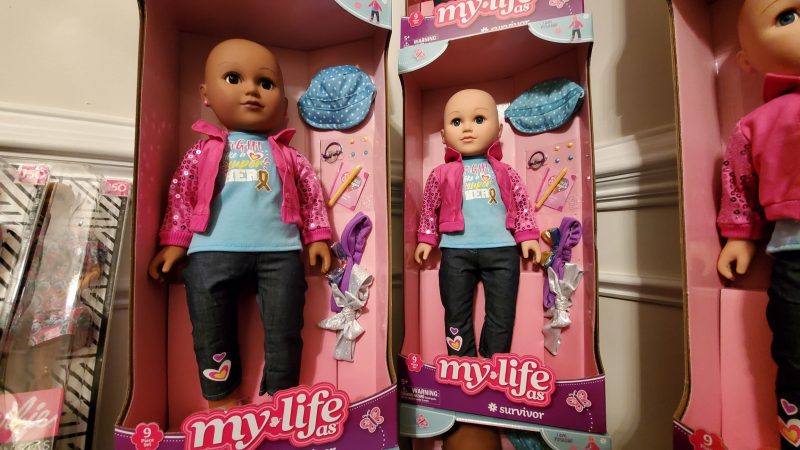 On Sept. 27, 2020, dolls purchased through the GoFundMe Campaign will be donated to Inova Children's Hospital's Child Life Services in Falls Church. Gift in Kind Coordinator Andrea Miranda from Inova Children's Hospital expresses the profound meaning these donations have on the young girls who receive them. "These Barbie cancer dolls are so important to our patients because they allow young girls fighting cancer to feel empowered and give them the strength to fight and beat the disease," said Andrea. "For a young girl who is losing her hair from chemo treatments, not only do these dolls bring empowerment but also comfort. We cannot begin to thank our community for donating these dolls to our young fighters, especially during the month of September which is pediatric cancer awareness month. These gifts mean so much to not only the patients, but their families as well."
Once they reach the milestone of thirty dolls purchased for Inova Children's Hospital, the remaining dolls will be donated to other local children's hospitals in the DMV and/or local families with little girls fighting cancer. They hope that by raising awareness and providing dolls with no hair to little girls, they can show them that they are not alone in this fight.
We all can relate to how difficult this year has been. Each of us has been affected in one way or another, and being engulfed by bad news can be very disheartening. "This pandemic has taught us to appreciate what truly matters and to look at things from a different perspective," said Katia.
"Personally, it has really taught me to appreciate my health. However, I want to show those that may not be in good health that they have not been forgotten. It is my hope to inspire citizens in the community now more than ever to help others." Families of little girls with cancer in the DMV area are invited to contact Katia if they would like a doll. For more information, click here to visit their GoFundMe page.