Story and photos by Rachel Nohe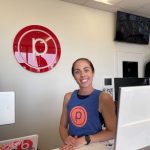 After months of preparation and anticipation, Pure Barre Woodbridge officially opened to welcome dedicated Barre enthusiasts as well as new members.  On July 5, owner Chelsea Shea opened the new studio at 14463 Potomac Mills Rd. in Woodbridge. She discussed what it means to be a part of the Pure Barre community and how it is changing the workout game.
Pure Barre, which has been around for 20 years, is a low-impact workout that targets each muscle group in 50-minute classes.  Participants engage in a series of exercises that focus on strengthening areas of the body, such as the inner and outer thighs, the core, and the seat area.  In addition, each workout is choreographed to the beat of up-tempo music.  This is critical as it both helps set the mood and guides clients through the exercises.  Shea said, "What we are giving our clients is very scripted, and it's based on the kinesthetic science of how our body works." She added, "We guide them verbally, but the music is what drives it."
A Class for EveryBODY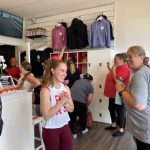 There are four classes members have the option to take: Foundations, Classic, Empower, and Reform.  The first, Foundations, is the introduction class designed for beginners.  It allows new members to build their confidence as well as get a preview of what other classes are like.  In Classic classes, participants have the option to use props such as double tubes, looped double bands for resistance.  This class involves high-intensity movements that were created to strengthen and tone different muscle groups.
Empower is all about cardio.  In this class, members engage in moves on and off platforms to elevate their heart rate.  The final class is known as Reform.  This class uses TRX bands hooked to the bar and baseboards to provide an extra ten to fifteen pounds of resistance during the workout session.
One of the many benefits of Pure Barre is that members can personalize their experience based on their fitness journey and comfort zone.  "We'll spend time with people one-on-one deciding what are your fitness goals," Shea said. "Pure Barre is for everyBODY, because no matter what health issues or injuries someone has, we can modify it and make it for you."
The Barre Around Town
If you want to see what is hopping at the Barre, come to Pure Barre in Woodbridge this Friday, July 9 and join their Tuck and Glow session, a glow-in-the-dark class.  Catering will be provided by 703 Nutrition and Success Kitchen. On Sunday, Pure Barre is hosting a Pure Party at Waters End Brewery from 5:00 to 8:00 p.m; Porks and Pigs will be providing food, and bluegrass artist Shannon will be performing.
For pricing and class schedule, visit purebarre.com/classes.
Rachel is a senior Media Arts and Design major, concentrating in Creative Advertising, at James Madison University. She also volunteers for Prince William Food Rescue. In her free time, she enjoys game nights, spontaneous jam sessions, and restaurant hopping with her friends.