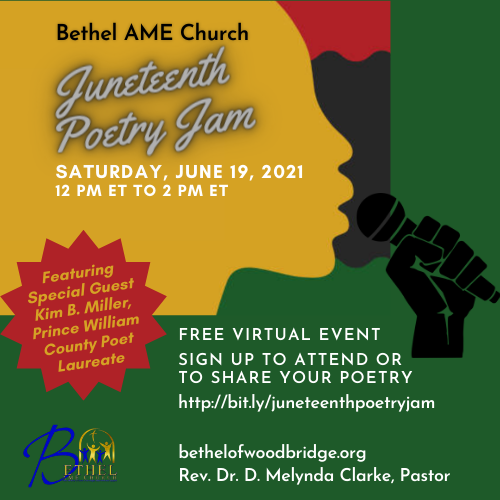 Provided by Bethel AME Church
Bethel African Methodist Episcopal (AME) Church is hosting a Juneteenth Poetry Jam on June 19, 2021, at 12:00 noon. Juneteenth, also known as Juneteenth Independence Day or Freedom Day, is considered the oldest known celebration commemorating the ending of slavery in the United States.
This virtual event (hosted on Zoom) is open to the community nationwide and will feature Ms. Kim Miller, the first African American Poet Laureate for Prince William County. The James Madison University Furious Flower Poetry Center, the nation's first academic center for Black poetry, will also be represented. Bethel AME Church welcomes other poets to share their poetry.
Be part of this special observance of a date so important to African Americans and our nation. Please note, those wishing to attend or share their poetry do not need to be affiliated with the AME Church. There is no cost to attend this virtual event but registration is required to receive your personalized Zoom link. Register at bit.ly/juneteenthpoetryjam.
The event will be livestreamed at facebook.com/BethelAmeChurchMontclairVA.
About Bethel AME Church
Under the pastorship of Rev. Dr. D. Melynda Clarke, the mission of Bethel AME Church is to minister to the social, spiritual, educational and physical needs of all people by reaching out to them, leading by example, helping those in need and spreading Jesus Christ's liberating gospel. For more information, please contact the church at BethelAMEMontclair@gmail.com or visit bethelofwoodbridge.org.