Provided by Prince William County Schools (PWCS)
Henderson Elementary School Celebrated Black History Month with Student Video Reports and More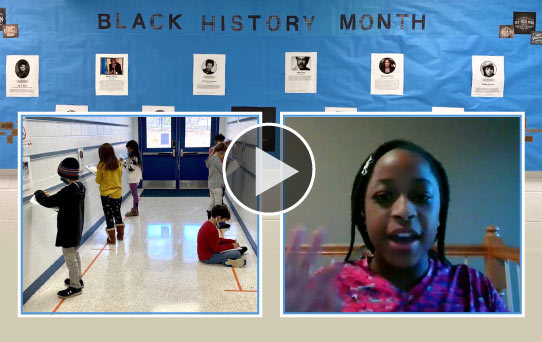 Students at Henderson Elementary School recorded video reports on famous Black Americans to celebrate Black History Month. The videos were shown during morning announcements throughout February to bring awareness of and appreciation for the contributions of Black Americans. The student reports are just one of many Black History Month celebration activities at Henderson Elementary. Watch Video.
Black History Month Lesson Unites Two Schools
Unity Reed High School students provided a unique Black History Month lesson to Gainesville Middle School students via Zoom. This crossover lesson connected the high school students to their younger middle school audience in a different way. Gainesville Middle students waited patiently for a presentation given by the Student Activities Leadership Council (SALC) students: senior Colin Ropella, senior India Martin, and sophomore Jacob Johnson-Walton.
Unity Reed High students remarked on how impressed they were to see all of the Gainesville Middle students' cameras on and ready to participate. They began with a PowerPoint presentation and stated the purpose of the lesson was to talk about and celebrate Black History Month and showcase amazing young Black people who have achieved great accomplishments. Ropella showed a photo of Martin Luther King Jr., and asked Gainesville students to identify the person in the image and a famous speech he wrote. Students were quick to recognize him, and other famous Black figures, such as Rosa Parks, Jackie Robinson, Barack Obama, and Oprah Winfrey.
Lesser-Known Key Figures
The SALC students then delved into lesser-known younger key figures. They highlighted Mary Copeny, a 13-year-old-activist from Flint, Michigan who raised critical awareness about the water crisis in her community. Copeny wrote a letter to President Obama about the water crisis that led to him visiting Flint, and approving relief money. A key point Johnson-Walton highlighted to Gainesville students was, "It doesn't matter how old or young you are, you can do anything you put your mind to."
Martin emphatically agreed stating, "Don't feel like you can't make a difference because you're young."
Unity Reed students continued, describing Yara Shahidi, an actress on the show "Black-ish," who has used her public platform to advocate for increased diversity in Hollywood, and the education of girls across the country. They spoke about Amanda Gorman, the National Youth Poet Laureate of the United States, and her widely acclaimed poem, "The Hill We Climb: An Inaugural Poem for the Country," read at President Joe Biden's inauguration.
Finally, the SALC students encouraged their audience to find ways to stay involved even when Black History Month has passed by continuing their self-education about racial injustices, making an effort to support Black-owned businesses, and writing letters to government officials about important issues.
Trivia Game Tests Knowledge
Gainesville students were then invited to play a trivia game to test their newfound knowledge. Eighth grade student Lauren McCall won the game by getting 11 out of 11 questions right.
Gainesville Principal Catherine Porter-Lucas ended the Zoom call by thanking Unity Reed students for the unique Black History Month lesson, and several Gainesville students chimed in with their thanks as well before logging off.
Love is the Heart of Black History Month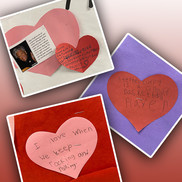 Student artwork and positive messages are often the decoration in the hallways of schools. The third-grade teacher team at Marshall Elementary School combined these two themes to create a bulletin board in celebration of February's Black History Month and Valentine's Day.
The board features photos of several Black historical figures including the school's namesake, Thurgood Marshall, who served as the first African American Supreme Court justice. After hearing about each person, students wrote about what they learned. They also wrote messages about the meaning of Valentine's Day and Black History Month. The messages were written on hearts and posted on the board.
Jennifer Davis, third grade teacher, said, "We hope that all scholars gain more knowledge about a new person who has had a positive impact on our culture and society. Not just the everyday celebrities they see on the television."
Fifth Graders Turn News Anchors During February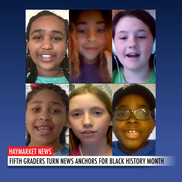 The Student Council Association (SCA) at Haymarket Elementary School took on the responsibility of spearheading the school's observance of Black History Month. This team of school leaders brainstormed ideas and came up with a detailed plan to schedule a month's worth of informative and educational news shows to highlight the notable contributions of accomplished Black Americans from across all walks of life.
Fifth graders Mya (SCA president of public relations), Maya (SCA variety: facts and funnies), and SCA ambassadors Ethan, Soliyana, Charlotte, and Avery, designed an impressive project that provided a variety of inspirational role models to introduce to their classmates.
Each one-to-three-minute segment, researched and written by its presenter, shared details about an influential person, from well-known figures such as Martin Luther King Jr. and Rosa Parks, to authors and poets, the inventors of peanut butter and potato chips, and medical scientists known for synthesizing a treatment for glaucoma and creating a device to correct cataracts. The results were shared on the school's morning announcements throughout February.
Morning Announcements Observe Black History Month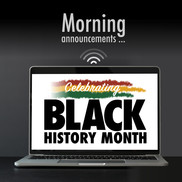 Covington-Harper and Bel Air Elementary Schools, and Graham Park Middle School use their morning announcements to celebrate Black History Month. The activities involve encouraging students to read about historical Black figures and sharing facts about their significant contributions.
Covington-Harper
Covington-Harper Elementary students were given access to audiobooks through Canvas. The books included "The Secret Garden of George Washington Carver" by Gene Barretta, "When Martin Luther King Jr. wore Roller Skates" by Mark Andrew Weakland, and "Brave Ballerina, The Story of Janet Collins" by Michelle Meadows. On the morning announcements, guest teachers read a clue about a famous Black American. Students submitted their answers, then they were eligible to win a gift card from Chick-Fil-A.
Bel Air
Bel Air Elementary Principal Antoinette McDonald used her school's morning announcements to share personal history about her grandmother. Dorothea Lee Evans Parker not only served her community as a school crossing guard and a cub scout den mother, but she also made history when she became the first African American Deputy Sheriff in Allegheny County, Pennsylvania.
Graham Park
Graham Park Middle has been using their morning announcements to connect with their school community all school year. During the month of February, student anchors share facts and videos about historical Black Americans and events in Black history.
Throughout the school year, the virtual setting has provided the opportunity to invite guests to their morning announcements. Speakers have included a biologist and pre-medical student from Howard University, and the chief of the Cheroenhaka (Nottoway) Native American tribe. In November, U.S. Army Brig. Gen. Milford Beagle Jr. joined the morning program to share information about growth mindset and character traits for success. To celebrate Black History Month, local artists Delores Bumbrey and Anthony J. Silver, Dr. Ayanna McCray, pediatrician, and Poet Laureate of Prince William County Kim Miller have joined the program.
"It is important for all students to experience and be exposed to culture and careers. Our guest speakers have lived experience as well as rich educational backgrounds. As a result of being in the virtual environment, guest speakers are more accessible and flexible," Principal Maria Ramadane said.
Teachers are highlighting Black History by incorporating it into lessons. Jan Dicus Green, a visual arts teacher at Graham Park, focused on Harlem Renaissance artists throughout the month in her lessons. Shannon Anthony, sixth-grade language arts teacher, is promoting the book "Black Brother, Black Brother" by Jewell Parker Rhodes to her students. Graham Park School Librarian Monica Abrams is sharing books by African American authors. "Genesis Begins Again" by Alicia Williams and "Before Ever After" by Jacqueline Woodson were available for curbside pick-up, while Jewell Parker Rhodes' "Ghost Boys" and Nikki Grimes' "Garvey's Choice" were eBooks provided to students.
A school-wide writing prompt will continue the learning. Starting with the phrase "Because of them we can," students wrote about an African American that has made or is making an impact in math, science, language arts, social studies, and encore class subjects. The writings will be shared in an upcoming edition of "The Lion's Roar" the school's library newsletter.
"As educators, we recognize the power of exposing students to rich diverse experiences. I am confident that the variety of activities will spark a desire to learn more. We live in a diverse world and it is that diversity that makes Graham Park such a special place," Ramadane said.
T. Clay Wood Celebrates Black History Month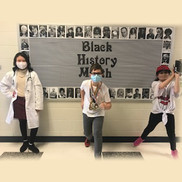 Fifth grade students in Renee Watson's class have diligently prepared for a short oral presentation on famous African Americans for the past few weeks in honor of Black History Month.
As a part of the oral language component in their curriculum, each student gave a two to three-minute character talk, given in first-person point of view, highlighting major achievements in the life of the African Americans they researched. Students were encouraged to dress in character and create props that were indicative of the time period their character lived, their career, and accomplishments.
Each student began preparing for their oral presentation by selecting a person to research. Watson provided students with an outline to guide their research: introduction, early life, career and accomplishments, comparison and contrast of the life of the person they are researching with the student's life, as well as the researched person's current life or legacy. Students rehearsed before the day of their speech using note cards they had previously prepared.
As part of their writing and reading curriculum, Watson's class wrote a paper on their character and worked through the different stages of writing (outline, rough draft, peer editing, and final draft).
"This activity is one of my favorite parts of the year. In years past, we have had a 'wax museum' portion to the activity where we invite other classes into our classroom to learn more about each African American," shared Watson.
Even though the "wax museum" portion was canceled due to COVID-19 constraints, Watson praised her students on their hard work on researching their character and providing quality background information for Black History Month.
Chris Yung Elementary School Celebrates Black History Month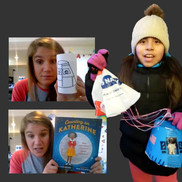 Students at Chris Yung Elementary School channeled their creativity and critical thinking skills, as they celebrated Black History Month with two science, technology, engineering, art, and math (STEAM) challenges. 
 For their February school-wide STEAM challenge, Kaitlin Chidester, Chris Yung's STEAM coach, focused on Katherine Johnson, a Black American mathematician whose efforts saved Apollo 13. To first help students learn more about her endeavors, they read "Counting on Katherine: How Katherine Johnson saved Apollo 13" by Helaine Becker. 
"Katherine Johnson's life is an example of persistence and perseverance that can really resonate with our students. Our students' dreams and aspirations will not come to them easily," said Chidester. "[Katherine Johnson] kept 'counting on' and fighting for what she believed in. Through our STEAM challenges, we hope that students are given opportunities to persist and persevere much like Katherine Johnson," she added.
 Students were challenged to save their own "space capsules," which could essentially be a drawing of a capsule attached to a full soup can. They were tasked with using no more than 10 items to protect their "space capsules" after it's dropped from a height between eight to 25 feet.
 Even though the students may not have found success right away, they learned the importance of moving forward with their ideas and not giving up.
 In addition to the school-wide STEAM challenge, Chidester collaborated with Jacob Tarallo, Chris Yung's music teacher, to share Pharrell Williams' contest titled "Your Voice is Power" with their fifth–grade classes. 
Pharrell's new song "Entrepreneur" is about Black American-–owned businesses and initiatives in the United States. In partnership with Amazon and CodeVA, Pharrell challenged students to remix the song with their own voices using code through the program Earsketch. This contest is supposed to show students that they have the power to make a change in our world using music.
 The fifth– grade students coded their own songs, using Earsketch to create their own unique version of that song that can be anywhere from 30 seconds to three minutes. 
 Chidester said, "Challenges like 'Your Voice is Power' give students a chance to connect with others around the country. They can see that their thoughts and ideas will travel beyond the walls of Chris Yung." 
February "Whatcha
Reading Wednesdays" Feature Black Americans at Kerrydale Elementary School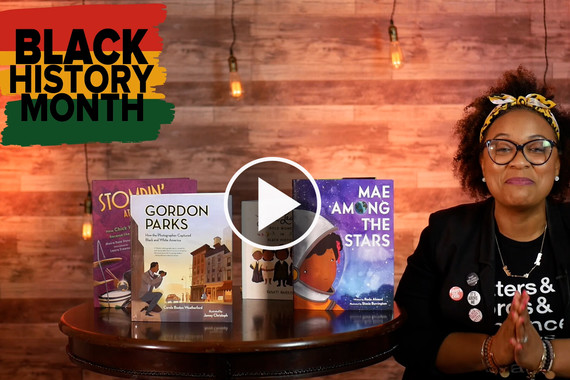 Tasha Johnson, reading specialist at Kerrydale Elementary, celebrated Black History Month with her students by sharing stories of Black Americans during her "Whatcha Reading Wednesdays." These video recordings were uploaded weekly and featured Johnson promoting and reading a book of the week. "Whatcha Reading Wednesdays" have garnered positive responses from students who record their reactions to each week's book and post them on Flipgrid for Johnson to view.  Watch Video.