Provided by General Larry Spencer, USAF (Ret)
On Saturday, Aug. 27, Air Force General (Ret) Larry Spencer will hold a book signing and selling event at Veterans Growing America, Potomac Town Place #130 in Woodbridge.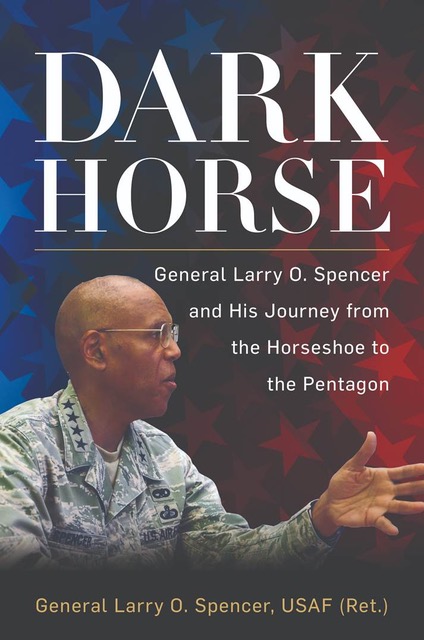 General Spencer is the author of the book Dark Horse: General Larry O. Spencer and His Journey from the Horseshoe to the Pentagon. Dark Horse chronicles General Spencer's unlikely journey from inner-city Washington, D.C. to enlisting in the Air Force as an E-1 and climbing the ranks to become a four-star general.
About General Spencer
As a youth, General Spencer experienced the challenges of inner-city life, low self-esteem, and a poor school system. He attended the Martin Luther King Jr., March on Washington and witnessed anti-Vietnam protests in the streets. Despite the bleak prospects for his future as an adult, enlisting in the Air Force took him out of that harsh environment and set him on a path that was unimaginable at the time.
General Spencer served 44 years in the U.S. Air Force and participated in numerous operations, including Desert Storm and Iraqi Freedom. His memoir was endorsed by a former Secretary of Defense, two former Chairmen of the Joint Chiefs of Staff, Ms. Sheryl Sandberg, and others. Dark Horse is an easy read, filled with personal stories and concludes with life lessons that will benefit others with their life journey.
About Veterans Growing America
Veterans Growing America provides a forum for Veterans and military spouses to showcase and grow their businesses. The organization partners with local, state, and federal veteran organizations to increase their brand awareness. They conduct local events and marketing programs to increase engagement with the veteran business community. This national movement helps veteran businesses get the resources and support needed to succeed.
Potomac Town Place is the home of the "Pop-Up" store, where veterans sell crafts and other items for sale to the public. The event time on Aug. 27 is 1:00 to 3:00 p.m.