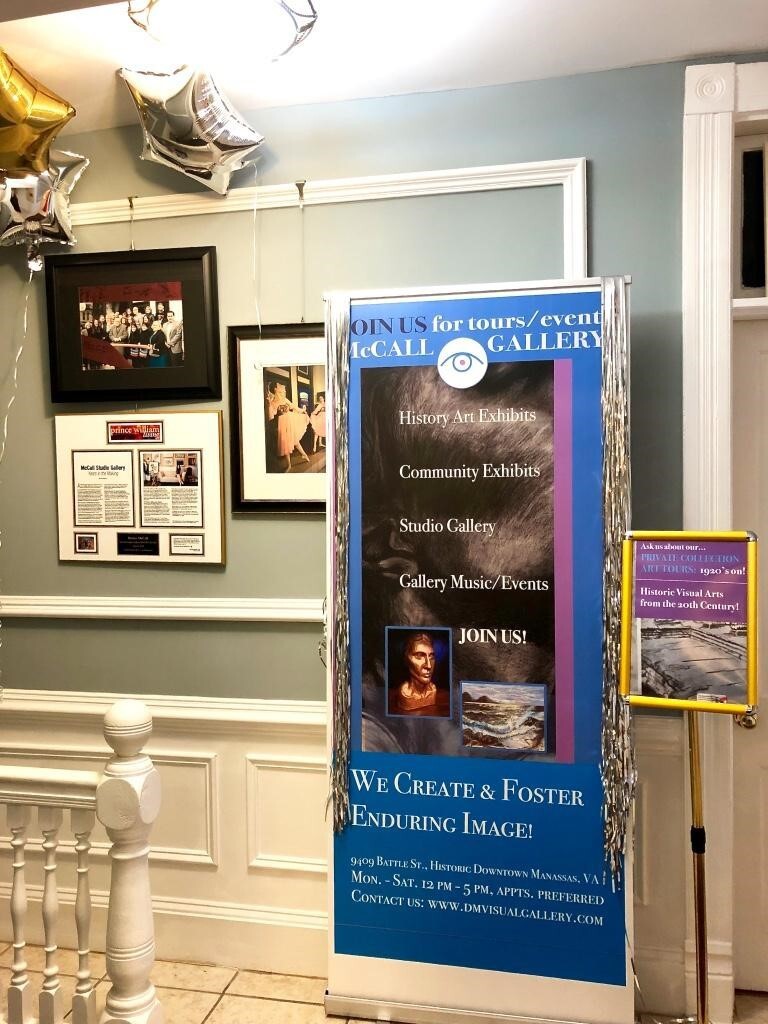 By Mia Brabham
Sponsored by McCall Studio Gallery
Denise McCall is not just an artist. She is an artist who is truly making a difference.
The local innovator, studio owner, adjunct professor, and professional artist with over 32 years under her belt is no stranger to using her talents for good. She's been helping nonprofits and other service-oriented businesses for over three decades. The entire mission of her studio gallery — where she hosts various art exhibitions, events and fundraisers — is to help businesses that don't profit and need an extra boost with marketing among other creative needs. And during this turbulent year, she's supported the people and artists of Prince William County more than ever.
Helping The Community Through COVID-19
"In the past [few]months of this year, including December, I have hosted complimentary free art events for the community and promoted artists online," McCall says.
Both during and after the months following Virginia's COVID-19 mandates, McCall's gallery shop has also given away a variety of art and prizes to raise fellow Virginians' spirits. For Thanksgiving, a new family in Manassas was gifted a beautiful handmade, glass blown pumpkin as a prize. McCall also sent a gallery gift to thank a courageous teacher teaching during COVID-19 in Virginia.
"We have been helping educational organizations and small businesses to continue our mission," McCall explains with heart. They have been providing studio graphic, marketing, and communications work to these institutions.
One of the Studio's most recent projects has been creating graphics for a COVID-19-related children's book titled I Wash My Hands by Sofia Curran. The book can be bought inside the Gallery store and is in two languages: both English and Spanish.
Additionally, McCall has made her own personal donations to organizations benefiting those experiencing homelessness, as well as ACTS, and the American Red Cross.
Uplifting Artists
McCall continues to give wings to artists by promoting their work and sharing their art.
"We have showcased and sold art products that helped local area artists in our community during this pandemic.," McCall says. "There's everything from acrylics to sculpture to wood to photography and illustration. Most are originals and a few are limited edition."
She also provides artists with a physical space to work, play, and imagine. If you're an artist in need of space, she's looking for a community-based innovator to fill an studio rental in her building and can be reached at mccall@dmvisual.com.
Hard Work Recognized
McCall has spent years and years creating traditional and digital art across a spectrum of mediums. Not only has her work been displayed in galleries and museums across the United States, but they've been displayed internationally in Rome as well.
In 2020, McCall's Studio was recognized with PW Chamber Business Award Nominations in four service categories for the community: Community Outreach, Excellence in Small Business, Innovative Partnerships, Hospitality and Tourism. The Studio was also recognized with the 2020 AIVA Communicator Award for Branding and 2020 AIVA Davey Award for Brand Promotions.
Her most recent honor, though, was being featured as a Top Executive Professional of 2020 by the internationally renowned Marquis Who's Who, which has been in existence since the 1900s. McCall was also awarded the 2020 global excellence Lux Life Magazine "Best Bespoke Brand Specialist – Virginia" Award.
How You Can Give Back Through Art
On January 9th, 2021, McCall Studio Gallery will be hosting a New Year Gala that benefits local artists featured during the evening, as well as the American Red Cross. The formal event will feature the work of Wisconsin landscape and abstract artist, John Chladek, and guests can walk the red carpet of the gallery! Tickets include event entry, the #2021ArtShow debut, complimentary celebratory champagne and food, and the chance to see a special guest speaker. Two of the best dressed attendees will win a prize — and creative masks are encouraged!
With COVID-19 still present, masks and social distancing are required in each of the five gallery rooms, which will have limited capacity.
The Gallery's next event will be around Valentine's Day, so stay tuned for more information on the website or Facebook.
To learn more about McCall's mission and offerings, visit dmvisualstudio.com and dmvisualgallery.com.
Images from the McCall Studio Gallery NYE Event in 2020