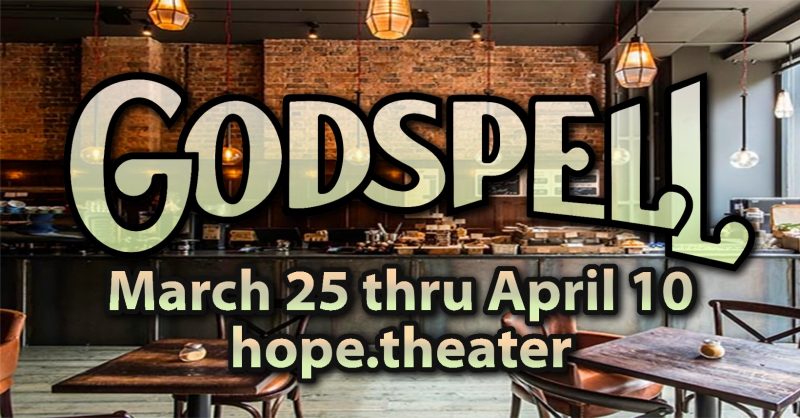 Provided by Hope Theater
Members of the Bristow band Uncle Drew and the Scoundrels will back the debut mainstage production of Godspell at Hope Theater at Vint Hill. Band Director Drew Fleming is joined by band members Aaron Talley on bass and Joseph Evans on guitar, as well as drummer Chris Calavas and keyboard player Lori Roddy. 
Uncle Drew and the Scoundrels officially formed in 2020 after playing music socially at open mics and theater productions. During quarantine, the musicians created virtual music videos and quarantined jam sessions, later leading to live gigs at popular Prince William County venues like MurLarkey Distilled Spirits and Tin Cannon Brewing Company in Gainesville.
As local entertainment and theatrical productions continue to thrive in our area, some of the band members of Uncle Drew and the Scoundrels are now excited to provide the music for the rock-infused revival of Godspell at Hope Theater March 25 to April 10, directed by Scott Heine and produced by Scott and Hilary Pierce. 
The family friendly show is the timeless story of love and community with a contemporary score packed with exciting new arrangements. The talented cast of Godspell features Kelly Snow, Josh Carias, Katy Benko Miner, Dawn Gaynor, Betsy Hansen, Martin Kelly, Rachel Marineau, Alan Pierce, Hiary Pierce, and Rebecca White. Katy Benko Miner also serves as Vocal Director alongside Margo Heine as Choral Director and BroadwayWorld winning choreographer Josie Corrado. Tickets are $20 for adults and $17 for children and seniors. Learn more at www.hope.theater.