By Melissa Davies, Wise Ways Consulting
Some people like to plan for rainy days and some prefer to splash in the puddles. I fall in the middle and the murmurs of an upcoming recession have me checking for my rain boots.
The DMV was once the Teflon region, with the federal government and government contractors shielding us from economic downturns. Much has changed with fewer people seeking federal jobs and many jobs remaining unfilled, for a variety of reasons. One factor hasn't changed – our relatively high cost of living.
The screen shot below is data from the Economic Policy Institute. They offer an interesting cost of living calculator that allows you to compare your city to other regions across the country.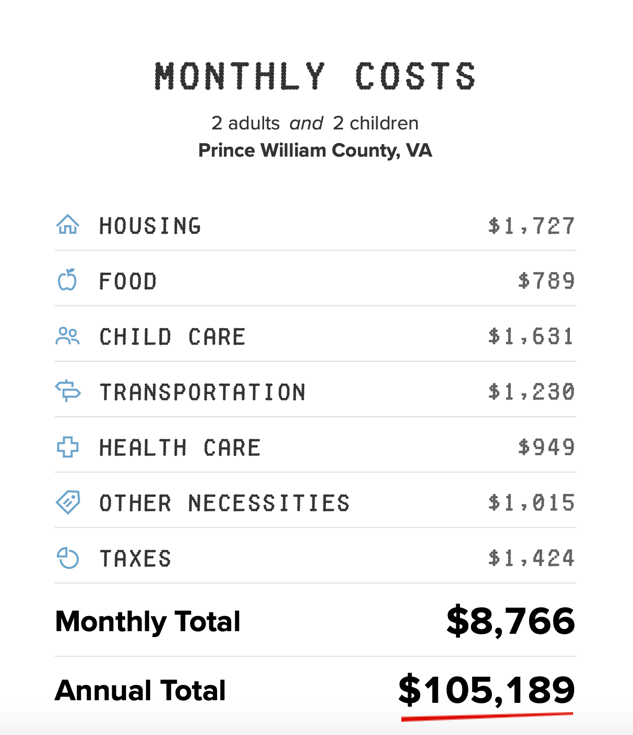 Data from Economic Policy Institute; The Family Budget Calculator
Here is another useful tool from the job search company, Indeed.com – it's a salary calculator where you can research your job (or as close as you can) and see how much you should be making for where you live and how much you're worth in another city: indeed.com/salaries?from=careeradvice-US.
As we move toward the end of the year, and salary review season, taking these basic steps to understand your costs and worth are important.
I'm not advocating that you pull up your roots and leave our vibrant community or that you demand your company pay you a particular salary. Your expenses and your employment value vary depending on your age, experience, and education.
If over the past few years you've felt stretched or you're not getting ahead, saving enough money for retirement, it may be time to consider a job change, a return to school for more training, or a potential move. Prince William County and the great DMV communities offer a great lifestyle – but are you able to afford it?
Melissa Davies is an executive leadership coach and facilitator as well as the author of How Not to Act Like a BLEEP at Work.  She resides in Prince William County and runs Wise Ways Consulting, which specializes in leadership, management and team development, executive coaching, group facilitation and high-engagement training.  She can be reached at info@wisewaysconsulting.com or through wisewaysconsulting.com