By Ryan Sonner
Ben Gerlach didn't think much of it when the car pulled even with him along Route 610 in Stafford County. It was a nice enough car, he thought — a Dodge Challenger, just like his.
Gerlach probably did that thing people do when they see someone driving the same kind of vehicle. Jeep owners, for example, are notorious for it. Whether it was a simple head nod or a quick wave, he can't remember.
But the woman behind the wheel locked eyes with Gerlach, and she wouldn't look away.
Then it got weird. Gerlach noticed another Challenger on the  other side of him. And then a couple Dodge Chargers following closely behind.
"I felt a little boxed in," he said.
Gerlach kept driving west on 610, making that left at the light onto Parkway Boulevard. He knew Park Ridge Elementary School was about a half-mile down on the right. Certainly, he'd be safe there.
He pulled in, threw it in park and watched in his rearview mirror as the four other cars lined up single file behind him. He cursed himself for not having his gun with him that day, but by this point, he had an idea what was happening.
"They must be part of something, some club," Gerlach remembered thinking. "I think I get it now."
Desmond Darden introduced himself to Gerlach first. They immediately identified each other as veterans, and Gerlach dropped his guard. One by one, Gerlach met the other Dodge owners and, sure enough, they were all members of a local car club, Unprofane Riders.
This wasn't a carjacking. It was a recruitment.
"It was the coolest thing," Gerlach said about that day in May 2017. "They came up and shook my hand. They were super friendly."
Gerlach knew about the abundance of car clubs in the national capital region. He had just never seriously considered joining one, but the timing was perfect. Exactly a month earlier, Gerlach's wife bought her own Dodge Charger. Why not make some new friends with cool cars?
The Gerlachs decided to sleep on it before deciding. But before they knew it, they were sitting at a club meeting at Buffalo Wild Wings in Woodbridge. "The rest is history," Gerlach said.
Giving Back
The 40-year-old Gerlach has been a car guy from way back, having owned Mopar vehicles for the past dozen or so years. Mopar is a titan in the auto parts industry and a division of what used to be known as the Chrysler Corporation. If someone says they drive a Mopar, it's typically a Chrysler, Dodge, Fiat or Jeep.
It's easy to understand why so many people are drawn to muscle cars, particularly the Challengers and Chargers. It starts with the sleek body that projects equal parts beauty and brawn. And when you turn the keys? Chill-bumps.
If you let it idle long enough with your eyes closed, you'd swear you were in a lion's den. Oh, that sweet, sweet purr. It's what hooked Gerlach's wife.
"My wife was more into luxury cars," Gerlach said. "Once she started hearing the grumble, she started wanting one."
With both Gerlachs proud owners of Mopar muscle, it made sense to get involved with a local car club. Darden and his crew made the perfect pitch, and they joined. About a year later, in the summer of 2018, Gerlach was elected as the new president of Unprofane Riders DMV.
If the club name sounds … different, well, that's the point.
"They wanted a name that wasn't going to turn off people who were into doing community and charity work," Gerlach said. "They wanted something to be aligned with a faith-based organization, but not super in your face about it."
Darden, along with fellow Marine Matt Hershner, hatched the idea while they were stationed in Jacksonville, N.C. in 2016. The goal was to create a Mopar club in which people could enjoy each other's cars, but also give back by becoming active participants in the community. That last part was nonnegotiable. It worked, and the Internal Revenue Service officially certified the club as a 501(c)(3) non-profit organization in 2017.
Darden transferred to Quantico later that year and created the DMV chapter with the same mission. In May 2019, with Gerlach serving as president, it was also certified as a nonprofit organization.
"It's so cool to see two young, ambitious guys put so much work and effort into wanting to give back to the community," Gerlach said of Darden and Hershner. "They laid a good foundation. They give us the autonomy so that we can do things while still staying true to the brand."
Gerlach works full-time with the Department of Defense, but he spends nights and weekends trying to build relationships with community organizations. He didn't get the "warm and fuzzies" until he met with the CEO of Shelter House, a nonprofit organization that provides support services for the homeless and victims of domestic violence.
Unprofane Riders DMV held its first major car show Aug. 3 in Springfield with a portion of the proceeds going to Shelter House.
The club has donated backpacks and other school supplies for children in Dumfries, participated in Toys for Tots, prepared Thanksgiving food baskets for those in need, and spent time with patients and their families at Fisher House on Fort Belvoir.
"That's one of the things that drew me to the group," DMV chapter member and Public Relations Officer Melissa Payne said. "It's not just about the cars. What can we do to help the community? The charity work for us is first. That's what sets us apart from other clubs."
Grease Monkey
Payne learned how to change the oil in a car before she could drive one—legally, anyway. She preferred playing with wrenches to Barbie dolls.
"I was a little weird, I know," she said.
Payne grew up in her father's garage. Frank Payne has worked as a mechanic for Prince William County Schools going on 40 years now, but his real passion has always been tinkering around in the garage and giving neighbors the family and friendsdiscount for oil changes, tune-ups and the like.
Payne said she learned her way around her father's garage by playing a simple game. And by game, she means the sly way Frank convinced her to fetch his tools while he was underneath someone's car.
"If he needed a tool, he'd say the name and I'd go retrieve it for him," she said, laughing. "I learned a lot from that little game. I loved helping him."
Payne was a quick study, and she enjoyed getting her hands dirty. As a kid, she tagged along with her father to the local car shows on Friday nights, always riding next to Frank in his 1984 GMC pickup. Frank recently sold that old GMC, and Melissa still can't believe it.
"I was shocked," she said. "I thought he'd never get rid of it. That was a really hard decision for him. That truck has a lot of memories in it."
In high school, Payne was one of the first females to sign up for auto-tech class. The 1997 Manassas Park graduate realized early on that she already knew most of the material being taught in the class.
Payne has maintained her interest in cars as an adult and gushes over her 2017 Challenger. She has used her background and knowledge to help spread the word about Unprofane Riders DMV, which now boasts a roster of nearly 20 members, including a handful of females.
"It's hard to find other women as interested in this as I am," she admitted.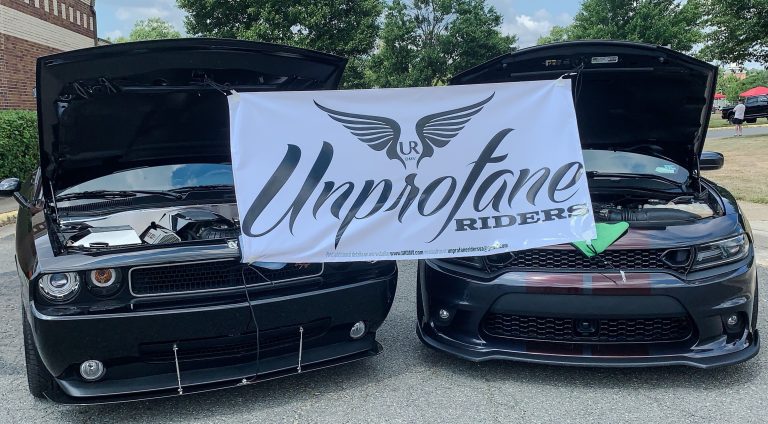 The club meets monthly in Springfield with each member paying $20 per month in dues. All prospective members are required to go through two 30-day probationary periods. At the end of those 60 days, the club holds a membership vote. The members have yet to yield a "No" vote.
Gerlach said his goal is to create a roster of members, young and old, who respect their peers, their community and the rules of the road. All club meetings are open to members and their families, children included.
"We're focused on quality, not quantity," Gerlach said. "What's the quality of your character? That's important. If I can't have you around my kids, I won't recruit you."
Gerlach admits his recruiting tactics are a little different from the one used to lure him back in 2017. But he's not one to pass up a golden opportunity with a captive audience, either.
"I've literally been at a red light with 50 cars around," he said. "And I've run out and given a business card to someone. You don't even have time for an elevator pitch. 'Hey, if you're interested, I'm the president.'"
Ryan Sonner (rsonner@princewilliamliving.com) is a freelance writer based in Woodbridge. Learn more about him at ryansonneronline.com.