Provided by Carried to Full Term
Carried To Full Term announced its first annual Women's Conference, the "Breaking Cycles Women's Conference 2023," taking place on March 25, 2023 at the George Mason Verizon Auditorium in Manassas. Dedicated to empowering women to explore healing and break cycles, by helping women attend to pain and cyclical patterns created by past trauma, the event will convene empowering leaders on the frontline of advocating for women's health and wellness, driving social progress, and using their unique platforms to create meaningful change.
"I think as women we carry so much, and always put others ahead of ourselves and so I think for me I'm looking forward to having women experience an opportunity to feel OK to make themselves a priority, and to get rid of the guilt," said Frances Robin, Director of Carried To Full Term. "Especially moms…moms carry that guilt. We are so used to taking care of our kids, prioritizing our husbands, the community, church groups…and it's OK to shine a light on ourselves from within."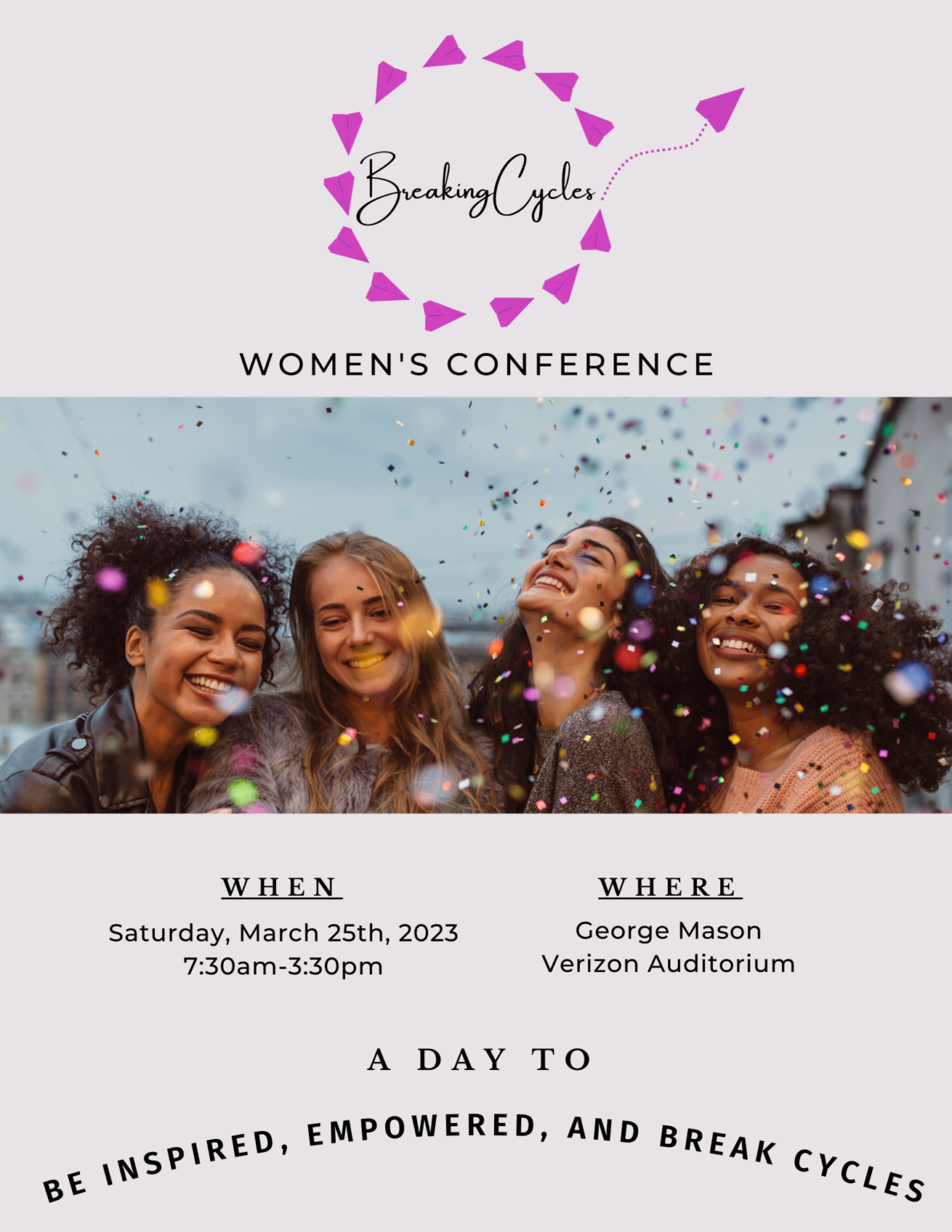 Conference Speakers
The 'Breaking Cycles Women's Conference' will convene a diverse range of industry leaders from the worlds of business, media, leadership, therapy, health, wealth, and more. Speakers include:
Leslie Morgan Steiner – Keynote Speaker, New York Times best-selling author, TedTalk veteran, columnist for The Washington Post, women's empowerment expert, corporate executive – and gender violence survivor
Emma G – Guest Speaker, Award-winning Musician, Author, and Youth Empowerment Coach
Varleisha D. Gibbs, Author, Speaker, Occupational Therapist
Sultana Karim, Licensed Professional Counselor, Certified Clinical Trauma Professional, Certified Perinatal Mental Health Professional
Heidi Henyon, Trauma Awareness Transformational Coach,
Tifani Fields, Pastor, Trauma Survivor, and Women's Advocate
Rebecca Barnes, Publisher, Prince William Living
Tracy Malone, Narcissist Counselor
Joann Harris, Transformational Speaker, Thought Leader, and Personal Development and Growth Coach
Chrisenia White, Doctor of naturopathic medicine, doctor of chiropractic, Acupuncturist, Licensed Dietitian
Charlet Lewis, Author, Speaker, and Minister
Mary Ramirez, Councilwoman – Town of Haymarket
Michelle Davis-Younger, Mayor – City of Manassas
Margaret Franklin, Woodbridge District Supervisor
Tracy Lynn Pater, Mayor – Town of Haymarket
On top of an incredible lineup of speakers, the Breaking Cycles Women's Conference will be an immersive one-day experience full of breakout sessions, networking, vendors, and inspiring conversations.
For more event information and to register for the Breaking Cycles Women's Conference event, visit breakingcycleswomensconference.com/
Visit the Breaking Cycles Women's Conference and get tickets today!
Follow @carriedtofullterm and #breakingcycleswomensconference on social media.
Click here if you're looking to become a sponsor, vendor, or donate to the silent auction.
ABOUT CARRIED TO FULL TERM
 "The mission of Carried To Full Term is to provide comprehensive long-term residential support for women who are pregnant and homeless. We invest in and empower vulnerable women and her family for lives of dignity, hope, independence and self-sufficiency. We envision a community where families have safe, secure, and stable housing with sufficient resources and space to plan for their futures, and pursue happiness. Carried To Full Term assists women to live independently and self-sufficiently. We envision a life of hope for the future. We believe in new beginnings. We invest in, inspire and affirm residents to actively participate in creating and pursuit of their goals. Carried To Full Term respects individuals at all stages of life and fosters loving, and family-centered values. We believe all life has value. We strive to embody our values in everything we do and in all of our relationships with clients, team members, partners, and the broader community."
 ABOUT CYCLE BREAKERS
"Carried To Full Term (CTFT) believes in the power of community and bridging the gap by using our collective might to create the change we seek. Your support has made our home a safe haven for homeless families. We are aware that our organization has been a beacon of hope for pregnant women and children caught in cycles of homelessness. You can be the help families need to succeed through our Cycle Breakers Program, giving women the keys to unlock their potential to build a hopeful future for their children through your monthly giving. Our program provides the support and resources to help women break unhealthy cycles and move forward. Your monthly contributions help mothers become unstuck. Each contribution is a direct deposit toward helping women develop new habits for stability and wealth building. Please join us in giving women the keys to unlock their passion, heal from trauma, and to learn to care for themselves and her family."
When you invest in women to break cycles, you're investing in future generations to change the world. Become a part of the movement at carriedtofullterm.org/product/cyclebreakers/.