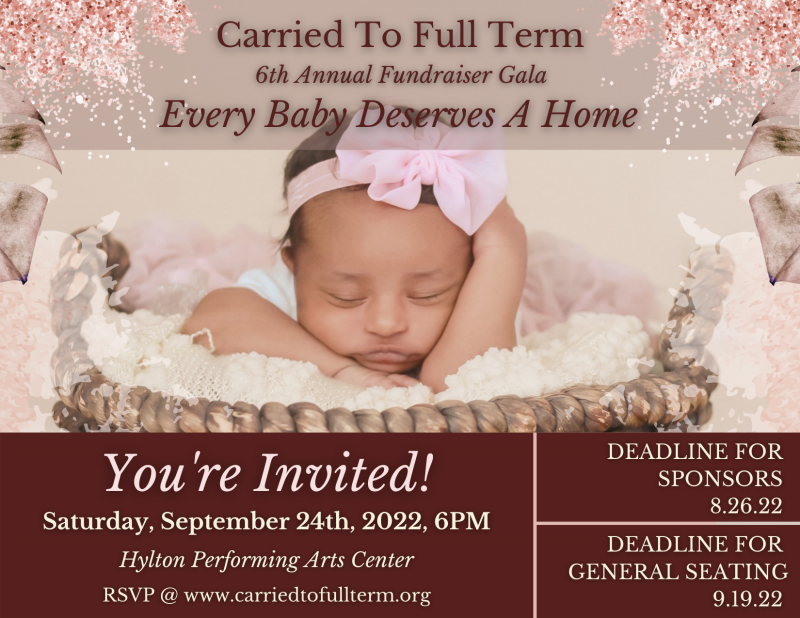 Provided by Carried to Full Term
Carried To Full Term (CTFT) is a nonprofit that provides long-term housing to pregnant women, and mothers with young children, experiencing homelessness. This two-year program, located in Haymarket, gives families time to acquire the necessary skills to become independent and self-sufficient. CTFT helps women through continuing their education, financial management training, employment, therapeutic care, and volunteering. CTFT is committed to helping families who are caught in a pattern of homelessness, often as a result of abuse, job loss, illness, and/or abandonment. At Carried To Full Term, they understand that change takes time.
By providing ample time to make real change, CTFT invests in and empower vulnerable women and their families for lives of dignity, hope, independence, and self-sufficiency. Their values promote healthy families, belonging, and the pursuit of true happiness.
To support this mission of restoring hope and dignity in women's lives, CTFT has the exciting opportunity to acquire two new homes in support of this mission. The Expansion Project will provide added housing options to families in crisis seeking to break cycles of poverty. The expansion will impact generations of families, and their children will reap the benefits of stability.
The general public is invited to join in fundraising for the Expansion Project on Sept. 24, 2022 at CTFT's annual gala called Every Baby Deserves A Home at the Hylton Performing Arts Center in Manassas. There will be a catered dinner, a musical performance, and a notable guest speaker. All proceeds will directly benefit the Expansion Project.
CTFT is currently seeking Gala sponsors and underwriters. All ticket purchases and sponsorship inquiries can be made by contacting melanie.wendo@carriedtofullterm.org.