Play BINGO for a chance to win!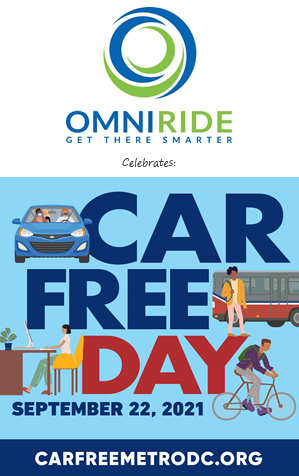 Car Free Day is a free event celebrated internationally every Sept. 22, in which commuters are encouraged to take the free pledge to get around without driving alone in cars, and instead use transit, rideshare, bike, walk, scooter, or telework.
Car Free Day is organized in various cities throughout the world in different ways, but with the common goal of improving air quality. The benefit to greater society is a day with less traffic congestion, a greener environment, and reduced gasoline demand. Today, Car Free Day includes celebrations in 46 countries and over 2,000 cities.
What better way to participate and learn about transportation options, infrastructure, and resources in Prince William County than by playing BINGO? Visit the #loveandhope sign in Historic Manassas, telecommute, take the #carfree pledge or other options to mark off your BINGO car for a chance to win a Historic Manassas Inc. gift card or an OmniRide gift bag* There will be one downtown Manassas gift card winner and five OmniRide gift bag winners.
Prizes will be mailed to the winners after they have been contacted.
omniride.com/omniride/assets/File/car-free-day/OR21_Car-Free-Day_2021_Bingo-Card_Final.pdf