By Erin Pittman
Sponsored by Town of Occoquan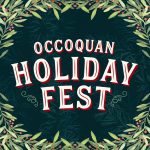 Enjoy the upcoming festive season with a socially distanced celebration in historic Occoquan. The Town of Occoquan and the Occoquan Merchants Guild are hosting Occoquan HolidayFest, a three-week event including in-person and online activities from Nov. 20 through Dec. 13. HolidayFest includes events and activities for everyone with safety top of mind.
"The Town is excited to merge our popular Holiday Open House event with Winterfest to create a festive new celebration! For years, locals have enjoyed Occoquan during the holidays for its unique shopping and small-town experience. We are eager to continue this tradition while adding fun yet safe activities for the whole family," said Julie Little, Events and Community Development Director for the town.
HolidayFest Kickoff
On Friday, Nov. 20, Mayor Earnie Porta hosted the Annual Tree Lighting at 8:00 p.m. in front of Town Hall., This kickoff was a virtual event held on Faceook.
The Occoquan Merchants Guild is currently hosting a Shopping Passport Contest. Shoppers can win $100 in gift cards to Occoquan shops and restaurants. To enter, spend $10 or more at six different participating businesses. Each time you shop, receive a stamp on your entry form. Once complete, place it in the drop box at Town Hall or mail it to the Occoquan Merchants Guild, PO Box 166, Occoquan, VA 22125. Entries must be postmarked by Dec. 12. The drawing will take place online on Wednesday, Dec. 16, 2020, at facebook.com/visitoccoquan.
HolidayFest Events and Specials
Gingerbread House Contest
The Town invites the public to enter the HolidayFest Gingerbread House Contest. Voting will take place virtually and winners will be announced on Saturday, Dec. 12 at 4:00 p.m. Winners receive a $25 prize to use at any local Town of Occoquan business! Registration for the contest can be found here.
HolidayFest Gift Giving Guide
On Dec. 5, local merchants will host a HolidayFest Gift Giving Guide on Facebook. This virtual event will feature something for everyone on your list.
"As a local shop owner, I am thrilled with how Occoquan has been providing our community with safe activities to participate in throughout the pandemic. We are excited to be a part of HolidayFest and can't wait to celebrate the season with our friends and neighbors," said Sarah Hitchcock Burzio, owner of Hitchcock Paper Co.
In addition to all the festivities, local merchants will be hosting holiday-themed workshops, demonstrations and tutorials both online and in-person. Check the growing schedule of merchant activities all throughout HolidayFest! Visit occoquanva.gov/holidayfest for a full list of details and to plan your visits.