Provided by Catholic Diocese of Arlington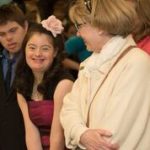 All Saints Catholic Church in Manassas is one of more than 500 churches around the world hosting '2018 Night to Shine,' sponsored by the Tim Tebow Foundation. The event is a prom-night experience for people 14 and older with special needs. More than 105 honored guests and their parents are expected to attend.  Additionally, over 150 volunteers are making this night possible, including the volunteer buddies that are paired with each guest.
The prom will be held inside the parish activity center at All Saints Catholic Church, 9310 Stonewall Road, Manassas, on Friday, Feb. 8 from 6:00-9:00 p. m. 
Guests will receive the royal treatment, including hair and makeup stations, shoe shining stations, corsages and boutonnieres, a catered dinner, prom favors for each guest and, of course, dancing. The highlight of the night comes when every one of the 'Night to Shine' guests is crowned a king or queen of the prom.
The Night to Shine Prom
Tebow, a former NFL quarterback, started the prom five years ago. It has become a worldwide movement. According to the Tim Tebow Foundation website, more than 175,000 volunteers in more than 540 churches around the world will serve more than 90,000 honored guests on Friday, Feb. 8. As the sponsor of Night to Shine, the Tim Tebow Foundation remains committed to financially supporting as many host churches as possible. Last year, it contributed more than $3.5 million to the worldwide movement of Night to Shine.
All Saints Catholic Church became involved when one of its parishioners, 26-year-old Danielle Smith, heard about the program from a friend. After babysitting children with special needs for years, Smith thought it would be a wonderful way to show God's love to them. Fr. Lee Roos, pastor of All Saints, approved the idea, and in June 2017, Smith applied online to the Tim Tebow Foundation for All Saints to become a host church.