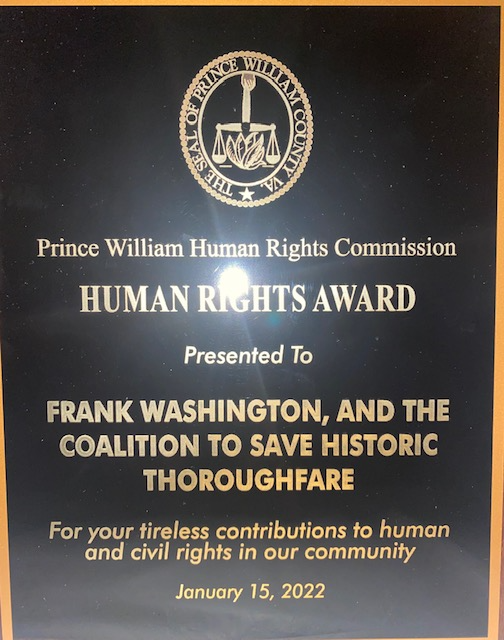 Provided by Coalition to Save Historic Thoroughfare 
The Prince William County Human Rights Commission recently presented an award to Frank Washington and the Coalition to Save Historic Thoroughfare during the commission's Universal Human Rights Day Awards Ceremony for their work to protect historic African American and Native American cemeteries in Thoroughfare, Virginia.
In a statement, Coalition to Save Historic Thoroughfare Founder and Spokesman Frank Washington said: "We thank the Prince William County Human Rights Commission for this award. Politics, coupled with a sense of privilege, is the formula that breeds a violation of the human and civil rights of others. Any government body that does see the importance of those rights, or refuses to recognize the historic land and cemeteries of slave, freed slave and Native Americans, shares in the violations of its own laws and codes."
Thoroughfare is an historic Native American and African American community with roots going back hundreds of years. Originally a Native American community, during the 1800s African Americans began to settle there and a vibrant mixed-race community was established. Today, Thoroughfare is centered around Oakrum Baptist Church, and the descendants of the founders still call Thoroughfare home.
When developers purchased land containing the three major Thoroughfare cemeteries and, early in 2021, destroyed the Scott Cemetery, blocked access to the Potters Field Cemetery, and threatened the Fields/Allen Cemetery with development, the Coalition to Save Historic Thoroughfare formed to protect the cemeteries and to preserve the history of Thoroughfare.
Recently, The Prince William Board of County Supervisors agreed to purchase a two-acre parcel to begin the process of preserving the heritage of the Thoroughfare community.
The town of Thoroughfare was established and settled by freed African-American slaves and Native Americans. Homes and family cemeteries in this community date back to 1860 and earlier.
Descendants of freed slaves and Native-Americans still live in Thoroughfare.  
Slaves, freed slaves, freedmen/freedwomen, and Native-Americans who worked and lived on the land of Thoroughfare, are under the threat of having their final sacred resting places decimated or completely removed by encroaching developers. Family members are also being denied access to many of these graves.  
Historic freed slave homes, land and structures are under the same threat of destruction and at risk of being lost.