Like this article? Support us by subscribing here. Your donation will help us continue to provide quality-of-life news and make local impact possible.
By Dawn Klavon | Photos courtesy of Cock & Bowl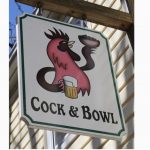 Though Europe is re-opening and travelers are hopping flights, there's a much easier way to visit Belgium this summer. Why not check out the Cock & Bowl Belgian Bistro, in quaint Occoquan, a cozy restaurant for authentic Belgian beers and a traditional meal?
Cock & Bowl serves up always-fresh, always-homemade European bistro specialties, as well as a selection of 60+ Belgian and Belgian-style beers that are crowd favorites. Add to that fresh, delicious Prince Edward Island blue mussels and the crispy-creamiest, fresh-cut Belgian Frites for a meal well-spent.
"Everybody tells me it's a hidden gem in historic Occoquan," said Albert Jaoude, owner of Cock & Bowl. "It's an authentic place with home cooking, and our patio environment is phenomenal in the spring and summer when you're sitting outside."
Come for the Food; The Patio is a Bonus
The cozy bistro has graced Occoquan for over 30 years and features a beautiful, dog-friendly, street-side, brick patio in addition to indoor dining. Guests often enjoy live French music, and the restaurant offers plentiful beer, wine, and freshly prepared food. Everything is made from scratch on the premises.
"It's really a fun, energetic place," Jaoude said. "And I select my servers because they know how to talk and entertain clients; as a guest, you want to eat the food, but you also want to feel welcomed and genuinely appreciated and special."
Occoquan has been the home to the Cock & Bowl for decades, and Jaoude has been the owner for the past eight years. Originally from Lebanon, he studied and lived in several European and U.S. locations before landing in NOVA 16 years ago. While working in government, he was also employed in the food and beverage industry before buying the Cock & Bowl. For the past three years, Jaoude has been hands-on running the day-to-day operations.
"I see guests talking to each other all the time; tables interacting with each other and it's really fun," Jaoude said. "It's got a good vibe and positive energy, and people leave with a happy feeling." Jaoude said C&B's popular Prince Edward Island mussel bowls (there are around 12 different adaptations of the dish) may be
accompanied by hand-cut pomme frites — aka French fries — and they are glorious.
"They are blanched," Jaoude said. "It's a two-day process to get those frites to where they are." Add to that their house-made magical sauce for the frites, and diners are delighted. For an "Amuse-Gueule" starter, Jaoude noted the shrimp croquette, house pâté, or brie and fig delight have always been favorites.
Did Someone Say Waffles?
No authentic Belgian establishment could be legit without waffles…non-GMO waffles in the case of the Cock & Bowl.
"They are huge," said Jaoude. "We have eight to 10 homemade toppings. The Belgian chocolate ganache is about 65% cocoa — it's mixed in-house — we do everything in-house."
Jaoude described the indulgent waffle topping options, from Lotus Biscoff Cookie Butter to chocolate ganache to caramel to pecan brittles. The Belgian call them GAUFRES SUCRÉES, freshly baked Belgian waffles with your choice of homemade toppings — chocolate, maple syrup, fresh strawberries, or seasonal fruits, cookies — the list goes on and on.
In addition, the restaurant offers pan-seared fried chicken and waffles with white gravy three days a week, he said, which is a very popular option. No matter what you order, Jaoude said in his restaurant, nothing has a shelf-life of more than two days.
"Everything is homemade, fresh," he said. "We have a team that works day and night to efficiently keep the kitchen up and running."
Cock & Bowl: A Belgian Beer Destination
For beer aficionados, C&B features six of the eight recognized Trappist Breweries worldwide: Achel, Chimay, Orval, Rochefort, Stift Engelszell & Westmalle, in addition to: Delirium, Kasteel, St. Bernardus, Scaldis, Leffe, Lindemans, RodenBach, Cuvée des Jacobins, Triporteur, Blanche de Bruxelle, Echt Kriekenbier, Duchesse de Bourgogne, and many, many more. Connoisseurs will enjoy the vast variety of options.
"There's different kinds of beers for everybody who comes here," Jaoude said. "When you try the beer, you just fall in love with it; it's phenomenal."
C&B's craft beer selection is constantly changing, though the quality of the beer stays consistent, Jaoude said. Add to that a wide selection of gourmet sodas, house-made sangria, vin chaud, local and imported ciders for a unique, delicious stopover in Belgium without needing your passport. For the wine lovers in
the crowd, never fear. C&B offers an excellent, affordable French wine selection for everyone's sipping pleasure.
Jaoude said the restaurant's Sunday-only brunch has been on hold since COVID began, as well as private chef's tables smack dab in the middle of the kitchen for adventurous diners. He hopes both popular elements of his business can return, as diners venture out more and the related CDC and Health Department COVID guidelines relax. The bistro does not accept reservations but uses a call-ahead list to hold a table for no more than five minutes or so before you arrive during their peak hours and days.
Whether you're in the mood for a Belgian beer on the patio on a sunny afternoon or a gourmet European dinner, Cock & Bowl offers Occoquan diners intriguing, authentic options to enjoy, indoors or out.
Cock & Bowl is located at 302 Poplar Alley in Occoquan. 703-494-1180, info@cockandbowl.com
Dawn Klavon is a journalist, author, media director and recent transplant to NOVA. She thrives on juggling multiple projects, discovering local hot spots, consuming blue crab and conquering sudoku puzzles. Dawn can be reached at dklavon@princewilliamliving.com.