Like many others, Octo's employees are always looking for new ways to keep their kids interested in learning outside the traditional classroom setting. As curious scientists, engineers and innovators, we've researched activities to bring science, technology, engineering, arts and mathematics (STEAM) to our kids during breaktime, whether between class sessions, on weekends or during longer periods off. Here are some experiments we've tried that have kids falling in love with STEAM!
STEAM Experiments to Try with the Kids
Common-Item Experiments
In October 2020, Octo hosted a Virtual STEAM Expo. We engaged participants in a series of lessons using mostly household items to demonstrate a variety of scientific principles. Now we're bringing those experiments to you. You and your children can access Octo's STEAM enrichment resources to find the parts list, experiment instructions, and videos to help you run these experiments on your own. This is a free collection of resources put together by our scientists, engineers, teachers and volunteers. The best thing? We know the experiments work because we conducted them in real time online with students!
Birdwatching
This activity has soared during the COVID-19 pandemic. Whether remaining put in your backyard or venturing off to explore your neighborhood or a local trail, you and your kids can see and learn so much about bird behavior. Birds help pollinate plants, control pests and spread seeds. The next time you head outdoors, look up and consider the following: How are birds helping your neighborhood? What kinds of birds do you see? What different birds appear based on the bird seed in the feeder? What time of day do they visit, and does it change based on temperature or weather? Does the presence of a squirrel or other animal change the bird's behavior? How can you attract more birds to your yard?
Renewable Energy
Wind, water, and the sun can help generate power. But how does it all work? Try these experiments and find out. You can build an anemometer and measure the wind in locations around you. (If you need some help, check out NASA's instructions.) Building a water turbine at home is also a fun activity (try out Science World's example) to see how the flow of water is translated into a mechanical movement. And did you know that you can observe sunshine to estimate where solar power potential is the highest? To do this, simply choose 2-3 spots to measure and check every hour from dawn to dusk. Write down if the spot is all sun, all shade, part shade or "dappled" (meaning that light is filtered by leaves on trees or a fence). Which spots would be best if you had a portable solar panel? BONUS: this could help you choose plants for a garden in the spring!
Astronomy
Here's a fascinating subject that is out of this world! As the Earth moves around the sun, the length of days change. Can you tell when we are farthest from the sun? Keep a time log of sunrise and sunset where you live and calculate the total number of hours of sunshine. Are you getting more sun or less sun each day? The winter solstice is the day with the lowest number of hours of sun. Does your data tell you which day is the winter solstice? BONUS: Make a sundial! Pick a sunny spot and follow these instructions from Scientific America.
Baking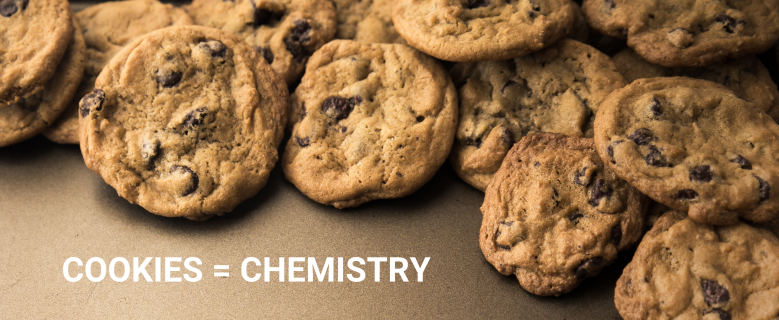 Did you know that baking is chemistry? One type of ingredient used in baking is a leavener, which is a chemical that helps bread, cakes and cookies rise. Recipes will often call for baking powder or baking soda, which has a chemical reaction with other ingredients to help your cookies and brownies puff up as they bake.
If you want to see this chemistry in action, use the recipe below as an experiment.
Preheat the oven to 375 degrees and line a baking sheet with parchment paper
Gather the ingredients:

1 cup unsalted butter, softened
1 cup sugar
1 cup light brown sugar
2 tsp vanilla extract
2 large eggs
3 cups all-purpose flour
½ tsp baking soda
¼ tsp baking powder
1 tsp sea salt
2 cups chocolate chips

Prepare the dry ingredients in four DIFFERENT parts and set aside

Bowl 1: ¾ cup all-purpose flour, ¼ tsp salt
Bowl 2: ¾ cup all-purpose flour, ¼ tsp salt, 1/8 tsp baking powder
Bowl 3: ¾ cup all-purpose flour, ¼ tsp salt, ¼ tsp baking soda
Bowl 4: ¾ cup all-purpose flour, ¼ tsp salt, 1/8 tsp baking powder, ¼ tsp baking soda

Cream the butter and both sugars until well combined (a couple of minutes with a mixer on medium-high)
Beat in eggs and vanilla until fluffy (another minute or two at the same speed mixer)
Divide the wet mixture into four equal portions and add into Bowls 1-4 of dry ingredients
Mix each of the Bowls 1-4 until well combined, then add ½ cup of chocolate chips to each. Clean the spoon/spatula/mixer between each bowl so you don't accidentally add extra powder or soda to the bowl
Roll 2-3 tablespoons of dough at a time into balls and place them on the baking sheet about 1 inch apart. Use a pencil to mark on the parchment paper which bowl the dough came from.
Bake for 8-10 minutes, until BARELY browned. Cool on the sheets out of the oven for 2 minutes, then move to a cooling rack.
Once you are done baking, keep the science experiment going by asking these questions: Look at the cookies – can you see differences in their size or shape? Break a cookie of each type in half – are any softer or crispier than the others? Taste a cookie of each type – are there differences in flavor or texture? Conduct a taste test with your family – which one is the favorite and why? Do you think you'll change recipes for other baked goods?
There are so many ways to put some STEAM into your breaks. Enjoy experimenting, and be sure to share your conclusions and other favorite STEAM activities on social media using #STEAMwithOCTO. You may just get featured in our social media!
"Corporate Meets Community" is a column highlighting Octo's corporate culture and opportunities. Based in Reston, Virginia, Octo solves the Federal Government's most complex challenges by providing Artificial Intelligence, Blockchain, Agile DevSecOps, Cloud Engineering, Open Source, Cybersecurity, and Data Science solutions. Octo enables the government to meet the needs of rapidly changing missions with agility. We challenge the status quo, empowering federal agencies to leap IT hurdles by using emerging technologies to create solutions that enable rapid modernization, enhance citizen engagement, and maximize human impact. We continually develop ways to transform IT, producing results vital to national security, intelligence, health care, and more. Our approach is collaborative, and our outcomes are superior. Join our team of innovators. Explore careers with Octo.