Provided by Octo
Have you ever worked for a company where you felt a strong sense of belonging and purpose? Where you were encouraged to share opinions and ideas? Where you had unique opportunities to learn and grow? Where your team united through regular contributions to impactful social causes?
If so, you may already know what it's like to work in a culture that embraces stickitivity. Or maybe you are wondering, "What the heck is stickitivity?!" Urban Dictionary roughly translates this slang term as being stubborn (in a good business sense), using routines and tools to achieve best results.
Stickitivity, as it turns out, aptly describes how Octo came to create such a positive workplace, where we are all stubborn about showing up to serve others every day—showing up for our team members, for our customers, and for the communities we live and work in. Based on our own journey, we are excited to share a few actionable insights and ideas that anyone can use to help create a culture of stickitivity in their own organizations.
Take Stock of Shared Values, Interests
The first step is about observation and information collecting: Identify shared values and interests across your organization, your customers, and your employees. Regular surveys, focus groups, and informal conversations with team members and customers can help to uncover these insights. At Octo, we did this and discovered we are united by a shared belief that investing in employee engagement and socially responsible initiatives is essential to individual, team, and organizational growth, as well as the success of fostering a positive commitment to customer and community partnerships.
Encourage Teams to Develop Novel Solutions
Our teams are always rolling up their sleeves to help government agencies develop and deploy IT solutions. But the innovation doesn't stop there! Our annual Octo Hackathon encourages employees to form teams and collaborate to develop innovative technology solutions for real customer problems. This is always an exciting opportunity for our employees, as they get to showcase their creativity and skills to leaders from across the organization who act as judges for the competition. Plus, participating teams get to compete for cash prizes!
The pandemic challenged us in new ways last year, but in true Octo fashion, we said, "challenge accepted!" We pivoted to a virtual hackathon format which allowed us to expand last year's contest to also include a People's Choice Award where we invited employees to explore the hacks submitted and participate in peer voting to award more prizes and recognition.
Help Turn Talent Into Lifelong Learners
Employees are encouraged to become lifelong learners, working and growing in their Octo careers through access to professional development and tuition assistance opportunities and by engaging in our internal Octo University. The investment pays dividends as it allows us to support, retain, and grow our most valuable asset — our employees.
Prioritize Employee Wellbeing and Psychological Safety 
People are at the center of any successful organization. So, if you represent a company that hires people, you ought to care about wellness. It starts with hiring team leaders that model self care and encourage psychological safety. Getting this part of your wellness strategy right can go a long way in supporting individual and team wellness outcomes.
For instance, take a look at burnout, which this February 2021 article published by the Harvard Business Review describes as a "rampant" challenge with six key causes, including: "1) Unsustainable workload, 2) Perceived lack of control, 3) Insufficient rewards for effort, 4) Lack of supportive community, 5) Lack of fairness, and 6) Mismatched values and skills." When you understand those drivers of burnout among employees, you begin to see how critical it is to hire leaders who encourage the type of team environment where employees feel they can safely bring such concerns forward without negative consequences. In that way, psychologically safe teams are a prerequisite to preventing burnout.
Beyond that, find ways to bring your employees wellness resources and activities that support physical, mental and financial wellness. At Octo, our employees regularly engage in wellness webinars led by experts, connected fitness challenges, behavior-based action campaigns, wellness BINGO challenges and more. Find what works well and repeat those efforts, changing up themes or other elements.
Social Purpose is the New Norm
Seva — serving a greater purpose — is one of our core values at Octo. Corporate social responsibility is in our organizational DNA. We work "on the clock" to support the missions of our U.S. government agency customers. We also work "off the clock" regularly, in support of multiple critical community causes, including:
Hosting science, technology, engineering, arts, and mathematics (STEAM) activities and technology training with youth and young adults from underserved communities
Packing food boxes, school materials, and other supplies for communities in need
Supporting transitioning veterans who are interested in IT jobs
Promoting skills-based volunteer opportunities for Octo technologists to support data and technology needs for local non-profits, like helping Easterseals DC MD VA to build a data lake
Engaging employees in a wide variety of events benefiting charity partner organizations, such as the annual Dulles Day Plane Pull for Special Olympics VA, the Heroes Walk to Fly event for Luke's Wings, and the annual fall 5K for Phoenix Children's Hospital.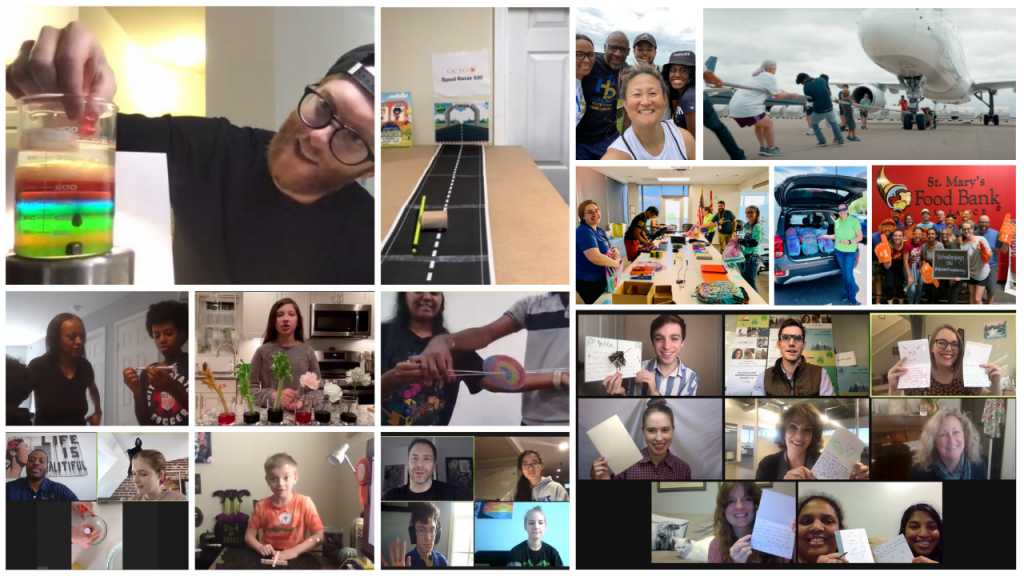 Take it from Vanessa Davis, Manager of Employee Engagement & CSR at Octo, who explains that "an authentic and proactive focus on engaging team members to support local communities accomplishes many objectives. First and foremost, to serve those most in need; next, as stewards of taxpayer dollars, to invest back in our communities; and finally, to nurture 'the soul' of our organization so that we can create distinction and stickitivity with our current and future team members."
The bottom line is, we all play a part in building a positive workplace culture that is a place people want to stick with because they feel safe to bring their whole self to work, to share ideas, to build community inside and outside of the organization, and to learn and grow as individuals and teams. If this sounds good to you, share some of these ideas to kick-start a conversation with colleagues at your organization. Or check out our careers at Octo and come join us!
—
"Corporate Meets Community" is a column highlighting Octo's corporate culture and opportunities.
Octo is a technology firm dedicated to solving the Federal Government's most complex challenges, enabling agencies to jump the technology curve. We don't just modernize. We create lasting change through best practices that help agencies implement and integrate at-scale next-generation technology and innovation. With a mission and service first mentality, we provide Agile, DevSecOps, Artificial Intelligence, Cybersecurity, Blockchain, Cloud, Open Source, and Data Science solutions, collaborating to solve customers' pressing problems. Headquartered in Reston, Virginia, Octo delivers proven technology vital to the intelligence community and health care, defense, national security, and civilian agencies that directly impact our nation. Visit octoconsulting.com.