By Amy Falkofske
Sponsored by Didlake Document Imaging
When Didlake, Inc. launched Didlake Document Imaging, they were regularly asked if they provided photo imaging services. Didlake answered the call by launching Didlake Photo Imaging in June 2020.
"Our 20 years of imaging experience started in microfilm. We knew that we could provide an exceptional digital product to customers looking for photo scanning," said Valerie Spencer, Didlake's Director of Business Development.
Didlake Photo Imaging provides high-quality digitized photos. The service focuses exclusively on photo scanning, helping customers preserve their priceless memories. As a division of Didlake, Inc., Didlake Photo Imaging fulfills Didlake's mission by employing people with disabilities who receive valuable job training and work experience.
The Benefits of Photo Imaging
Just like paper, photos degrade over time. Photos are also susceptible to being lost in a natural disaster such as a fire, tornado, or hurricane.
"One of the things I've found when I research natural disasters is that people are most upset about losing their family photos," said Steve Fuhrman, Didlake's Business Manager.
Digitizing your photos protects them and also makes it easy to share with family. Didlake uses high-quality industry-standard scanning technology.
Allowing Didlake to digitize your photos for you saves you from buying an expensive scanner, learning how to use it, and spending countless hours scanning images.
"Scanning photos to digital format helps to preserve and share memories with family and friends for generations," said Didlake Vice President of Corporate Communications and Marketing Erika Spalding. "For many, their family's paper photos live with one family member. Digitizing photos makes it easy to ensure that everyone in the family can share in the family's history."
How Photo Imaging Works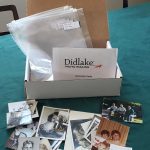 If you have photos that you'd like to have digitized, go to Didlake's Photo Imaging website. Choose a photo kit consisting of as few as 100 photos or as many as 2,000 photos. You can either drop your photos off at 8472 Kao Circle in Manassas with an appointment or have a photo kit mailed to you.
The photo kit contains bags and labels for your photos. Once you've filled the bags with your photos, you mail them to Didlake. Didlake's employees will send you emails throughout the process to let you know they've received your photos, they've scanned your photos and they're sending your photos back.
You can have photos from wallet size all the way up to 8×10 scanned. You'll get JPEG files back with Cloud (Digital Download), DVD, and Thumb Drive storage options.
Focus on Customer Service
Didlake prides itself on great customer service and convenience, high-quality scans, and the security of its facility. Fuhrman created and uses an internal acronym. It's QSSC – Quality: providing high quality digitized images to meet customer's expectations, Service: providing Customer First Service, Security: offering a secure facility with employees trained on how to safeguard files, and Convenience: providing a customer experience that saves time and effort from the comfort of home.
If you'd like to learn more about Didlake's Photo Imaging service, visit their Photo Imaging website and use our code PWLM30 for a discount until 7/25/2021!