By Amy Taylor
There are so many jobs that most people would prefer not to do, jobs that take a special kind of person – usually one with a strong stomach who doesn't get much recognition, but one who wants to make a difference in the community anyway. Whether they deal with something uncomfortable like death, or something smelly like garbage, without the people in our community who do these "dirty" jobs, our society wouldn't be as efficient, hygienic or healthy.
We interviewed some of our community's unsung heroes to get the dirt on their professions. We tip our hats to these fine folks who clean up our messes and make our world a better place.
Landfill Engineering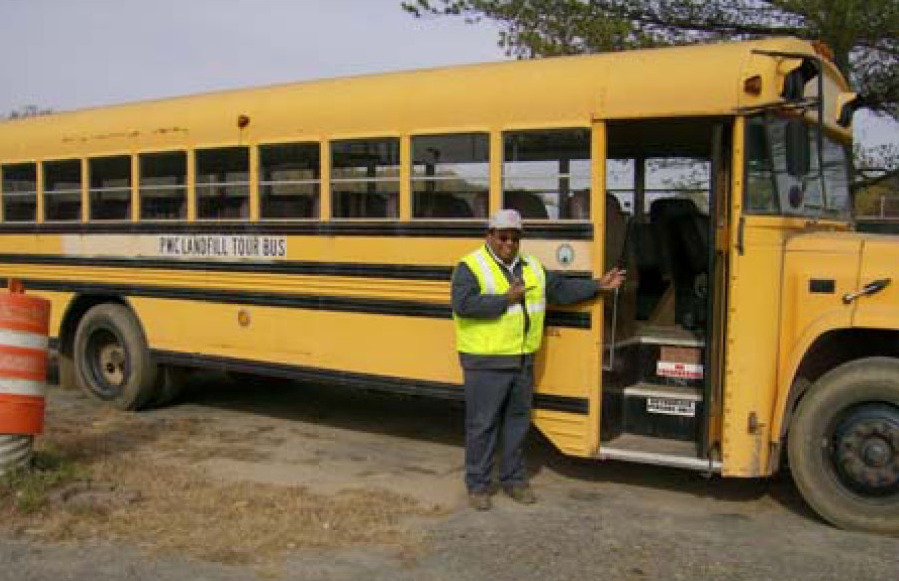 Edward Preston, an engineering assistant II at the Prince William County Landfill, wears many different hats in his position. He has been working at the landfill for 22 years.
Preston's job is critical for the surrounding community because he monitors the impact of the landfill on the environment. The county has regulations for what can go in the landfill, where it comes from and how it's divided up once it gets to the landfill, according to Preston.
"It's not the dump from when we were kids," he said. "We're not running the dump where you just dig a hole and throw everything in."
One of Preston's job duties is landfill gas monitoring, where he takes samples from monitoring wells on the perimeter of the landfill to ensure no gas is escaping into the nearby community. He also monitors stormwater and checks the landfill for safety issues like potential landfill fires. He also checks for household hazardous waste and verifies the material.
Preston performs daily inspections of loads of garbage coming in to make sure they don't contain contaminants like medical waste, florescent bulbs, construction debris, lithium batteries and other items that don't belong in the landfill.
"The messiest things are the random load inspections. You're opening up bags of trash and have to make sure you're not stepping on something that goes through your boot," Preston said.
"And when you're dealing with customers, you have to have a thick skin because some get a little irritated when you ask for an ID or tell them they have too much construction debris," Preston continued.
But working with trash doesn't bother Preston. "You get used to it as you're on the job. I guess the first time you open a bag of trash, it could be a little smelly, but you get accustomed to it," he said.

He enjoys educating the public about what goes on behind the scenes at the landfill.
"I also do landfill tours. We tour Boy Scouts, Girl Scouts, local garden clubs, JMU students and international groups. Giving tours is also pleasant because we let people know that we're not running a dump, and they leave with a different opinion of the landfill. They learn there's actually an organization to it," he said.
Preston started in his landfill career as a temp because he was out of work at the time.
"One thing led to another, I was in the back with the recycling crew, and then I started driving trucks. Then my supervisor introduced me to landfill gas monitoring, and with that experience I was able to move up to engineering assistant," he said.
To work in his field, Preston said, candidates need a lot of patience. "You have to be able to deal with the public and speak clearly to them. For my position, you need that and being able to read blueprints," he said. "I took architecture in college, so that helped a lot. You also need a knack for liking to be outside, because most of my work is outside."
According to Preston, the people he works with and some of the landfill's customers are the most rewarding parts of his career. "We have a great bunch of people. Everybody's great, and looks out for one another. We all get through the day together."
He recounted a recent customer call that made him and his coworkers smile. Two of his coworkers had assisted a gentleman who was on oxygen with unloading his vehicle. The customer took the time to call and personally thank them, which meant the world to Preston and his colleagues.
Lice Eradication
Just thinking about head lice is enough to make most people start itching, but Chris and Kristi Winkler don't back down in the face of a creepy, crawly challenge.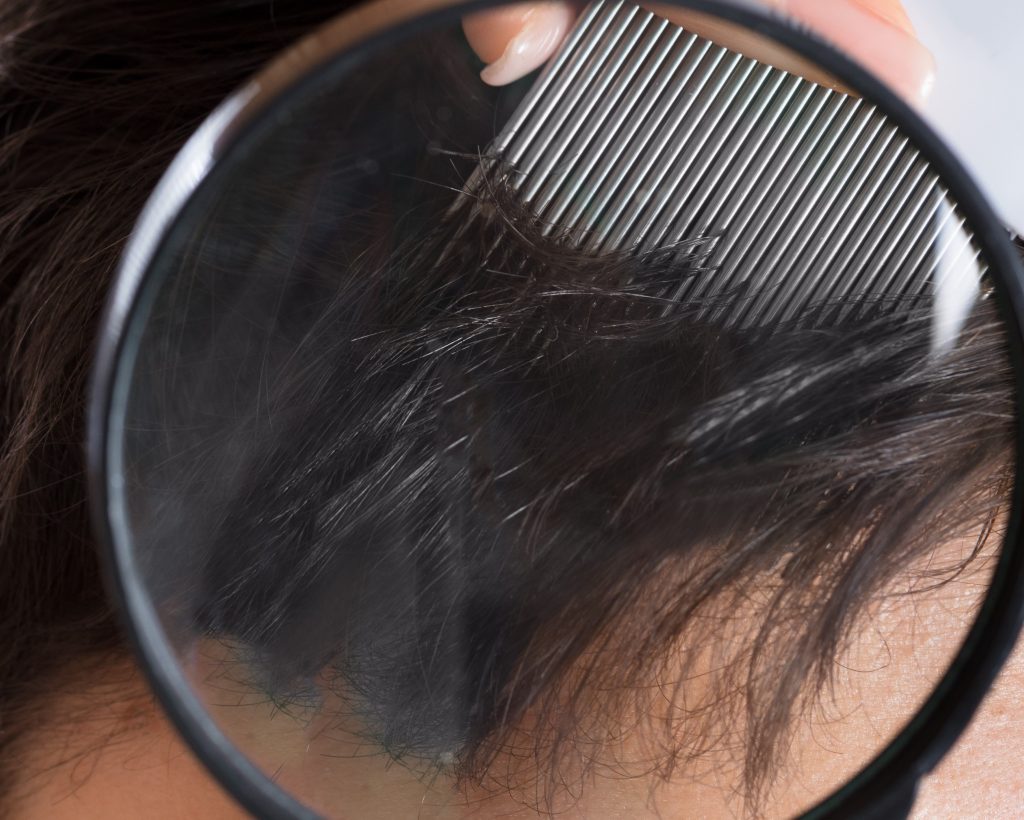 This husband and wife duo are owners and partners of Lice Clinics of America in Woodbridge, but they don't just sit behind desks and run their part of the franchise. They are right there in the buggy trenches along with their employees.
They provide "…lice eradication by certified technicians using a medical procedure called the AirAlle," said Kristi Winkler.
To prevent themselves and their staff from getting lice, they work in a controlled environment. "Lice cannot jump or fly, which helps," she said. "Technicians follow a protocol that includes surgical scrub caps and lint roll scrubs after each treatment for extra caution."
The entrepreneurial couple combined their professional backgrounds and transitioned into this business to help people in the community.
Chris has medical writing background; Kristi is a licensed esthetician. Transition into a medical field made sense, as did the business model. "We both are wired to solve problems, especially ones that will improve a person's quality of life and ease a very uncomfortable and stressful event such as lice," she said.
The Winklers are unphased by working with lice every day. "Once we learned they don't jump or fly, we were fascinated by the creatures. We continue to keep up on research and on the latest clinical findings," she said.
Most of their patients are under 15, so Winkler says compassion and care for people, especially children, are imperative to their business. People in their field also need to be problem solvers and have good attention to detail.
The reward in their work comes from helping people.
"When our patients come in, they are usually upset—sometimes in tears! But when they leave, they are smiling. That is our reward," she said.
Dog Grooming
Steven Rayfield, owner of Dog Heaven Grooming Spa in Nokesville, spent his life in the restaurant and restaurant affiliated businesses when he decided he was ready for a major change.
"At 63, I went to grooming school because I wanted to change my focus on life…For the golden years, I didn't want to work with people so much. I wanted to work with pets. Pets don't have an attitude, and they don't talk back. I wanted to have a more rewarding work experience and still have an income," Rayfield said.
Rayfield currently works with one other full-time groomer. As the business owner, he wears a lot of hats. He books appointments, answers the phone, bathes and grooms dogs and cleans up afterward.
"This is a type of job where we encourage everybody to participate in whatever needs to be done at the time. It can be hectic one minute and dead calm for the next 20. It's not quite like any other service business," Rayfield said.
The messier aspects of his job are mostly related to dogs' bodily functions. "Sometimes the pups will not be walked properly before they come in, and if they are brand new customers, sometimes they get a little stressed and let their bowels slip from time to time. Little dogs get excited and urinate on the floor, so you need to wipe that up with a disinfectant because it's a trigger for other dogs to do the same," Rayfield said.
Other less-than-appetizing job duties include shaving dogs that are badly matted, cleaning dogs with yeast infections in their skin, dealing with parasites like fleas and ticks, and cleaning out dogs' ears, tear residue and food that gets matted around their mouths.
"The least pleasurable [task]is probably expressing the anal glands. Small dogs especially have trouble expressing their own anal glands. A lot of dogs are house dogs, so they don't know how to do that," Rayfield said. We express the glands because you don't want your shih tzu to jump on your $5,000 couch and leave a smelly mess. The anal glands can be sometimes impacted, and when expressing them you don't want your head to be stuck down there unless you want to take a bath yourself when you're done."
Rayfield didn't really think about the less pleasant aspects of the dog grooming business prior to starting it, but the pitfalls of his business aren't enough to deter him from doing what he loves.
"I wasn't aware of the pitfalls initially, but I don't know any businesses that are all glamor and frills," he said. There's always a dirty or unappealing side to every business.
Rayfield said people in his field need to have "…patience, a love for animals, compassion and more patience.
"When the dust settles and mom comes in to pick up her dog, and her eyes well up with tears because she sees her little baby all nice and smelling good, it makes it worthwhile," Rayfield said.
Trash Bin Cleaning
Merv Olds got inspiration from overseas for her trash bin cleaning company. She and her husband Gary, along with their friends John and Lynne Triggs, are owners and operators of Remarkably Clean Bins in Haymarket.
In January 2015, she and her husband were both working for different telecom companies when they were laid off within weeks of each other.
She was looking into starting a business and got inspiration from her friend, Lynne Triggs. "I was talking to my friend Lynne, who is from Scotland. Over in Europe, there's a guy with a pickup truck and hose who comes around and cleans the bins," Olds said.
The idea sparked her interest, and she found a company that manufactures trucks that will clean and sanitize trash bins in an eco-friendly way.
Merv Olds and Lynne Triggs co-own the business, but they're not afraid to get their hands dirty. They drive their specialized truck to each customer site. If residual garbage is left in the can, they will remove it.
"Lynne will go get the bins and set them up with the grabbers," said Olds. "We have spinners that clean the inside of them. I usually spray the bins with our detergents. Our detergents are all eco-friendly. Then, Lynne sprays them on the outside with a power washing hose. I'll be running the mechanics while she's spraying. After that, we spray the inside and outside of the lids. If they're clean to our satisfaction, then we take them off the grabbers, dry the bins, deodorize them and put them by the garage doors."
The least pleasant aspect of her job is, said Olds, "Maggots — that has been the worst. Some bins are so bad that the maggots are actually crawling out. We don't encounter it too often, but loose pet feces is another bad one," she said.
Olds didn't always have a strong stomach but has become somewhat accustomed to the smell of garbage on the job. "Once we've gotten the bins to a certain point when we're doing monthly cleanings, it's not so bad anymore," Olds said. Olds gets job satisfaction knowing that their cleaning process is eco-friendly and making her customers' lives easier.
"It's really saving the Earth because the water doesn't go back into the storm drains," she said. "It's also protecting kids and pets because if you try to clean it yourself, you dump the chemicals in the yard. I also love seeing the difference and hearing our customers say that they can't smell that nasty garbage smell anymore."
Amy Taylor ([email protected]) is a freelance writer and editor. She earned her BLS in English from the University of Mary Washington in Fredericksburg, Virginia.