By Amy Falkofske
Haven't ventured into Downtown Manassas lately? Then you might not yet have experienced its newest restaurant, Doug's Deli, an independent, quick-service deli right on Main Street. The restaurant opened officially on April 8 of this year with a ribbon-cutting and the mayor in attendance.
How It Started
Doug's Deli was started by Owner/Operator John Windley. Windley has worked in the restaurant industry for 10 years and had been thinking about owning his own business. The pandemic gave him the opportunity to make his dream a reality.
"When the pandemic shut down most restaurant operations, it seemed like an opportunity for me to spend that time building a place I could open when the pandemic was over. But I really didn't expect it to take this long!" he said.
Windley had previously managed Brixx in Woodbridge and Ornery Beer Company in Fairfax. He also worked at Zandra's Historic Downtown Manassas location before it closed for renovations after the pandemic hit.
Coming Home
For Windley, Historic Downtown Manassas was the obvious choice for Doug's Deli. Manassas is where he grew up.
"When thinking of starting my own small business, I knew the community support that existed here in Manassas would be a key element to my success. There was never any other location to consider; I wanted to be part of this community," he said.
Fresh-Made Menu Items
One of the most popular menu items is the Reuben specialty sandwich, a 1/2 lb. of corned beef piled high with sauerkraut, Swiss cheese and house-made Russian dressing served on grilled marbled rye.
Another popular item is the chicken salad sandwich. The Doug's Deli version is savory instead of sweet, with roasted chicken, onion, red peppers, slivered almonds in a light dressing with lettuce and tomato on toasted white bread. Other menu options include six specialty sandwiches and seven sub choices.
Doug's Deli also offers a variety of sides, fruits and veggies, drinks, desserts and local beer, cider and wine.
Not Just Any Deli
"We start with fresh produce, pair it with the highest quality meats and cheese, and top with our flavorful house-made sauces to create delicious 'craft sandwiches'," said Windley.
One of the reasons the Reuben sandwich is so popular is because of the house-made Russian dressing. Windley makes the dressing himself in-house. It's so popular that customers have requested the deli bottle it for sale.
The restaurant's horseradish sauce, balsamic vinaigrette, Chile lime aioli and basil pesto are also house-made.
Where Customers are Friends
Windley runs the restaurant with his family, and they think of their customers as friends.
"We are truly part of the local community here. We have customers who recognize and appreciate the hard work we are putting into this business and care about our success. They are not just our customers; they are our friends and family," he said.
Doug's Deli also aims to fit into the busy lives of its customers.
"Recognizing the busy, fast-paced culture we live in, we focus on preparing exceptional food delivered as a quick-service dining option. We focus on building long-term relationships and strive to become like family to our customers by combining traditional values with modern service delivery. That's why we say 'Doug's Deli, where everything is good to go!'" said Windley.
Serving Beer, Cider and Wine From Local Breweries
Windley strives to "be part of the dine and drink local movement" in Virginia.
"While we cater to the quick dining service for lunch, we knew that pairing our craft sandwiches with craft beer would be of interest to the dinner and weekend dining crowds. Craft beer provides an interesting way to bring people together. Virginia has some of the best breweries, and we are able to partner with them to host events like the Downtown Manassas First Fridays," he said.
On May 7, Doug's Deli hosted a tap takeover event with Lickinghole Creek Brewery, a farm brewery in Goochland, Virginia, and looks forward to having other Virginia Breweries throughout the summer.
A Family Business
Even though Windley is the owner of the business, his venture with Doug's Deli has really been a family undertaking.
"I could not have done this without the tremendous support from my family and friends; I am extremely grateful! My father, John, helped me with all the construction. My mom Ellen helped with all the business regulation and compliance needs, and my two sisters Christina and Amanda have helped with all the customer service efforts," he said.
Windley also has a close circle of friends who have pitched in to get Doug's Deli underway.
"My great circle of lifelong friends helped make the website, create the logo, and gifted me the awesome Doug's Deli sign that hangs in the loft dining area. A special shout-out goes to Ricky and Justin. Last, but certainly not least, is Samantha, that special person who I want to go home and tell about my day at the Deli. I am fortunate to have such a great circle of family and friends supporting me on this journey," he said.
Dine-In, Carry-Out, Delivery or Catering
Realizing that different customers have different comfort levels with the pandemic almost in the rearview mirror, Doug's Deli offers its food in whatever way you'd like to get it. If you feel comfortable dining in, you have that option. You can also order online for carry-out or delivery. Finally, catering is available for your event or family gathering.
Doug's Delis is located at 9366 Main Street in Manassas. It's open Friday, Saturday and Sunday from 11 a.m. to 8 p.m., and Monday through Thursday from 11 a.m. to 6 p.m.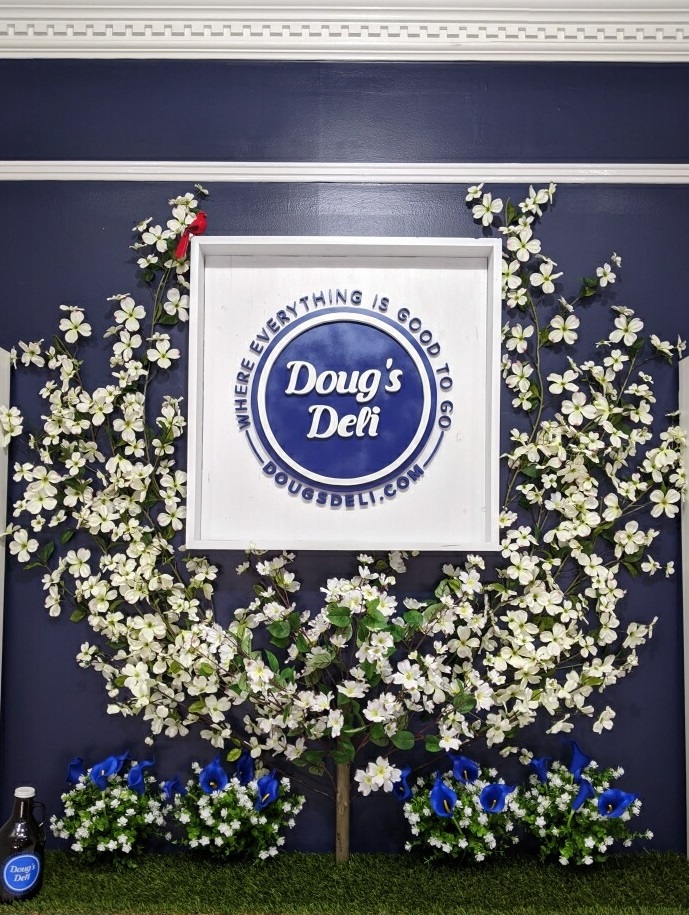 Amy Falkfoske is a freelance writer and photographer. She has a Master's degree in Film-TV with a concentration in screenwriting. She lives in Bristow with her husband, two boys and two Beagle dogs.