Provided by Prince William County Schools (PWCS)
Non-Instructional Job Fair

Saturday, July 10  – 9:00 a.m. to 12:00 noon
Kelly Leadership Center
14715 Bristow Rd., Manassas
Representatives from Transportation, Facilities, and Food Services will be available.
Hiring for school bus drivers – starting pay $21.34/hour, and many substitute custodial and food services positions.
Register for the Non-Instructional Job Fair
Questions? Call 703-791-8050
For information on vacancies, please visit the human resources webpage.
The PWCS Aquatics Center is Hiring!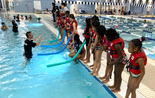 The Aquatics Center is looking for Water Safety Instructors and lifeguards.
Aug. 1 to 8 – Water Safety Instructor Course
This class is free ($275.00 value) to candidates who apply and become an employee. You must be 16 years or older and be able to swim at a level 4 skill level. We offer flexible hours that will fit into everyone's schedule!
Apply today to begin teaching children and adults how to swim.
Visit the Aquatic Center website for information on swim lessons, lifeguard training classes, and the Junior Lifeguard Camp.