By Amy Falkofske
In 2017, a young man with a big heart started losing his hair. The following days, weeks and months were  difficult for 12-year-old Ethan Stearns, his dad, Wes, and mom, Lisa, not knowing what was going on. But then, a diagnosis came. It was alopecia, a condition where the immune system attacks hair follicles. Instead of asking "Why me?" Ethan's first response was, "We need to do some fundraising." Out of that statement, Ethan's Alopecia Awareness was born.
Alopecia affects 6.8 million people in the United States, and one out of every 1,000 children has the disease. There are three types of alopecia; areata, which is a local spot, totalis, which is total loss of hair in one particular area, and universal, which Ethan has, where you have no hair.
How It All Started
When Ethan's hair started falling out three and a half years ago, Wes and Lisa were spraying on Miss Clairol to cover up the bald spots. A trip to the doctor resulted in Ethan getting a cortisone shot in his head and the doctor's reassurance that the hair would come back. On the car ride home, Ethan floored Wes when he
proclaimed that they had to do some fundraising for kids who couldn't afford treatment.
"Ethan was just about 12 at that time, he's in the back of the car, and he says, 'We need to do some fundraising.' I said, 'What?' He says, 'Dad, I know I'm getting treatment, but other kids can't afford it.' And I was floored. I was like, 'I can't believe this.'
Instead of saying, 'Why me?' he was thinking of other kids. I said, 'Okay, we can do that,'" said Wes.
Ethan's hair continued to fall out to the point where Wes had to take him to get the rest of it shaved off. Unbeknownst to Ethan, after dropping him off at school, Wes went back to the barbershop and had all of his hair shaved off too. He then came back to Ethan's school with Ethan's grandfather, who is also bald, and talked to his classmates about alopecia.
"Ethan's mouth dropped. He had no idea I was coming back. And we talked to sixth graders who all of a sudden became spokespeople across the whole school about alopecia," said Wes.
Time passed, and Ethan continued with his daily activities like playing hockey, until one day, Wes asked him if he was ready to get started putting Ethan's Alopecia Awareness together.
"There were some good days. There were some bad days. Finally, the hat came off. He's now very solid. And I said, 'Are you ready to do what you told me?' And he said, 'Absolutely.' And so, we started this Alopecia Awareness with several goals, and we've already done a couple of things and have a lot of other great plans," said Wes.
The Mission of Ethan's Alopecia Awareness
Ethan's Alopecia Awareness aims to help other kids who need wigs, micro-blading, medicine and emotional support. Wes tells the story of how they helped a little girl named Maya find her confidence.
"We invited a few families to a Nats game, and a little 7-year-old girl named Maya and her family made it. She lost all her hair during alopecia, except for maybe a few strands in the back. So, she showed up at the game with her parents, and she had her hair covered, and I looked at her, I said, 'Oh my gosh, you have more hair than Ethan.' And she looked up, and Ethan took his baseball cap off. The giggle and the laugh and smile from this 7-year-old girl, who thought to this point she was the only person in the world with this condition, was priceless," said Wes.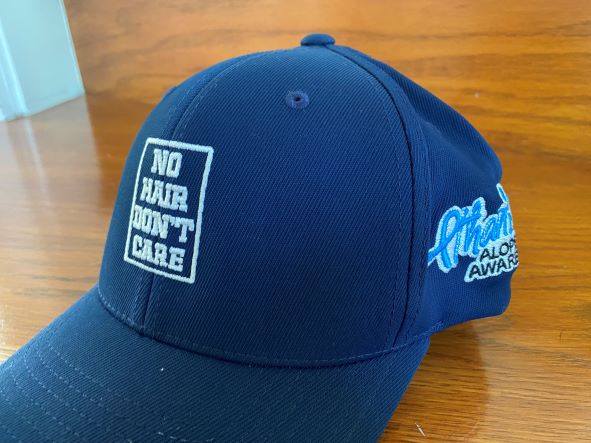 Ethan's Alopecia Awareness seeks to get kids like Maya together so they can be emotionally comforted the way she was. The foundation also has funds to help families dealing with alopecia and is looking for kids in need. They are not limited to kids, however. They are also open to helping adults with the disease.
A Desire to Help Other Kids
Ethan is now 15, and he has a passion for supporting other kids with alopecia.
"I see myself in a leadership role to help others. For all these young children like Maya, she didn't really think anyone had the same condition as her. She really thought she was the only one. And I just want people to understand that I'm just this person who went through it, and I'm willing to help others. I want to
help others fight through it and to understand that it's okay. It's only hair, and you're not the only one," said Ethan.
A huge obstacle for people with alopecia is getting insurance to cover the treatments since they are considered cosmetic. One of Ethan's goals is to get involved with an ambassador group that meets with legislators to work and get funding for medications that treat alopecia.
Dealing with the Hard Stuff
Ethan talked about the social difficulties of starting high school and having to answer questions about his hair.
"It's a very hard disease to deal with in general because people can say, 'Oh, he can have cancer, or this or that,' but some people, I say, just aren't really educated. I mean, that's the really hard part as well, because people can be very mean. It's difficult, but going over that hill, it takes a little while," he said.
Eventually, those in Ethan's sphere of influence came around. Now he's just a typical teenager surrounded by friends, plays hockey and has a girlfriend.
"Students walk up to me like, 'Oh, you're the kid who made the foundation. It's really cool.' But I wouldn't say if you have alopecia, you won't have friends. It's very easy. This is just your hair. Your personality is truly what makes you stand out as a person through your actions," said Ethan.
If you would like more information about Ethan's Alopecia Awareness or wish to donate, visit  ethansalopeciaawareness.com or call 703-675-2836. For those who donate, you'll receive Ethan's Alopecia Awareness signature baseball hat that reads, "No hair, don't care." You can also find them on Facebook and Instagram, where Ethan connects with other kids who have alopecia.
Amy Falkofske is a freelance writer and photographer. She has a Master's degree in Film-TV with a concentration in screenwriting. She lives in Bristow with her husband, two boys and two Beagle dogs.