By Emily Carter | Photos by Mark Gilvey
Patrick King has been fascinated with music most of his life. "I was always really passionate about making music," King said. "When I was around 10, I spent a weekend with my uncle and his sons — one of which was already a pretty good guitarist. One morning, when I thought that he had gone to work, I snuck into his bedroom and started goofing around with one of his guitars — just making noise, really. I was startled when I heard his voice cut through the noise to ask, 'Do you want to learn how to play that thing or are you just gonna goof around with it?'"
"From that point on, I've been in love with learning the guitar and every other instrument I can get my hands on. The time that he took by teaching me that day got me passionate about music, and really trying to find music in everything."
King officially started making music in the late 1990s, playing with bands in the Virginia Beach area. Eventually, he learned how to produce music on his own via computer. "Over the course of three years, I think I wrote somewhere around 80 songs," he said. "But then, I had another passion to chase."
In 2004, King moved to Northern Virginia and started Imagine, a marketing and branding agency now located in Old Town Manassas. Now in Imagine's 17th year, King can take some time to revive his passion for songwriting. Most of the songs on his new album A Long Way to Here were written more than 20 years ago. "I think it's time to open up some of this music to an audience," he said.
Since January, King has recorded every instrument himself in his home recording studio, then spent what he calls "about 80% of the process" mixing and mastering the recordings.
Each song carries deep personal meaning to King. One song, titled Everything, reflects moments that he suffered with depression years ago. "I don't know how it affects everyone, but for me, depression isn't a constant state. It comes in waves. Everything is about coming out of them and seeing hope in life again," King said. "I always found it really spiritual when those bouts start to fade, and you begin to see the world as less of a dark place."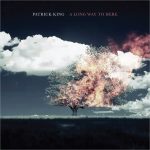 In addition to creating the album by himself, King designed the album artwork for A Long Way to Here, which depicts a single burning tree in an empty field, an image that King says represents the music on the album.
"I feel like this music has been growing inside of me for a long time, but no one could hear it but me. It's now burning to get out," King said.
When asked what he hoped to see from his music being out in the world for the first time, he shared he simply wants to see how it's interpreted.
"I'm excited to hear how [people]interpret it and learn how the songs resonate with their own lives. To see it move just one person would make all of this worth it," King said.
Patrick King's album A Long Way to Here will be released on June 29. For more information, visit patrickkingmusic.com. If you or someone you know is suffering from depression, visit nami-pw.org.
Emily Carter is a senior at Virginia Tech majoring in Multimedia Journalism. She is currently the Lifestyles Editor at Virginia Tech's student-run paper, the Collegiate Times. When she is not writing, she is either dancing alone to Taylor Swift or cooking herself a giant bowl of pasta.