Like this article? Support us by subscribing here. Your donation will help us continue to provide quality of life news and make local impact possible.
By Haley Huchler
Fall is the season of festivals, at least it seems so in Northern Virginia. While summer is too suffocatingly hot and winter too bitterly cold, fall is the perfect, mild-weathered time of year for an outdoor celebration. The crisp, newly cool air is the ideal backdrop for events filled with cozy, warm drinks and tasty snacks, where communities can rally and bond over fun events and gatherings. It's no wonder why the region is bursting with activity at this time of year. Our feature story is proof there are no shortages of exciting fall events and traditions to take part in, but here is a deeper dive into a few of the major fall festivals our community can savor this season.
Prince William County Hot Air Balloon Festival
It's not a bird, it's not a plane. It's a hot air balloon. The Prince William County Hot Air Balloon Festival returns to the Prince William County Fairgrounds this October. On Oct. 15 and 16, the gates will open at 3 p.m. for visitors to get their chance to ride in a balloon-powered basket in the sky. It's a bucket-list event you won't want to miss.
Hot air balloons won't be the only treat at the festival for visitors to enjoy. The Kids Zone will feature games and rides, including trains, bounce houses, rock walls, and a zip line. A DJ and live music performances from a variety of artists will provide the soundtrack for the day. Craft and retail vendor booths are the perfect way to shop and support local businesses. And of course, plenty of food vendors will be available with many different options of cuisine. But the hot air balloons are the clear stars of the show, so make sure to sign-up for a ride that you'll remember forever.
Stay for the Grand Finale after 8 p.m. and experience the hot air balloon glow and laser show, where visitors will witness all the balloons lit up in unison and set to music. Bring your blankets and chairs to claim your own viewing spot!
The Prince William County Fairgrounds are located at 10624 Dumfries Road in Manassas. Tickets are available at freshtix.com/events/princeballoons.
Haymarket Day
It's the town of Haymarket's biggest event of the year — don't miss out! The Haymarket Day parade is the epitome of small-town parade perfection and this year will feature a spooktacular theme. Come line the streets to see local schools, marching bands, fire trucks, cars, performers of all kinds, and law enforcement pass you by, all led by the year's Grand Marshal.
But that's not all the day has in store for visitors. Haymarket Day features dozens of vendors and entertainers, as well as culinary options galore. Enjoy performances on two stages with beer gardens located near each one.
In its 33rd year, this event is a well-oiled machine poised to present a fantastic time for everyone. Over 25,000 spectators and 200 vendors will be there for this day of joyful community celebration. To be one of them, arrive for the start of the parade at 10 a.m. down Washington Street. Parking is available at the VDOT Commuter Lot at Heathcote and 15 and at Tyler Elementary. Both locations will have a free shuttle service until 5 pm.
Spirits and Spirits Halloween Celebration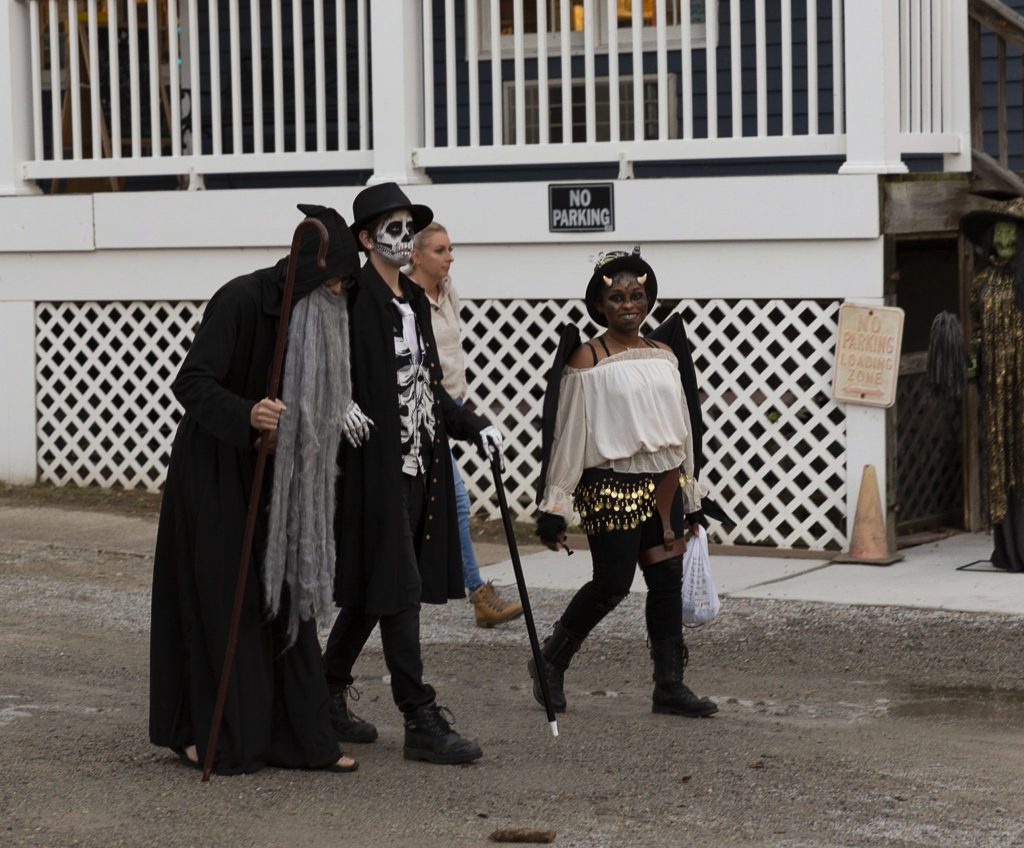 Occoquan is home to the annual Arts and Crafts Show that draws in 10,000 visitors yearly, so it's no surprise the town also knows how to put on a fantastic Halloween celebration. It's the place to be Oct. 28-30.
Promising a "spooky, scary" time, Spirits and Spirits encompasses a range of activities like a trivia night, a haunted maze, a costume parade, and more. Adults can enjoy the dive bar serving up dance music, firepits, and special spooky spirits.
Come out for a Halloween-themed movie showing (PG-13) and the opportunity to vote for the best decorations, jack-o-lanterns, and costumes at businesses around town. Top it all off with a ghost tour sure to shock your socks off, as Occoquan claims that almost every home, pub, and business in town is home to at least one non-living resident. Occoquan is a town that truly does know how to get into the festive spirit.
Barktober Fall Pet Festival
Looking for a fun way to celebrate the season with your pet? Join A Pup's Valley for their 4th annual Barktober Fall Pet Festival—a festival for their two- and four-legged friends. This costume party will feature photo ops for you and your favorite furry friends, prizes for best pet costumes — and prizes for the best outfitted humans too! Attendees will be eligible for giveaways, can browse a variety of pet vendors, and can savor some complimentary seasonal apple cider and treats.
RSVP on their website and be entered to win a free spa package from A Pup's Valley. Visit apupsvalley.com.
Haley Huchler is a regular contributing writer for Prince William Living.