By Dominique McIndoe
Prince William is the center for all things autumn during the month of October. We've got fall festivals and  cultural celebrations happening all month long. And our local pumpkin patches offer fun opportunities for you to bring home a piece of the season. Here are a few can't-miss events and spots.
The 38th Annual Fall Jubilee
The 38th Annual Fall Jubilee will be held on Oct. 2 from 10 a.m. to 5 p.m. in Historic Downtown Manassas. This long-running community gathering is lauded as a community-spirited, family-oriented event celebrating fine arts and crafts. Shop from more than 100 craft vendors for locally made products and take
home a taste of fall from their specialty food vendors offering tasty options like breads, fudges and cheeses. Support local nonprofit organizations at their community booths. Children can play games, enjoy rides and attractions, and take part in kid-friendly activities. Enjoy live music and entertainment from local
music, singing and dancing acts on the community stage. In case of severe weather, the rain date for the event will be Oct. 9. Address: 9431 West Street, Manassas, Virginia 20110.
Old Town Manassas Holiday Crafts, Desserts & Sweets
On Oct. 30, Manassas will be hosting the Old Town Manassas Holiday Crafts, Desserts & Sweets fair on the lush, green lawn of the Manassas Museum from 10 a.m. to 4 p.m. The event is — just as its name suggests — full of crafts, desserts and sweets for the whole family to indulge in. Arts, crafts and food vendors,
independent consultants, small businesses and entertainment acts will set the stage for a fun-filled day for festival goers. Don't miss the kids costume parade and awards starting at 1 p.m. You can even bring your furry family members for the pet Halloween parade from 2:30 to 3 p.m. Address: 9101 Prince William St,
Manassas, Virginia 20110.
2021 Manassas Latino Festival
What better way to welcome the autumn season than with cultural enrichment? Come out to celebrate the latter half of Hispanic Heritage Month at the 2021 Manassas Latino Festival. From 11 a.m. to 5 p.m. on Oct. 9 at the Loy E. Harris Pavilion, enjoy tasty cuisine from diverse Latin American communities, watch talented performers like Mariachi Los Amigos and Armonías Peruanas, and participate in family-fun activities like Zumba. Help further and support the mission of Abriendo Puertas, the Virginia non-profit organization and host of this festival, to celebrate the heritage and contributions of the Latin American community to Manassas, to the state and to our country as a whole. Address: 9201 Center St., Manassas, Virginia 20110.
Yankey Farms Pumpkin Patch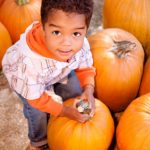 The Yankey Farms Pumpkin Patch can fill all of your pumpkin-picking needs. They are open throughout the month of October. Bring the whole family down to Nokesville to pick out your favorite orange fruits — of all shades, shapes and sizes — to use as autumn decorations inside and outside of the home.
In addition to pumpkins, they have apples, honey, corn, straw bales, gourds and other ornamentals available for sale. Before securing your perfect pumpkins, the kids can make their way through the corn maze scavenger hunt and the small animal exhibit. Ride around the farm on the cow train and play in the
fun farmyard activity area with corn boxes, hay piles, slides and a pedal tractor track. A fall day trip to Yankey Farms is a great way for families to celebrate the season together. Address: 14039 Owls Nest Rd. Nokesville, Virginia. / Hours: Saturdays 10 a.m.-6 p.m., Sundays-Fridays noon-6 p.m.
Pet lovers can involve their furbabies in some seasonal fun at the 2021 PetOberfest at Stonebridge. From 11 a.m. to 4 p.m. on Oct. 16 at Potomac Town Center, enjoy family and pet friendly activities including a pet parade/costume contest, animal rescues, pet-friendly exhibitors, a lure course for dogs, children's entertainment, store discounts and prizes. The fall fest will also feature a pet photo booth, and donations will go to the Prince William SPCA. All pets must be on a leash throughout the event. Address: 14900 Potomac Town Pl., Woodbridge, Virginia 22191.
Fall Harvest Festival
Though just outside of Prince William, the Fall Harvest Festival at the Farm at Mount Vernon is sure to be a treat for those looking for a history-themed fall adventure. Celebrate autumn with 18th-century activities like "meeting" General George Washington, learning about Washington's fisheries and how fish were salt packed, and hearing about 18th-century textiles and how they were dyed. Watch beer making, cooking
and spinning demonstrations. Explore the whole farm with family and friends. The festival spans two days, Oct. 23 and 24. from 9 a.m. to 5 p.m. Address: 3200 Mount Vernon Memorial Highway, Mount Vernon, Virginia 22121.
Dominique McIndoe (mcindoe@princewilliamliving.com) is an assistant production editor at Rowman & Littlefield and a longtime writer.