By Ashley Claire Simpson and Katherine Gotthardt
They make your heart swell bigger – and your blood boil faster – than anyone else in the world. They push the boundaries of forgiveness and elicit a love inside you that defies any kind of logic. They are your family members.
Familial relationships are often complex, steeped in emotion. And although it would seem daunting for many of us to find the words to describe our own family dynamics, the United States Census Bureau had to do it for statistical purposes. The bureau's definition of family households is, "a householder and one or more other people living in the same household who are related to the householder by birth, marriage or adoption."
Anyone who settles in the Prince William area – either independently or with relatives in tow – soon  encounters a variety of families, all of which meet the Census Bureau's definition. From single-parent led families to couples to step-families and others, the area is filled with different kinds of households, each with their own layers and challenges that add dimension to Prince William.
Family-friendly Prince William County
Prince William County's population has grown exponentially during the last two decades. Since the year 2000, the local population – now estimated to be nearly 470,000 residents – has increased by more than 50 percent. Amid this multiplication, as you can imagine, there is a greater variety of households and families than ever before.
If you were to analyze information about households from the last twenty years, you'd quickly discover that Prince William County has consistently been dense with families. For instance, the Census Bureau's 2000 American Survey found that families made up 76.9 percent of households in Prince William. Fast forward to 2018, and the number of families remained strong. The Census Bureau estimated that, last year, families  made up 77.4 percent of all households, with the average family consisting of 3.8 members. This is significantly higher than the 66 percent of present-day households in the U.S. that are families, with an average size of 3.3.
So, while some aspects of Prince William County have definitely changed amid growth during the last two decades, families are still prevalent.
Nuclear Families: Still a strong presence in the Prince William Area
Nuclear families are generally defined as two parents and their children. Despite being considered more "traditional," these two-parent families are still the most common type of family in Prince William County, making up about 41.9 percent of all family households.
"I would attribute this presence of nuclear families to the wealth represented by Prince William County residents," Sharon Kelly, Woodbridge-based Certified Life Coach, said. "This means fewer financial difficulties, which is often a major cause for divorce. That same wealth also allows people access to resources."
Regardless of reason, the presence of nuclear families has been consistent for Prince William County since at least 2000, when 44.5 percent of all family households were married couples and their own children.
Manassas and Manassas Park have higher numbers of conventional families. As of 2019, in Manassas, 59.5 percent of households are led by married couples. Of those, 78 percent are nuclear families. The average family size is 3.83. In Manassas Park, families with married couples make up 72 percent of all households, with 79 percent being nuclear families. Average family size is 4.1.
Prince William: A Blend of Blended Families
Conventional families may be the most common composition in Prince William households, but blended families also have a significant presence.
"There are 1,300 blended families forming each day in this country, and more than 50 percent of families in the United States are remarried couples," Kelly said. "I myself have been in a stepfamily for five years. It's my second marriage; I previously had been married for 16 years. Between my current husband's children and mine, there are six kids in our family. With the divorce rate in this country, people do need to understand that the challenges of stepfamilies are different."
Kelly found that blending was tough in the beginning, saying that the eight people in her household are constantly making adjustments. She is pleased that everyone in her family is happy and thriving.
Kristina and Martin Nohe of Woodbridge are parents of four children, two of whom are adopted. Besides being a blended family through adoption, their family is multiracial. "Having become a parent through foster care adoption and birth, I can honestly say that no matter how your kids come to you, no one
is truly prepared for what it is like to become a parent," said Kristina Nohe.
"When my kids were younger, I used to carry a family picture with me everywhere we went. All too often, security guards and well-meaning strangers would approach my children to ask if they were lost even though I was sitting right next to them because they are African-American and I am white.
"Living in a transracial family has its challenges, but it has offered our family immeasurable blessings and a greater understanding of the world."
Single Parent Families in Prince William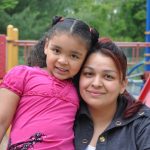 Sometimes, families are fluid. Divorce – or death – can occur, leaving one parent with primary responsibility for children in the household.
Regardless of exactly how someone becomes a single parent, their families – either a mother or a father along with his or her own children – represent about 11 percent of Prince William County's family households. This equates to about 22 percent of the county's children (among about 13,400 families) with just one parent at home, according to the Federal Reserve's Economic Data for 2017.
Historically, most single parents have been women. However, the gap between the number of single mothers and single fathers is closing, nationally and locally. Fifty years ago, there was just one single father for every 12 single mothers in the U.S. Today's ratio of single fathers to single mothers has more than doubled. Prince William follows suit.
Kelly herself was once a single mother, and although she mostly encountered women in her situation, she has noticed a growing number of men rising to the challenge.
"I find it commendable when fathers are present and available for their children," Kelly said. "We have had many years where that was not the case. Now we see fathers fighting for their rights, fighting to be present in their children's lives, and who are doing an awesome job at it."
Even with recent strides, it may take decades before single fathers are as prevalent as single mothers. One reason could be that so many more women today are delaying marriage, sometimes using modern medicine to have children on their own.
"Women and men today are getting married later, and maybe having children while they wait to meet someone they feel compatible with," Kelly said. "There are so many more resources available than there used to be to ensure that you form a healthy family. And that should be the goal for every family – to be
healthy."
According to the Census Bureau's American Community Survey, of all Prince William babies born in 2017, about 24 percent were born to mothers who were not married at the time. Unmarried women between the ages of 35 and 40 gave birth to 16 percent of these babies. Zooming in on Manassas, single 35- to 50-year-old women giving birth that same year made up 73 percent of all single mothers in Manassas.
What's also worth noting is, these percentages of mothers giving birth later in life are higher than those of Virginia, and the United States, as a whole.
Delaying "I Do"
In general, people are waiting longer to get married. The Census Bureau reported that, in 2018, just 29 percent of 18- to 34-year-olds in the United States were married. Overall, the national median age of women at the time of their first marriages is about 27.8, and the median age of their male counterparts is 29.8.
As of 2018, about 79 percent of U.S. family households included married couples. Then, nearly 47 percent of these married-couple households were without their own children.
Some childless married couples will one day have children, and some will not. Either way, older couples impact the nature of the families they will one day have (or not have). Older parents affect how many children families will have.
With people holding off on entering into matrimony, divorce rates are down, keeping up the percentage of conventional families in Prince William County. In Prince William, Manassas and Manassas Park, most single people just never married.
Multi-generational families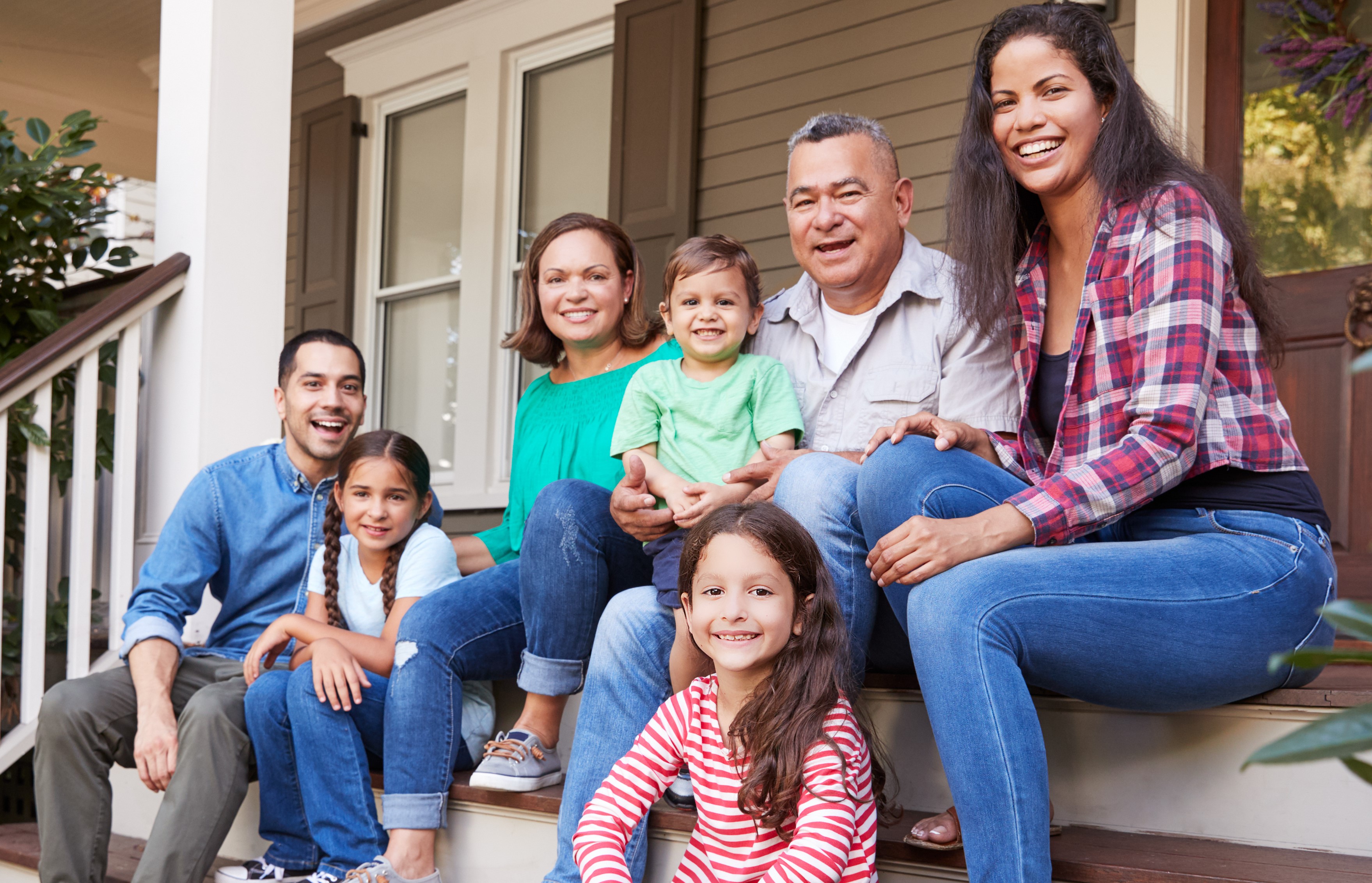 Forget what people may say: Living with your parents just might be in style. In fact, multi-generational living – when two or more adult generations reside together, or when grandparents and children under the age of 25 cohabitate – is more popular today than ever before.
The Pew Research Center concluded that, in 2016, "a record 64 million people, or 20 percent of the U.S. population, lived with multiple generations under one roof"… and that more than 44 percent of these people (28.4 million people) are living in family households that include "three or more generations – for example, a grandparent, an adult child and a grandchild of any age." It happens among people of all ages, races and cultures, and has been a growing phenomenon since the recession of 2007-2008.
Whether it's due to a higher cost of living, the influence of other cultures that value keeping families together or because the Baby Boomers are getting older and living longer, multi-generational living is commonplace in Prince William. It's so prevalent, in fact, that residential communities like local Avendale and Potomac Reserve focus on it, offering floor plans and other amenities to accommodate multi-generational living.
As the Virginia-D.C.-Maryland building company Brookfield Residential – the people behind Avendale and Potomac Reserve communities – report, "The local housing market and a range of other personal factors are driving families together into more traditional living arrangements by need. They're choosing to stay
together because of the benefits."
Same-sex couples and their families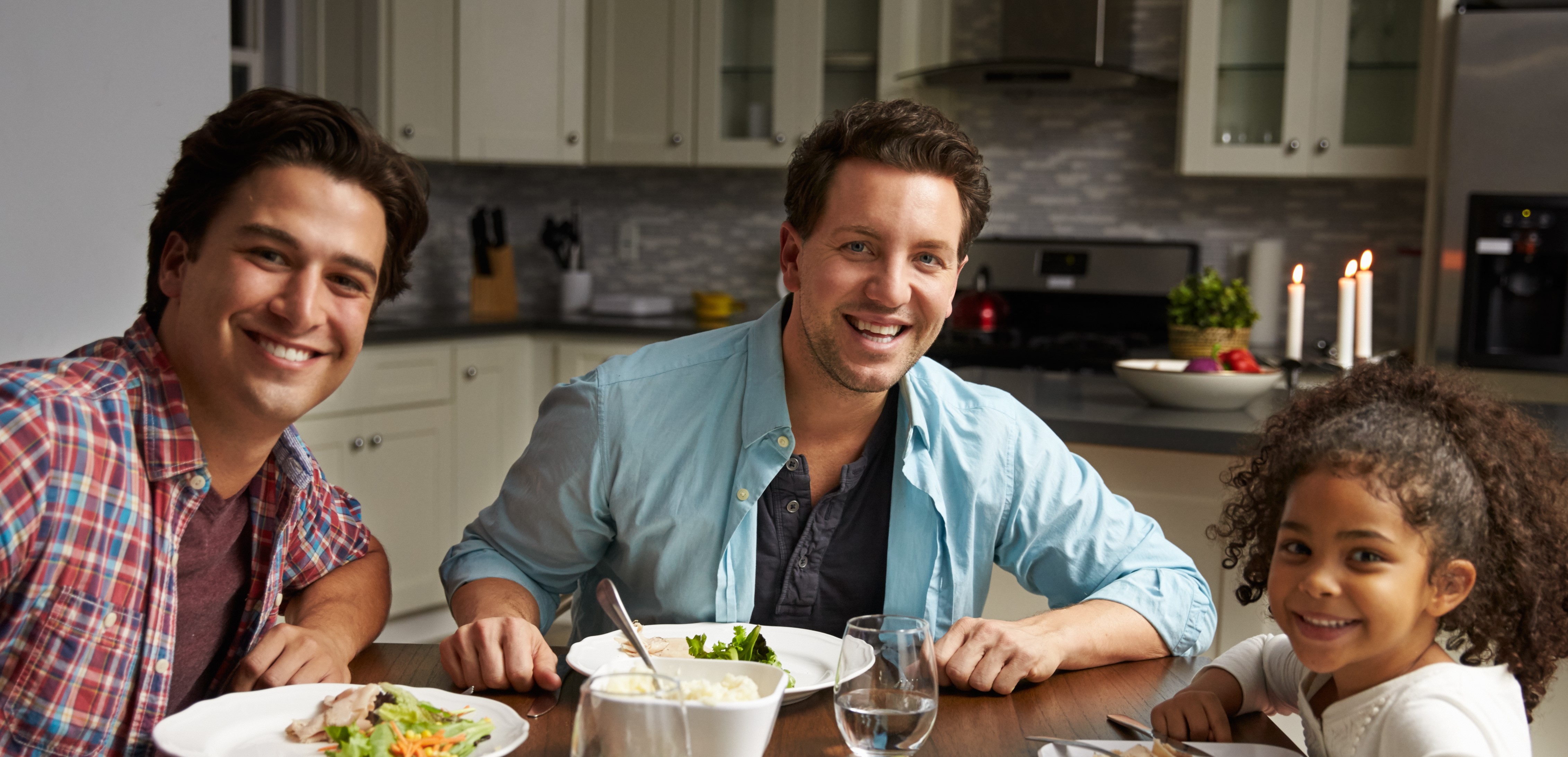 The state of Virginia only legalized marriage for same-sex couples toward the end of 2014. This was also the year that the Census Bureau officially began to count same-sex married couples as "family households." As a result of this relatively recent development, official statistics on same-sex couples and families are scant.
According to a study by UCLA's Williams Institute, "The U.S. Census does not ask sexual orientation or gender identity questions on their surveys. Only couples where both individuals identified as male or both individuals identified as female are included in the data. Thus, these data give a peek at the characteristics of a subset of individuals in the LGBT community: individuals in same-sex couples."
UCLA counted 538 same-sex couples in Prince William County this year. Manassas had 65, Manassas Park 18. The 2020 Census will shed some important new insights.
"I believe LGBTQ+ parents stay in this area due to its growth and access to resources that may not be as readily available or accessible in other areas of the state," said parent Nicolle Campa. "For example, we are very fortunate to have a Prince William County PFLAG chapter that meets monthly. Each month we have new families join these meetings, which is great. It is clear our county has a need for PFLAG; we have the opportunity to support one another and ensure our PWC LGBTQ+ families know we are here for them."
Family matters
Prince William County is a melting pot of families. Some of these family units will remain unchanged, some will expand and some will evolve in other ways. The type of family you're nestled in today could be very different from the one you find yourself a part of in the distant – or not-so-distant – future.
"My family doesn't look like everyone else's family," said Kristina Nohe. "When my daughter was little, she said that we were like a 'choconilla' twisted ice cream cone. The two flavors can't be separated, and they are better for it. We still get the occasional look, but we don't mind because we know that, for the most part, people are just wondering what our story is. It's a wonderful story, and I wouldn't change a word of it."
Ashley Claire Simpson ([email protected]) is a corporate communications professional by day, but her real passion is learning more about this community and the world by writing.
Katherine Gotthardt ([email protected]) is editor in chief of Prince William Living, a full-time content specialist and author of six books. She is the President of Write by the Rails, the Prince William Chapter of the Virginia Writers Club.