By Roxy Rowton | Images from Pexels
One doesn't have to wear a kaleidoscope of pattern to be fashionably dressed. But one should become acquainted with the principles of pattern to pump personality and panache into everyday styling.
Most individuals understand the power of color to transform wardrobe design. But patterns are often the undervalued supporting characters of wardrobe building and design. When it comes to coordinating patterns, most individuals conclude that it is a prowess better left to the fashionistas, designers, editors or bloggers. As with most wardrobe and style effects, the success to pattern-pairing is to master some basic principles.
Color: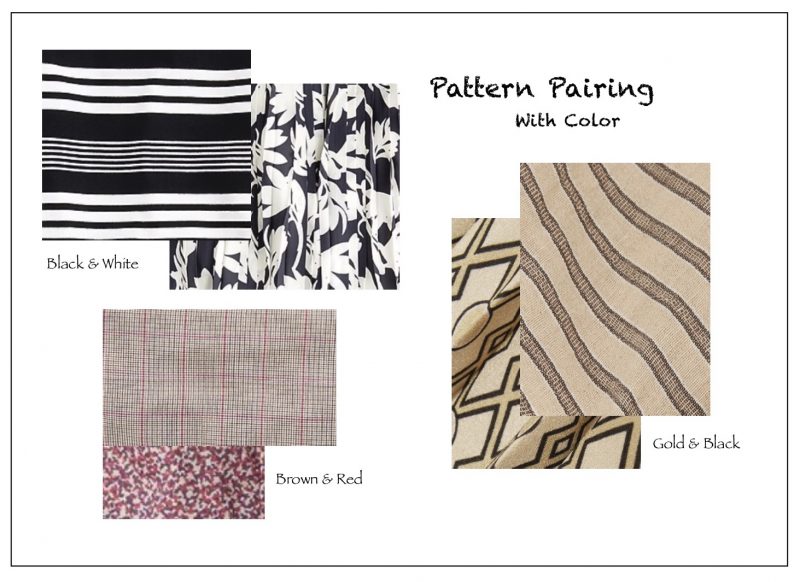 Pattern pairing can seem daunting when selecting garments to compose a visually agreeably outfit. Pattern pairing is relatively straightforward: limiting the outfit selection to an intersection of color can simplify the pattern pairing puzzle. Look for garments that share identical or very similar colors. Pair patterns that feature a shared hue. After gaining confidence in the competence of pattern pairing, pair accent and complementary hues. Add a neutral to the mix of two or more patterns with an accent or complementary hue.
Scale: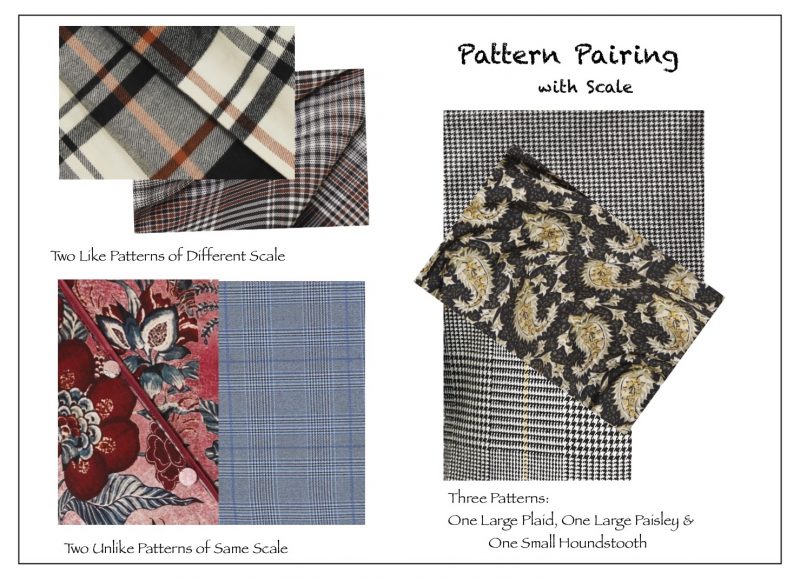 The second guideline for the layering of pattern is the consideration of scale. When mixing patterns in close proximity, avoid optical confusion and opposition through the variation of scale. Generally, simpler patterns make a harmonizing partnership with more complex designs. Mixing two patterns of the same design require the size of each should be different, such as a large stripe and small stripe. When mixing two patterns of unlike design, keep each pattern close in size to counteract optical opposition. (No large check with large polka dot!)
Complicated pattern pairings, such as three or more designs, demand an even more mindful observance of scale. To achieve a complementary partnership of three patterns within one outfit, let each design differ from another. Two of the three patterns can be like patterns for visual compatibility. However, the two like patterns should be different in scale. Choose an unlike third pattern by taking the scale cue from the dominant design of the two like patterns. For example, large stripe, small stripe and large floral or large houndstooth, small houndstooth and large paisley. Should pattern-on-pattern-on-pattern seem too much to conquer, layer in a solid (garment without a pattern) to break up and stabilize the pattern effect of an outfit.
Accessories:
Accessories can also be effective in pattern paring. Let accessories signal a transition from one colorful design to another by separating two patterns with a belt or scarf. Restrain the visual effect of multiple patterns by selecting an accessory such as footwear or a handbag to tackle one of the unlike patterns. Just keep in mind the guidelines of color and scale to mitigate any optical opposition.
The inclusion of patterns as a component of wardrobe design and everyday styling should not be overlooked. Patterns come in countless varieties:  stripes, florals, faunas, polka dots, paisleys, plaids, checks, houndstooths, herringbones, and more. It takes an adventurous spirit, strong sense of style and confidence to mix patterns with a creative flair. A little pattern pairing can go a long way to pump personality and panache into even the most plain of outfits. Embracing pattern pairing in the wardrobe mix gives an individual the permission to indulge his/her preference of expression.
Roxy L. Rowton has spent three decades assisting women transform their wardrobe from a random assortment of garments into a curated collection of functionality and individuality. She shares her expertise in the Fashion Files at Prince William Living and "build a better wardrobe" blog at everydayrefinement.com