Provided by Prince William County Schools (PWCS)
Counseling Classroom Established at Glenkirk Elementary School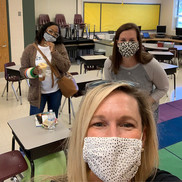 Where can students go to cope with the various feelings that go along with being a kid today? At Glenkirk Elementary School, students now have a classroom to go to dedicated exclusively to counseling lessons. Typically, counselors Beth Anderson and Beth Kunstel conduct their lessons by visiting their students' classrooms. Anderson said that a counseling classroom ultimately benefits the students because they have more space to engage in the lessons, helping students find strategies to cope with different levels of stress, anxiety, and worry.
Anderson said, "Having their own classroom allows students the space to relax and feel comfortable, learning important life skills such as listening, kindness, empathy, mindfulness, and practicing breathing exercises. We've seen students more engaged in our lessons both in the classroom and virtually this year. We've seen parents tune in and see what their kids learn about in a counseling encore lesson. Most parents will know what is covered in an art or music lesson, but not what is covered in a counseling lesson. And as counselors, we try to meet kids where they are in any given day."
The idea to have their own space was sparked by the unique set of circumstances brought about by COVID-19.
"We also were excited by the idea because after spending much of the day in their own classroom, it's always nice for students to be able to come to a new space for their encore time, and by having our own classroom we are able to create our own norms and expectations for the students to follow," shared Anderson.
The room is decorated with posters related to topics covered during encore lessons, such as, empathy, growth mindset, skills for learning, mindfulness, and kindness.
"My co-counselor Beth Kunstel is a master bulletin board creator and covered the boards in the room with colorful paper and border," said Anderson.
The classroom holds 12 desks appropriately spaced apart. Students enter the room for their school counseling or guidance lesson and sit at desks facing the SmartBoard. This set up has allowed students to interact with the counselors and their classmates in-person as well as their virtual classmates. The camera is positioned so that it can pan the room depending on who is speaking at the time.
Plans to use the classroom next year include small groups of students for collaborative work.
"We are definitely excited about the potential of our new school counseling classroom," said Anderson.
Adopted Dairy Calves are Featured in Class Lessons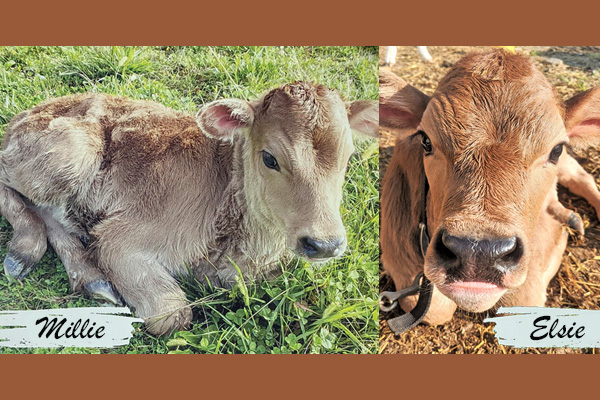 Millie the cow is officially the class pet of Nathalie Crawford's first grade class at Marshall Elementary School, while Elsie the cow is viewed as a family member by Virginia Pre-School Initiative (VPI) students in Emily Sasz's class at Featherstone Elementary School. Both calves are making learning more exciting.
Crawford's love for animals sparked her desire for her class to adopt a class pet. While scrolling through social media, she came across Discover Dairy, an organization that coordinates an adopt-a cow-program for classes. Crawford filled out an enrollment and then was registered to adopt a dairy calf for the school year.
Every year, Sasz teaches her VPI classes at Featherstone Elementary about the farm. Her lessons usually include hands-on learning through Virginia Cooperative Extension's 4-H Embryology project, which involves caring for chicken eggs. But after seeing an advertisement by Discovery Dairy, she thought adopting a cow would be a better fit for this school year.
Discover Dairy connected the classes with Catawba View Dairy farm in Fincastle, Virginia. Millie, who was born on Oct. 6, 2020, was paired with Crawford's class, while Elsie, who was born on Sept. 21, 2020, was paired with Sasz's class. Millie and Elsie are Jersey calves.
Discover Dairy also provided activity sheets and suggested lessons for students, while Catawba View Dairy sends photos and information throughout the school year to show how the calves are growing.
Both teachers incorporate their adopted cows into class lessons. For example, during a science lesson about animals, Crawford's students learned what Millie needs to survive.
"We have also talked about the differences between wild animals and domestic animals and how Millie is a tame (domestic) animal because she is cared for by her owner," Crawford said.
Millie will also make an appearance in an upcoming lesson about facts and opinions and a compare-and-contrast unit.
"They love having Millie as our class pet and look forward to the updates from our host farm. They want to go visit her at her farm one day," Crawford said.
Sasz's students have learned what Elsie eats and that she has her own bedroom, called a calf hutch.
"They want to send her cards because she is a part of our school family. We wish we could visit her," Sasz shared.
At the end of the school year, Catawba View Dairy Farm will invite students to a live chat with their adopted cow via YouTube.
Community Partners Bring New Opportunities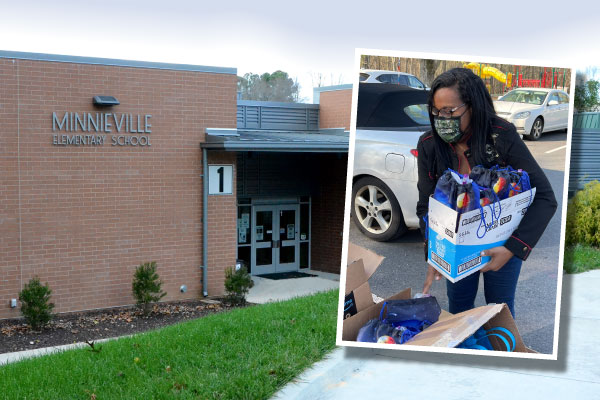 It's Saturday morning and Minnieville Elementary School students are hard at work building robots, listening to guest speakers, and conducting science experiences, all in the virtual world. These enrichment activities began well before the pandemic with in-person Saturday field trips and science technology, engineering, arts, and math (STEAM) experiences for the students. It's all thanks to a community partner who donates supplies and personnel to support the students' Saturday morning learning experiences.
"The Links, Incorporated Old Dominion Chapter started a National Society of Black Engineers junior chapter at our school three years ago," said Deborah Ellis, principal at Minnieville Elementary. "They have been amazing."
Currently, members of the community organization drop off STEAM materials during the week before the Saturday sessions. Parents then come to the school to pick up the materials so their child can participate from home, virtually.
"Students have the opportunity to provide their evaluations of each Saturday session," said Sheila Garnett, a program co-coordinator with The Links, Incorporated Old Dominion Chapter. "The data collected from ongoing student evaluations of the program suggest that their knowledge and interest has increased," she continued.
"Our community partnerships compliment and supplement our academic curriculum with a wider range of services and activities, particularly enrichment and arts activities, that are not available to students during the school day," said Ellis. "Our community partnerships plant seeds that will one day be harvested and lead to pursuits of higher education opportunities and successful career paths for our students."
"A natural bond has formed [between Minnieville and The Links, Incorporated,]" said Garnett. "The partnership is an opportunity to intersect common goals for optimal outcomes so that students and their families can excel," she said. "We hope the students will become lifelong learners and that their interest in STEAM careers continues."