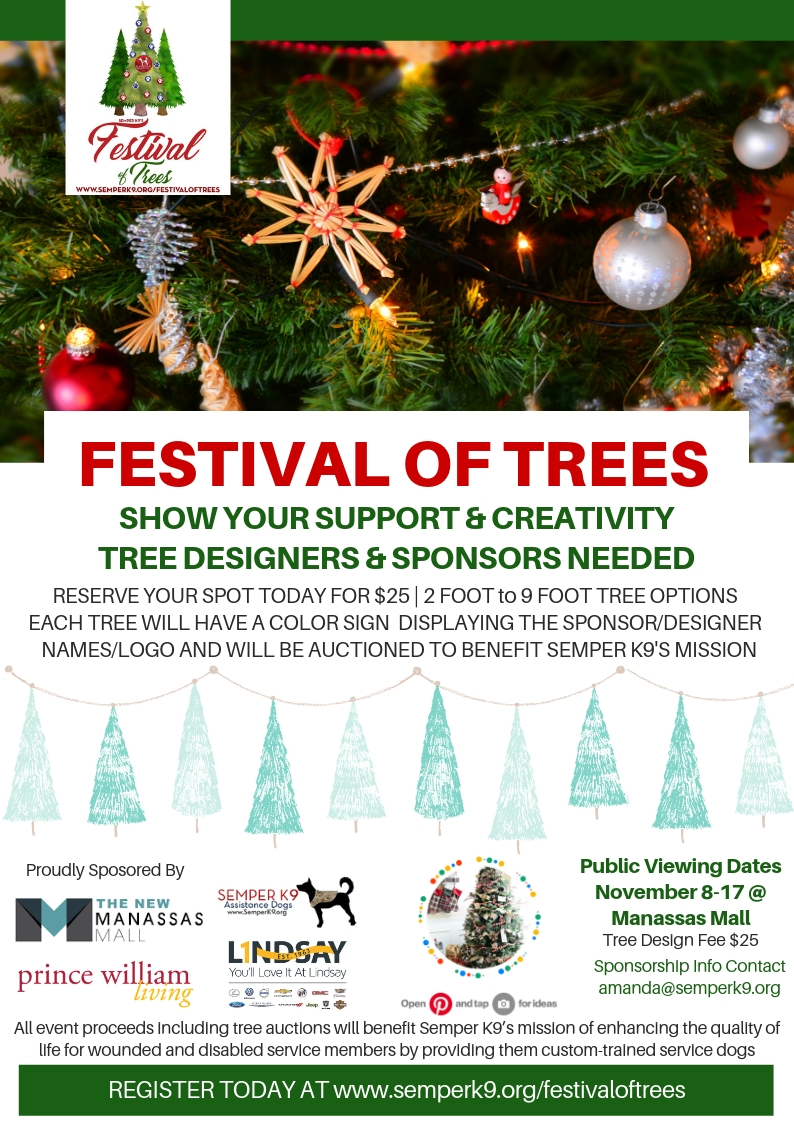 By Erin Pittman
Sponsored by Semper K9
In Prince William this year, the holiday season is going to the dogs — and the veterans! While this catch phrase often denotes something negative, in this case, it's full of positivity and holiday cheer.
Semper K9, a nonprofit organization based in Prince William, enhances the quality of life for wounded, critically ill and injured members of the U.S. Armed Forces and their families by providing them assistance dogs. Using rescued and donated dogs, the organization provides service dogs for psychiatric alert and mobility challenges free of charge to wounded service members.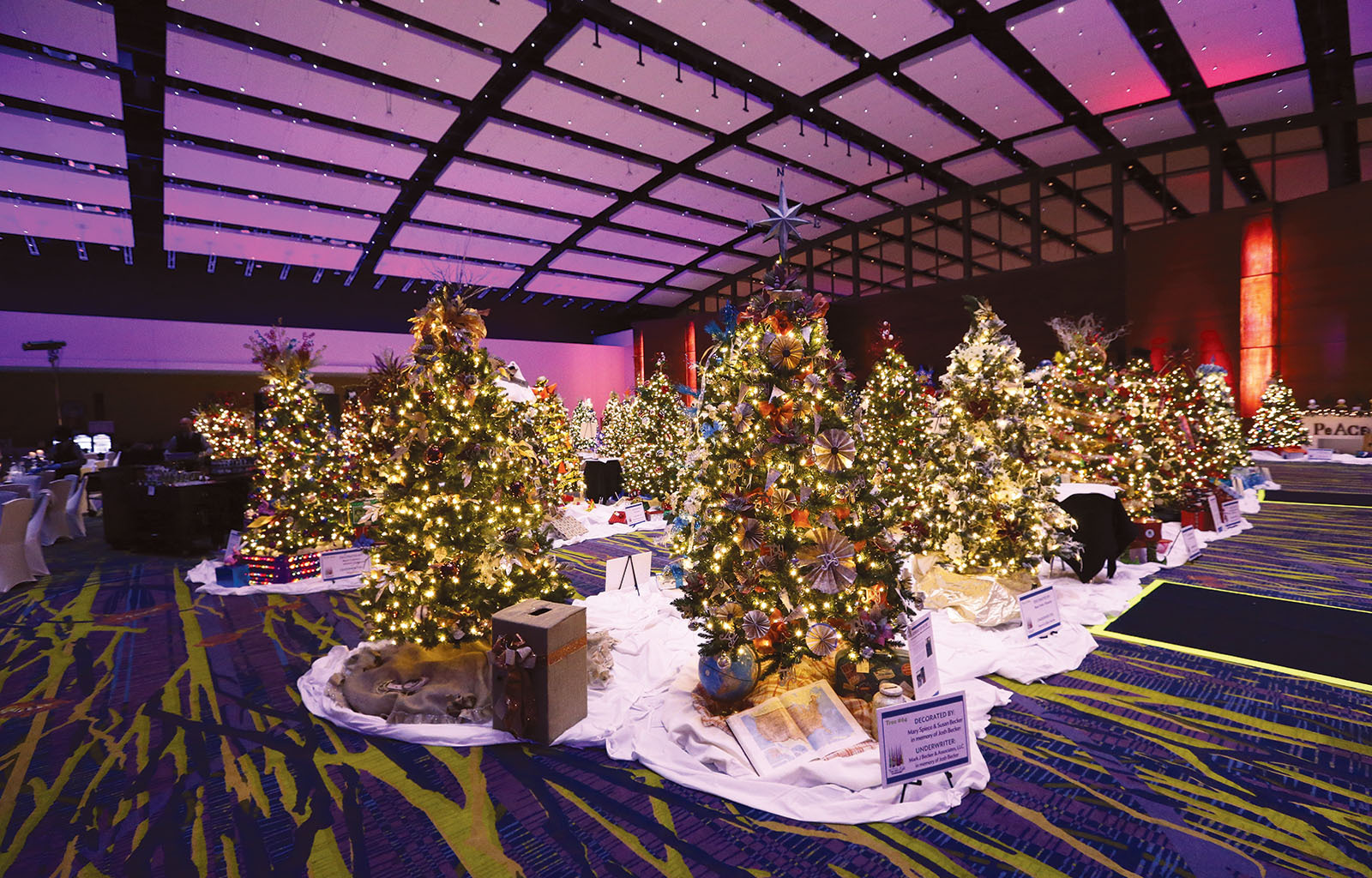 This November, to support their efforts, Semper K9 will be holding their first Festival of Trees. The festival offers local businesses, organizations and individuals the opportunity to purchase and decorate a tree. Throughout the month of November, the trees will be on display in the Community Room at Manassas Mall and available to the public for viewing. On Nov. 17, Semper K9 will hold their gala, where the trees will be auctioned off to benefit the nonprofit.
"This is a wonderful marketing opportunity for businesses," said co-founder and Director of Operations Amanda Baity. "It's a fun way to show they care about our community and a great way to kick off the holiday season."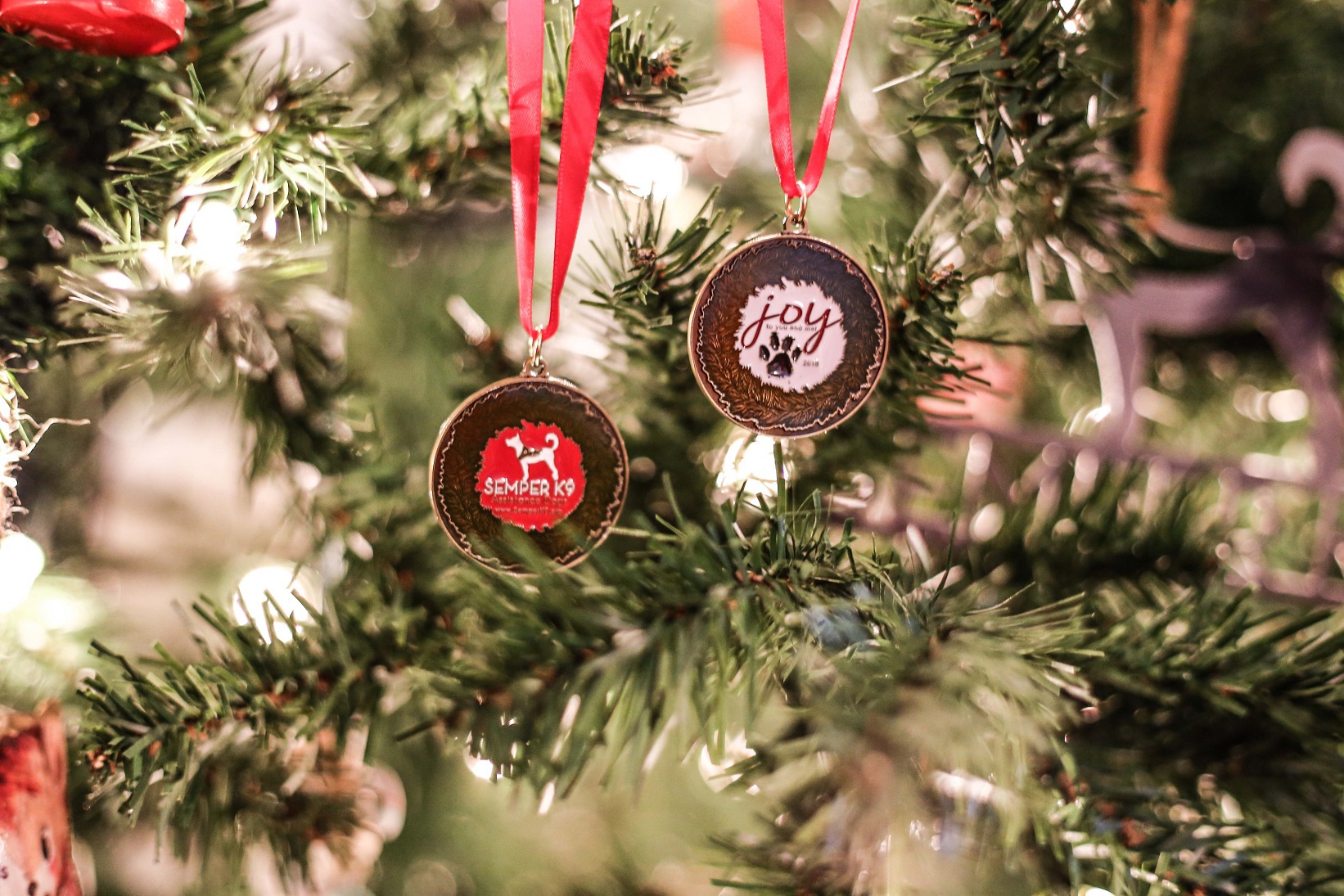 Trees can be themed to reflect the various businesses and organizations taking part. For example, a bakery might choose to cover their tree in colorful cookies, cupcakes and doughnuts, while an art studio could deck theirs out in brushes and every color on the wheel. Each tree will have a sign denoting the sponsoring organization or business.
Manassas Mall is the biggest sponsor of the Festival of Trees event, and Marketing Director Kelly Gilfether is excited for the mall to be hosting the event.
"Semper K9 is a wonderful organization, and I was thrilled when they approached us about hosting the event!" said Gilfether. "We hope that the Festival of Trees brings further awareness to Semper K9 and all the support they give to our injured vets and their families. Chris and Amanda Baity's mission is so beneficial to real heroes, and we are honored to play a small part in helping them fulfill it!"
Opening weekend is Nov. 8-10, and none other than the jolly man himself will be there to kick things off. On Nov. 9 at 10:00 a.m., the community is invited to come see the trees and attend an event with Santa. Tickets are $5 each. Children can decorate cookies, make holiday crafts, be entered for fabulous door prizes, receive a free family photo with Santa and a free book, and enjoy story time with a Semper K9, all while enjoying the Festival of Trees. All attendees will be able to vote on their favorite tree as well.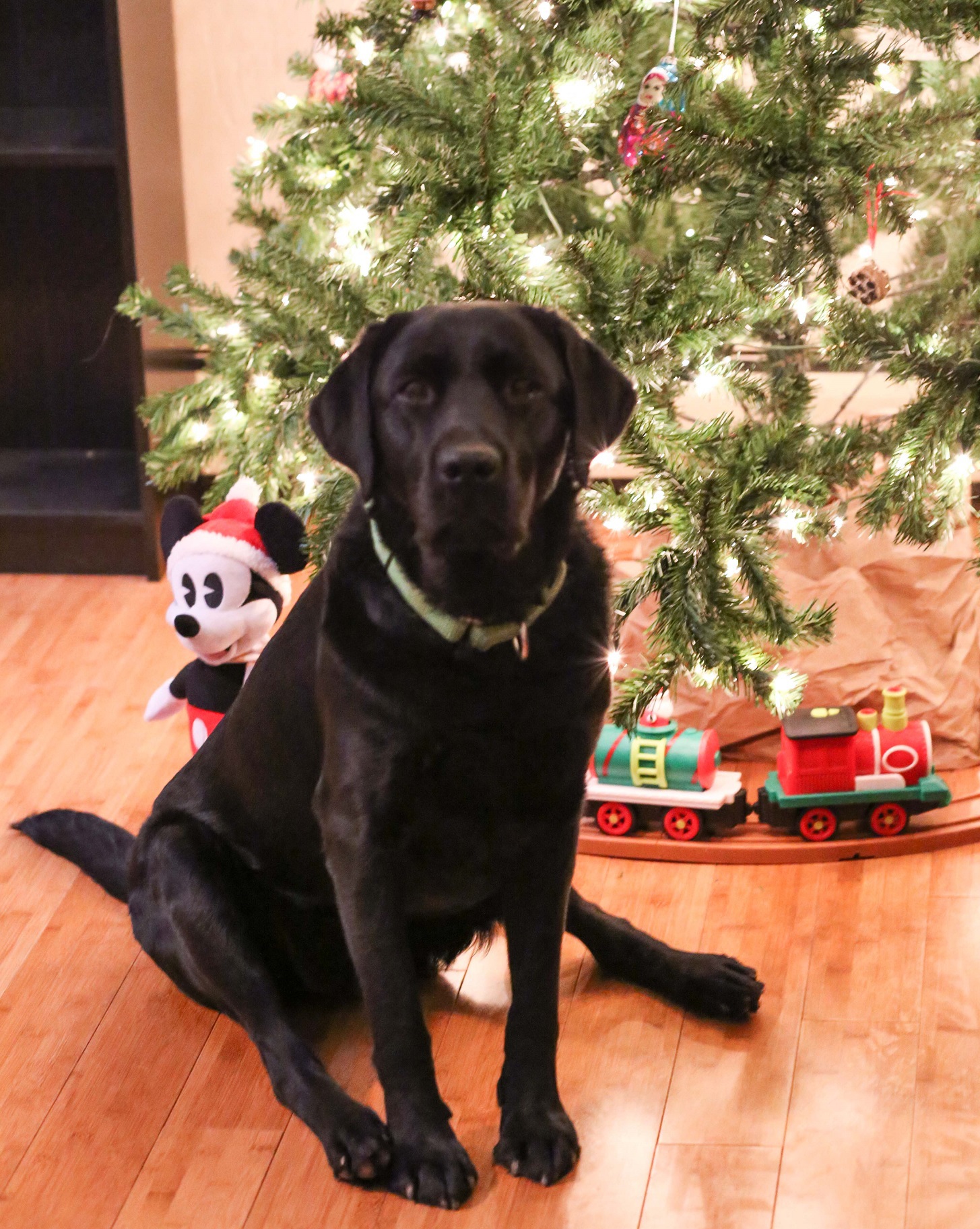 You can also meet some of their exceptional service dogs during public viewing times. Semper K9 wishes to support other organizations at this time of year, as well, so a donation of either canned goods for Prince William Food Rescue or a new, unwrapped toy for Toys for Tots is requested as admission to all other public viewing times.
Bidding will begin online before the gala, but all trees will be auctioned off at the gala on the evening of Nov. 17. Final bids must be made in person. Trees will conveniently be delivered to the winners. Purchase gala tickets through the Semper K9 website to enjoy an evening of holiday décor, live entertainment, door prizes, raffles, heavy hors d'oeuvres and adult beverages all to benefit our veterans.
"The organization's tree that raises the most money will receive a prize, as will the tree with the most votes," said Baity.
Semper K9 is currently selling slots for $25 to secure a spot in the event. Groups will purchase and decorate their own full-size trees and deliver them prior to opening weekend. The organization plans to offer an information session for participants. And if their mission and sense of holiday spirit speaks to you but you're not interested in decorating a tree, there are additional sponsorship opportunities available. For more information visit the Festival of Trees website or email Amanda Baity.