By Jennifer Halter
November is typically the month where we share about all of the things we are thankful for. It's also the perfect time to teach children about the importance of giving back to others through acts of kindness. Here are five ideas for ways you and your family can do some good deeds for others this month … and beyond!
Donate Toys, Books and Clothing
With the holidays coming up, now is the perfect time to purge unused or outgrown items in your home. For
children, this can be toys that they no longer play with or are no longer age-appropriate. Turn giving into a
game by seeing how many toys they can find to give away in 10 minutes. Or, make it fun by challenging  them to find items by color, shape or size. For example, you could say, "Find a toy you no longer play with that is red," or "Find a toy that you no longer play with that has wheels." It can be hard for little ones to part with their things, so making it into a game and explaining why you are donating and who it can benefit may help.
For books, check with local preschools, daycare centers or even churches to see if they are able to use your  items. Search for a Little Free Library nearby to leave your books and possibly find something new. With clothing, make it fun by having a fashion show or pretend you are shopping in a store and need to try on things to make sure they fit. Anything that is too snug or "out of style" (If you have tweens or teens, you
probably know that phrase all too well!), can be given to local shelters, churches or other organizations serving families.
Help a Veteran
In November, we celebrate Veterans Day, so this is a wonderful time to spread kindness to those who have
served our country. Have your family create cards, draw pictures, or write letters and send to VA hospitals. If you have veterans who live in your neighborhood, offer to help them with household chores such as  raking leaves, cleaning gutters or taking their trash can to the curb.
Cooking a big meal? Take a plate to a neighbor who may live alone. Check in with them to see if they need
assistance with running errands or buying groceries.
Give Thanks to Teachers and School Staff
It's been an unprecedented time within our local school system, and teachers, administrators and staff have all put in many hours to ensure that our children have been able to continue to learn this school year. Have your child draw a picture, record a short video or simply send a message to thank their teacher on a Friday afternoon.
If you are able, send a gift card for coffee or pizza. If you have been using the grocery kit distribution program through the school system, remember to thank the food service workers who are braving the weather to do curbside distribution each week.
Pick Up Litter
As more people are using outdoor spaces these days, there may be more trash on the ground and overflowing trashcans. Spend a few minutes walking around your neighborhood or the local park to pick up any litter. For safety, be sure to wear gloves. Avoid high-traffic areas where vehicles may pose a hazard to you or your family. (Leave those areas to the pros!)
Show Kindness Within Your Home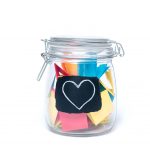 This is one of the most important places to show kindness, as our children are spending more time at home and always look to us, as parents, to teach them how to be good citizens and good to one another.
Create a Jar of Kind Acts for your family. All you need is paper squares or colored popsicle sticks and a jar or other type of container. Write out a variety of different acts of kindness that can be shared within the  family.
Some ideas include: read a story to a sibling, share a favorite toy, clear the dishes from the table, teach someone something new, let someone else go first, play a game together or bring something from outdoors to the indoors, like a flower or colorful leaf, and give it as a gift. A favorite idea is to tell each other three reasons why they are special.
Write out as many ideas as you can on the paper squares or sticks (one idea per piece) and place them in your jar or container. Get into the habit of everyone choosing something to do each day.
Whether you start small or go big, spreading kindness never goes out of style!
Jennifer Halter is publisher of Macaroni Kid Woodbridge and Macaroni Kid Gainesville/Manassas.