Seva, meaning serving a greater purpose, is an important core value of Octo's, which is why we have such a strong corporate social responsibility (CSR) program providing opportunities for employees from all locations and backgrounds to collaborate on activities that make a difference. Octo's CSR program exists to serve vulnerable communities and advance food security, technology education, and health outcomes. Through meaningful engagement, Octo employees align their passion to purposeful opportunities that create community solutions. Whether it's providing technology training to children and young adults, volunteering to support transitioning service members, serving meals to the hungry, or something else, we operate with a service-first mentality.
We're proud of our volunteers and love to encourage everyone to take part, no matter where they are located and no matter what goodwill mission they are drawn to support. In today's Corporate Meets Community column, we're turning the spotlight on Office Manager Josi Brown who volunteers in several capacities.
Josi, thank you for taking time to share your experiences with us! Can you tell us a little about your professional background?
I co-owned a business for 20 years and then switched careers and worked at New Mexico State University. My Octo journey began in 2019 when I moved to Phoenix. I started out as an Executive Assistant and was promoted to Office Manager in May 2020. I've been enjoying my time at Octo in my professional capacity, as a member of the CSR Committee, and as a volunteer.
In what capacity do you volunteer and for what organization(s)?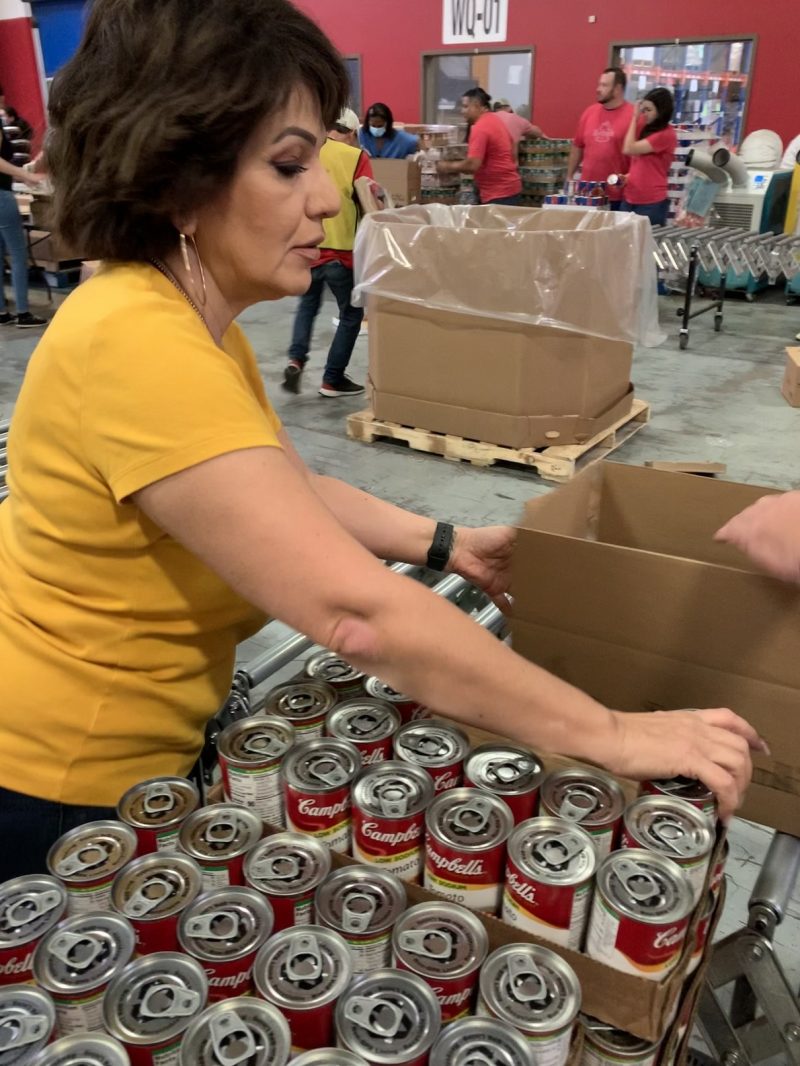 My passion for volunteering was ignited by working in an environment that promoted and encouraged us to participate in events throughout the Phoenix area. The organizations I've volunteered for over the past few years include:
Phoenix Children's Hospital

AZ Friends of Foster Children Foundation

American Cancer Society – Climb to Conquer Cancer

St. Mary's Food Bank

Keep Tempe Beautiful

Operation Gratitude
CSR Manager Vanessa Davis and I also recently became Make-A-Wish Grantors. That has been by far, one of the most rewarding experiences, making a dream come true for a child. We were able to help 15-year-old Santi who is living with Autism and battling Leukemia. Santi's wish was to see a variety of U.S. National Parks. Through the Make-A-Wish America Foundation his family has been gifted a camper and camping supplies. Vanessa and I got to deliver the good news. What a fantastic, moving moment!
What led you to volunteer/serve in the ways you do now?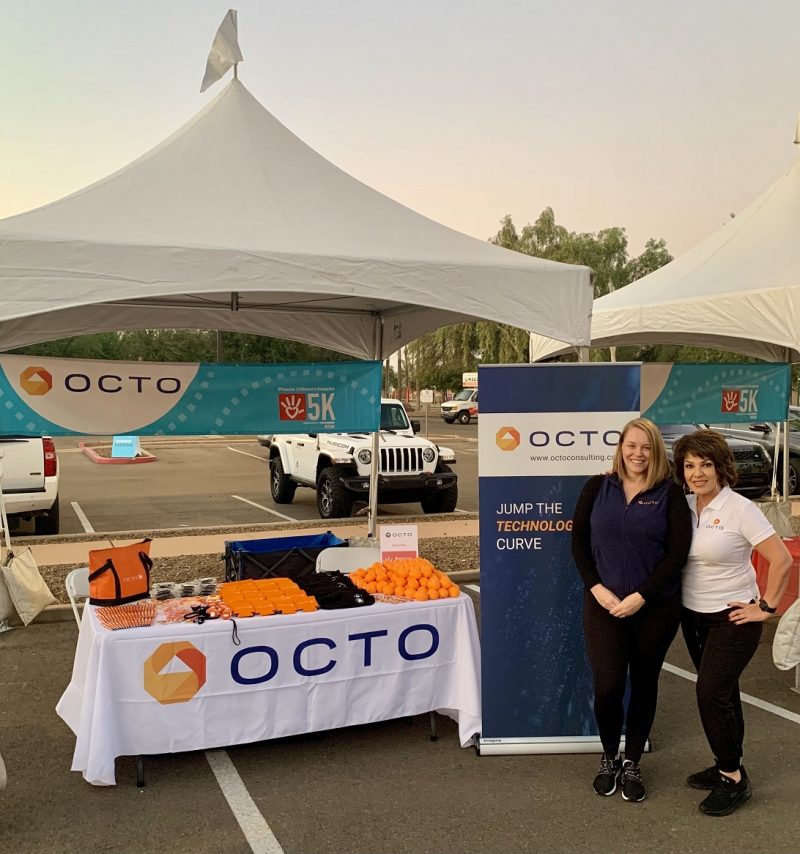 There's always that person you sometimes need to pull you in. For me, Vanessa has been that person. I'm hoping to have the same kind of influence on others.
My first volunteering activity was at St. Mary's Food Bank. After seeing how much of a difference contributing time made, I was hooked. I have truly experienced that the more you give, the more you receive!
What inspires you to keep volunteering even when the going gets tough?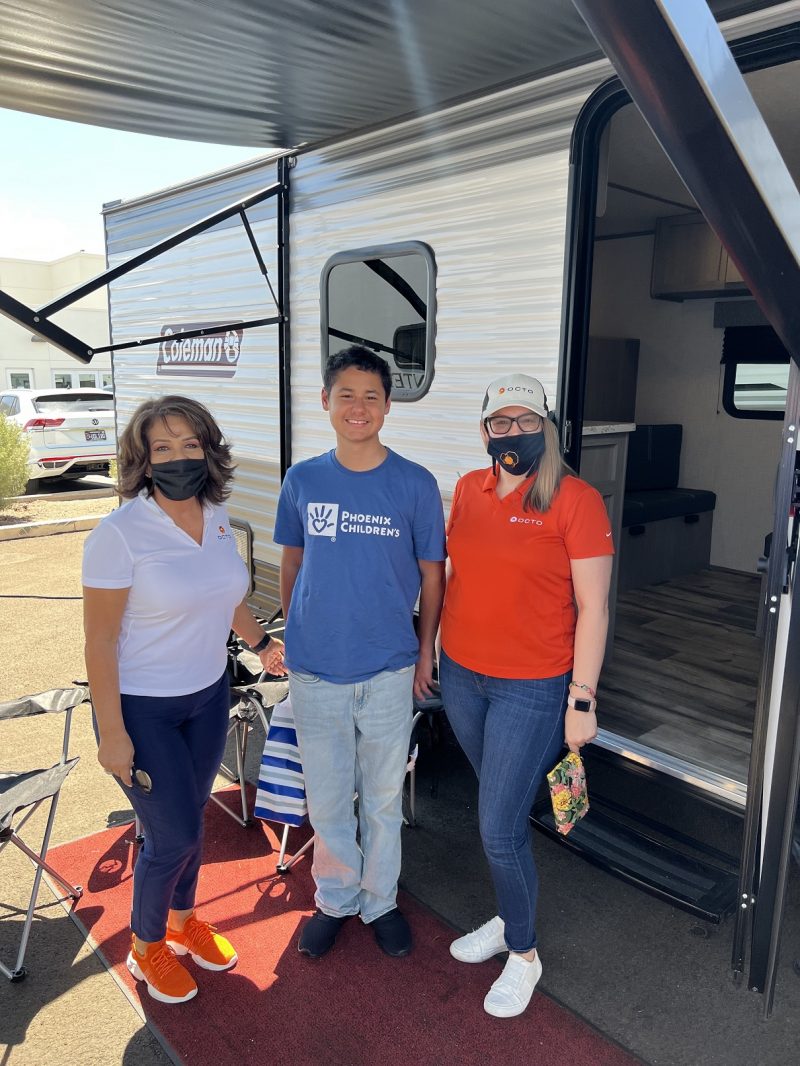 I believe this is a misconception that people have, that somehow volunteering will take up too much time and you'll have to donate money. This is the furthest from the truth. I've spent a minimal amount of time and have not felt like I needed to make any monetary donations. For example, we did a volunteering event in front of a grocery store where we asked customers to purchase a turkey to donate to St. Mary's food bank. I was there for just four hours, and we collected 100 turkeys! On an average, that amounts to $2,500.00. When you put that into perspective, we helped 100 families in under a day's work. And when I saw the event covered on the nightly news, I thought to myself, wow! I was a part of that! There's an amazing feeling you get when you help others. 
How has Octo encouraged your volunteer/giving-back efforts?
It is such a privilege to work for a company that supports so many different organizations. It's fun, easy, and rewarding. Here's just one example. We recently had our Back-to-School volunteer event in Phoenix. We had 12 people who volunteered to help pack 100 backpacks with school supplies which Octo purchased. Because of the contributions and volunteers, we were able to help 100 local foster children. Pretty amazing!
What advice or insight would you provide to anyone at Octo interested in volunteer work? 
Find a partner or a group of friends to volunteer with. Just do it! You make a difference!
Would you like to work for a company that values service to customer and community? Explore Octo's Careers page now. Octo has remote and in-person opportunities for IT and support professionals at every career stage. 
"Corporate Meets Community" is a column highlighting Octo's corporate culture and opportunities.
About Octo
Octo is a technology firm dedicated to solving the Federal Government's most complex challenges, enabling agencies to jump the technology curve. We don't just modernize. We create lasting change through best practices that help agencies implement and integrate at-scale next-generation technology and innovation. With a mission and service first mentality, we provide Agile, DevSecOps, Artificial Intelligence, Cybersecurity, Blockchain, Cloud, and Data Management and Analytics solutions, collaborating to solve customers' pressing problems. Headquartered in Reston, Virginia with offices throughout the United States, Octo delivers proven technology vital to the intelligence community and health care, defense, national security, and civilian agencies that directly impact our nation. Visit octo.us.