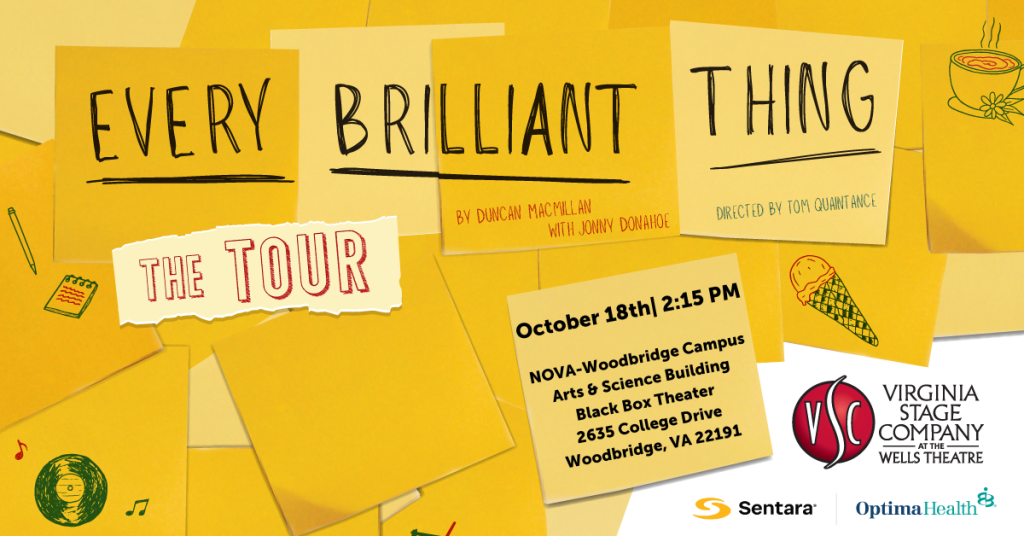 Provided by Sentara Northern Virginia Medical Center
Sentara Health, in collaboration with Northern Virginia Community College, is proud to present the Virginia Stage Company's production of "Every Brilliant Thing" at the college's Woodbridge Campus on Oct. 18, 2023.
Performed by a single actor, this interactive play is part of the ALIVE Mental Health Fair and Suicide Prevention Tour that will include representatives from local support organizations, an exhibit of graffiti art, and the Sentara Family Health Connection Mobile Clinic offering information about behavioral health issues and available resources. The Mental Health Fair and the play are open to the public and are free of charge.
The Mental Health Fair will take place on Wednesday, Oct. 18, 2023, from 11 a.m. to 3 p.m. at the NOVA-Woodbridge Campus, WAS Bldg., First Floor, 2635 College Drive, Woodbridge.
The play "Every Brilliant Thing, will be presented in the Black Box Theater at 2:15 p.m. Tickets for the play are required and are available free of charge using the QR code or link below.
The play blends comedy, improv, and audience interaction to tell one individual's story of growing up in the shadow of their mother's struggle with suicidal depression. Described as surprisingly charming and delightful, "Every Brilliant Thing" provides a life-affirming jolt of humanism, reminding us that hope comes from the miracles of life's minutiae.
Written by Duncan MacMillian with Jonny Donahoe, the production is directed by Tom Quaintance and originally premiered at Virginia Stage Company in 2022. Sentara Health sponsored the original production as well as the current tour that will visit several cities throughout Virginia over the next few months.
"The arts are an important tool for helping people explore issues that can be difficult to discuss and we're proud that we are able to bring this show to communities throughout the state so others can benefit from the play's powerful message of hope and resilience," said Nedra Moncrief-Craig, system director of Sentara Behavioral Health Services.
Jeff Joyner, president of Sentara Northern Virginia Medical Center, added," Sentara is committed to supporting mental health needs of the communities that we serve through education, awareness, and resources. In September we brought this play to the non-profit Youth For Tomorrow in Bristow, and now we are pleased to host it in collaboration with the Northern Virginia Community College whose Woodbridge Campus is a neighbor of ours."
"Every Brilliant Thing" is open to the public and is free of charge.  Tickets are available on a first come, first served basis – make your reservation online here: Every Brilliant Thing Ticket Reservation (Oct. 18, 2:15 p.m., Black Box Theatre) (google.com)
Or use the QR code to reserve tickets.