Like this article? Support us by subscribing here. Your donation will help us continue to provide quality-of-life news and make local impact possible.
By Dominique McIndoe | Photos Provided by Future Kings
Workers in the science, technology, engineering, and mathematics fields are in high demand in the United States, according to a recent report by the U.S. Department of Commerce's Economics and Statistics
Administration. Policymakers have long emphasized the importance of educating school-aged students for STEM-related jobs and predicted by 2022, one million more STEM professionals would be needed to combat the shortage.
Underserved students are at a notably significant disadvantage, and they lag far behind their peers in STEM preparedness. Often this is related to a lack of access to high-quality educational and career-planning opportunities and resources. Though more young people of color are attending colleges and universities than ever before, the efforts to shrink the post-collegiate opportunity gap are still playing catch up.
Creating Pipelines of Talent
Future Kings, a Woodbridge nonprofit formed in 2009, seeks to address and rectify this disparity by serving boys of color from ages 11 to 18 from economically challenged communities through advanced STEM education. Their central mission is to create a pathway for success and a pipeline of young African American and Hispanic men who excel in science, technology, engineering, and/or mathematics to positively influence their communities and be culturally responsible professionals and entrepreneurs.
"Future Kings is so much more than an after-school program," said Dr. Arik King, the Founder and Executive Director. Instead, the organization presents a unique combination of college-level STEM education, mentoring, training, practical experiences, revenue-generating activities, and mastery of 21st-century
technology for the young men. The students are given exams and homework, and every second and fourth Saturday of the month during the school year, the students meet at the Woodbridge campus of Northern Virginia Community College to dive into classes from one of four major concentrations: cybersecurity,
biomedical sciences, custom engineering, and computer game design. In addition, they get to choose which discipline they'd like to participate in.
"As a parent, what was helpful about Future Kings was they didn't just teach the boys about STEM," said Shanika Boyd. Her 16-year-old son, Marselles, has been in the program for over three years. "They teach them leadership skills, finances, and entrepreneurship. Future Kings has provided my son opportunities
that will allow him to get a head start and gain better equity in education."
Marselles's life story is remarkable. He has suffered from eosinophilic esophagitis since birth. He cannot eat food in the traditional way due to an inflamed esophagus. Marselles started in the Future Kings cybersecurity program but switched to the biomedical sciences program soon after. Science is his real
superpower, Boyd explains of her son, and he's taken steps closer to his dream of becoming a research scientist so he can find a cure for EoE.
"I like going to the biomedical program because seeing how we were working on trying to find a cure and testing out different organisms and cells inside of a lab made me think: 'What if I put this knowledge and experience into finding a cure for my disease?'" said Marselles. He'd previously worked on a grant with the
University of Nebraska that tried to find a cure for COVID-19, so he's gotten valuable, hands-on experience in the research science field. "Now, I'm hoping in the near future that I get a chance to help other kids who have my disease too."
Boyd was looking for an organization to teach her sons about STEM and character building. Marselles's older brother, Cameron, was also in Future Kings years before him as a computer game design student. Cameron now studies design at Northern Virginia Community College.
"That's all you could hope and ask for is that your children embrace their challenges and try to find solutions no matter how hard it might seem. That, to me, is why Future Kings is really important to our family."
Building Legacies
As an organization whose objective is to help Black and brown boys grow into successful men, it's only natural that a portion of their instructors be people of color. Those who are not, are not culturally congruent.
"'Culturally congruent' means that the instructors relate to the students as though they had the same background, foundation, and outlook," said Dr. King. "They relate to the boys as if they were their own sons."
The name "Future Kings" is also as it suggests. Dr. King did not name the organization after himself, but he happened upon the title with the help of his colleague from George M. Hampton Middle School, Latoya Hill, née Boone.
"I was telling her what type of organization I wanted to start and why," said Dr. King. "We bounced around different names and couldn't come to an agreement on anything. Then, one day in the hallway, she came to me, and she asked: 'What do you think about the name Future Kings?' As soon as she said it, my eyes lit up,
and that was it. It wasn't until much later when either one of us recognized the coincidence of my last name and the name group."
The "future" in "Future Kings" is fitting. Not only does the organization empower the young men for the future, but they use the past and current achievements of those of African descent to encourage the students in their pursuits.
"The name comes from the idea that the participants we are recruiting come from a legacy of success and achievement," said Dr. King.
Looking at the history of Black people beginning on the African continent, the varied and diverse populations had already been engaged in advanced math, astronomy, architecture, engineering, medicine, and navigation centuries before European influence. Tribes, empires, and kingdoms built wealth, for example, through kings like Mansa Musa and Sundiata Keita. This legacy stretches to modern history, where figures like Dr. Vivien Thomas and Mary Winston Jackson, among many others, built upon the
foundation of Black excellence in 20th- and 21st-century STEM.
Iron Sharpens Iron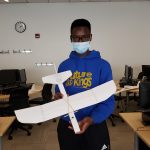 Future Kings is a holistic program, teaching soft skills in addition to technical skills. Networking is often a crucial component of success. Well-renowned individuals who come from underserved upbringings, visit students to provide positive examples of men who look like them and who are successful in the STEM field. Past speakers include Surgeon General of the Army Lt. Gen. R. Scott Dingle, and music industry executive Benny Pough.
Students learn and relate to one another in ways they sometimes can't in school. Some boys love the social interaction of like-minded, goal-oriented peers and are motivated toward success. Others like that the program complements their schoolwork and puts them ahead of the game. These interactions allow students to "rub elbows" and work together toward a common goal.
"If you can surround yourself with the right tools, you'll be able to navigate through some of the challenges you have to face," said Dr. King. "This is what we call the 'engineering process' — the engineering of their adult careers."
Providing this combination of tools for these young men of color is as important as ever. The number of unmotivated boys and underperforming young men in schools across ethnic backgrounds increases yearly nationwide several studies cite women outnumber men in college, and school-aged girls outperform boys in most subjects on average, e.g.). Future Kings takes this crisis head-on by empowering them in and out of school.
Embracing the Unconventional
The typical Future Kings students aren't the perfect A students or the disruptive F students. Instead, they're the young men who know they want to be somebody in life and accomplish great things; they need push and direction.
"The 'requirements' that we have [per se]are that the students be motivated and coachable," said Dr. King. "Our interview process is not necessarily designed just to accept the best and the brightest. It's designed to find out: 'Is this the type of boy who can benefit from what it is we're trying to do?'"
Queens of STEM — formerly known as STEM for Girls— is a separate Future Kings initiative that provides the same education, skill-building, and opportunities for young girls of color ages 11 to 18. According to ACT it's no secret that there is a gender disparity in STEM, and females generally fall behind males in STEM-related attainment. Although women make up nearly half of the U.S. workforce and half of the college-educated workforce, they hold fewer than 25% of U.S. STEM jobs. Future Kings' initiative stresses to girls of color that STEM is also possible for them; they too can excel in these fields when given the opportunities and tools to apply themselves.
The Future for Future Kings
Since their first official meeting with the initial group of young men in 2010, over 500 students have successfully graduated from Future Kings. Dr. King largely credits the early success and mobilization of the nonprofit to his colleagues, namely retired army colonel Clarence Miller and Dexter Cummings. They
contributed time, money, resources, and contacts to help propel Future Kings to its current status as an educational haven for boys of color. Their goal is to deliver even more STEM majors to colleges and universities through their program moving forward.
As a nonprofit, donations and fundraising through events, individuals, and organizations keep them going.
"The most important thing I've learned in my experience was that regardless of what you do in life, how much you fail or how much you succeed, you can always learn something and always do more," said Marselles. He is currently interning with a black-owned app company cofounded by rapper Soulja Boy.
Boyd and her family are profoundly grateful for Future Kings.
"I think that every child, not just those interested in STEM, would benefit from a program like Future Kings… They don't just teach the valuable skills needed to be successful. They teach them how to be productive citizens, give back, and have a heart of service instead of a heart of gain. They get to do so much and walk away with so much. It has been priceless, and [my sons]can take these skills and carry it on with them to be successful for the rest of their lives."
To sign up your children, volunteer as an instructor, donate, or find out more about Future Kings, visit future-kings.org or contact Dr. King directly at arik@future-kings.org.
Dominique McIndoe (mcindoe@princewilliamliving.com) is an assistant editor at Rowman & Littlefield and a longtime writer.