Sponsored by Sentara Northern Virginia Medical Center
Stephen Carter-Hicks is used to being the center of attention. As a professionally trained theatrical singer and actor on Broadway, he mesmerized audiences as "Old Deuteronomy" in the iconic musical "Cats." He then took his talents to Las Vegas to perform in Cirque de Soleil.
As the years went on, Stephen, who stands 6'3", started to have more and more issues with his weight. "I was doing these 1000 calorie diets and nothing would happen. I would gain fluid and I would blow up like the Michelin tire guy. It was awful. I thought, 'What is wrong with me? I'm not eating anything and I'm gaining weight.'"
Those extra pounds started to affect his performance. It was during that period he started to explore the idea of weight loss surgery.
"About 15 years ago, a cast mate had gastric bypass. She suggested I try it because I was at one of my top weights; I was at 450-460. I was miserable," remembers Stephen. "I started researching and went to a seminar in Las Vegas. The doctor told me I wasn't a good candidate because I was too heavy."
Stephen left the seminar frustrated, "That doctor said before he did the procedure on me I would have to lose at least 50 pounds. If I could do that on my own, I wouldn't need surgery."
As the years progressed, Stephen kept the idea of weight loss surgery in the back of his mind. After countless diets, which never seemed to work for long, he sought professional help. It was there he first learned he suffered from a condition that not only affected his breathing, but his weight. "I went to the cardiologist in Las Vegas. I discovered that I not only have AFib, but I also have a very rare lung disease called "PAH" or Pulmonary Arterial Hypertension."
"PAH" is when the pressure is too high inside the blood vessels in the lungs. The blood doesn't move freely through the arteries in the lungs, forcing the heart to work harder. Symptoms include shortness of breath, chest pains, fatigue and swelling in the legs, hands and stomach. It was something Stephen had been dealing with for years.
The diagnosis ultimately took him out of the performing world and brought him home to Northern Virginia.
"You have no idea how much pain I was in physically, how difficult it was to get to the bedroom, to the bathroom."
It was his new doctor who offered him hope and referred him to board certified weight loss surgeon, Dr. Masoud Rezvani.
"I believe there's no mistake God led me to the perfect person at the right time. Dr. Rezvani came in and went through every possible procedure and every possible side effect. He was so thorough and amazing with me," remembers Stephen of that first meeting.
Instead of being told no, like he had in the past, Dr. Rezvani was willing to take on Stephen's case. Stephen committed himself to following the pre-surgical instructions, "I followed every detail they gave me. I stuck to the course. I went through six months of nutritional classes; I took really great notes. Because I knew that if I didn't do this, I was dead."
On June 19, 2018, after decades of waiting, Stephen Carter-Hicks had gastric bypass surgery at the Sentara Weight Loss Surgery Center. "I trusted Dr. Rezvani; he made me feel so safe and so comfortable," says Stephen, "From the moment you walk through that door to the people who greet you and take care of you, to the nurses to all the people involved in this process, all of them spoke to me in a such a beautiful, caring way. They were lovely."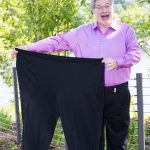 A year after getting the gastric sleeve, Stephen has gone from his pre-surgery weight of 483 pounds to 262 pounds. That's 46% total body weight loss, "It changed my life dramatically. I can walk, get in a car, and be nowhere near the steering wheel. I can see things I've never seen before.  The weight has melted off like butter."
Stephen's health has improved. His A1C is at a healthy level and he no longer takes diabetes medicine, and he's now only required to take one of his five heart medicines.
Stephen recommends weight loss surgery to everyone, "Do not hesitate. Don't let anyone tell you can't do this or this is the easy way out, because this isn't easy, and they're not walking in your shoes. They don't know the struggles that you've gone through, the ways you have tried to lose weight and can't. This is going to save your life."
Now, Stephen is opening another chapter in his life. While he's not able to perform like he once did, he has taken his lifelong love of music and has become a composer.
"I'm blessed. I'm so lucky to have the team of surgeons I have. I can't stress enough, I tell everybody, just do this."
Surgery isn't for everyone. To learn if you qualify, visit sentaranova.com/wl, where you can watch our informational videos to discover if weight loss surgery is right for you. Contact the Sentara Weight Loss Surgery Center Bariatric Program Coordinator at 703-523-1196 to ask your questions and sign up to attend our free Weight Loss Surgery Seminar on July 13.