Giving back to the community. It's more than a workplace trend – it's a value. According to America's Charities, 71% of surveyed employees say it is imperative or very important to work where culture is supportive of giving and volunteering. Octo knows this, which is why our Corporate Social Responsibility (CSR) program offers a plethora of ways for employees to volunteer and encourages staff to pursue their passion when it comes to lending a helping hand. No matter where our employees are based, they are making a difference in the communities where we have a presence.
This week, we're interviewing Marianne Moore, Director of Business Processes and a knowledge management expert at Octo. Marianne goes the extra mile – literally – by volunteering for Meals on Wheels.
Marianne, thank you for taking the time to discuss your volunteer work. Can you start by telling us a little about your professional background?
What we know as an organization is our greatest asset. Octo understands this, which is why I'm working to implement knowledge management tools, resources, and behaviors so we're using our collective knowledge to our advantage and the advantage of our customers.
I started my career by joining an advertising and marketing software start-up as the fourth employee and first account/client service manager. It was a lot of work requiring many hours, but it was also a great adventure and amazing learning experience. I spent seven years there and left as director of client service. I then moved to a large professional services firm as a special projects manager, working with internal groups. Eventually I landed on the knowledge management team where I started as a knowledge manager and ended eight years later as a global knowledge leader with a team of 25. I've been in knowledge management for over 15 years now, and I've really enjoyed it. And I'm enjoying applying at Octo what I've learned over the years.
What kind of volunteer work do you do, and when did you start?
Since September 2018, I've volunteered for Westlake Meals on Wheels in Ohio, helping out homebound people in and around my neighborhood. Every Wednesday I deliver two meals (one hot and one cold) to 10-12 folks who participate in the program. In addition to delivering the meals, I check in to make sure everyone is doing okay. I provide friendship and conversation.
What led you to volunteer/serve in the way you do now?
I believe everyone should be actively giving back if they are able. When I started working from home, I gained some commuting time back and wanted to spend that time in a valuable way. Volunteering for Meals on Wheels was just the thing. It's only one lunch hour a week, yet it makes such a difference in the lives of the people receiving services.
How has Octo encouraged your volunteer/giving-back efforts?
Octo is so supportive of giving back to the community and to our veterans – so much so that I want to add more volunteer hours and get more people involved. It's incredibly rewarding and allows me to spend part of my day serving my community. It is a win-win that I really appreciate.
What inspires you to keep volunteering even when the going gets tough?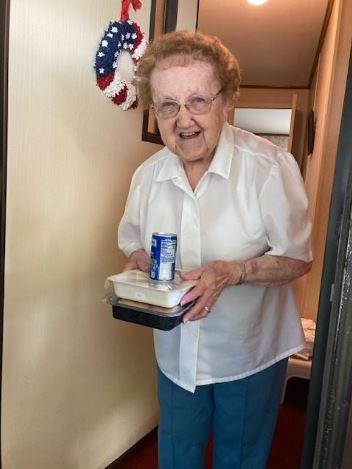 The Meals on Wheels clients and my fellow volunteers inspire me.
Our clients are typically homebound and live alone, so they rely on the meals to keep them healthy, strong, and living in their homes for as long as possible. They're such lovely and interesting people. Many of them have become good friends. I hope that when I'm in their position, that someone is looking out for me.
The other volunteers are so inspiring as well, from the chefs to the person who brings the meals for me to deliver. They have all given up their time to help others, and they do it with lots of love and positive energy.
There are life lessons to be learned by doing this, too. My 9-year-old son comes with me on my route whenever he is able.  It's become just a regular part of our life, and that's how I want it to be. I want my son to always think of others and to always have an element of giving back in his life. He really enjoys it, and the clients look forward to his visits so much.  We've made new friends from Meals on Wheels.
What advice or insight would you provide to anyone at Octo interested in volunteer work? 
Do it! There's so much need out there. Lending a hand is easy and so appreciated.
"Corporate Meets Community" is a column highlighting Octo's corporate culture and opportunities.
About Octo
Octo is a technology firm dedicated to solving the Federal Government's most complex challenges, enabling agencies to jump the technology curve. We don't just modernize. We create lasting change through best practices that help agencies implement and integrate at-scale next-generation technology and innovation. With a mission and service first mentality, we provide Agile, DevSecOps, Artificial Intelligence, Cybersecurity, Blockchain, Cloud, and Data Management and Analytics solutions, collaborating to solve customers' pressing problems. Headquartered in Reston, Virginia with offices throughout the United States, Octo delivers proven technology vital to the intelligence community and health care, defense, national security, and civilian agencies that directly impact our nation. Visit octo.us.