By Amy Falkofske | Photos Provided by PWC Parks
On Dec. 14, 2019, Prince William County Parks, Recreation & Tourism held a ribbon cutting for GRŌ-A Natural Education Space at its newest location, Locust Shade Park in Triangle, Virginia. GRŌ at Locust Shade Park serves elementary-aged kids enrolled in either public school or homeschool programs. The original GRŌ program at James S. Long Park in Haymarket serves preschool-aged children.
Both GRŌ programs "give children the opportunity to connect with, explore and learn through interaction with the natural world, harnessing the physical, emotional, social and academic benefits associated with outdoor play," said Dianne Wahl, PWC Parks, Recreation & Tourism spokesperson. "Parents, guardians or teachers can schedule tours of the facility," she said.
GRŌ at Locust Shade Park encompasses both the Science in the Park and the Scout programs. Science in the Park uses the park as an outdoor classroom to complement the Virginia SOL science curriculum. "Elementary school teachers and homeschool groups will find Science in the Park a valuable enhancement to classroom instruction," said Wahl.
Science in the Park is also available at Lake Ridge Park, Silver Lake Park in Haymarket and Veteran's Park in Woodbridge. It is the newest amenity at Locust Shade Park and was made possible by a former member of the Board of Supervisors, Maureen Caddigan. Caddigan helped fund the renovation of an old storage
building in the park to be used for this purpose.
Science in the Park and Scouting
Speaking about the Science in the Park program, Deputy Director of PWC Parks, Recreation & Tourism Tracy Hannigan said, "The Science in the Park program has grown significantly for us in the last five years, especially since we've tied it in with matching what the school SOL science goals are. By the time this school year is over, we'll have had 7,000 kids come out to the parks and get their hands dirty in terms of respecting the environment and learning about water and animals."
The Scout programs "offer an expansive Scouting Program that's run year-round," said Wahl. Trained BSA-certified counselors provide Cub Scouts the opportunity to earn rank advancements and Boy Scouts the opportunity to earn merit badges, according to Wahl. Girl Scout badges are offered as well. All Girl Scout
badges meet the GSUSA requirements. The program will also take a Girl Scout all the way through to completion of the Take Action Project.
Nature, Sports and the Arts
Though GRŌ is not open to the general public, there are plenty of other outdoor activities for everyone. Whether you are into sports, nature or the arts, "There really are a lot of different amenities in this one park location," said Hannigan.
Five miles of trails are included in the 295 acres of land in the Potomac District that makes up Locust Shade Park. Hannigan said the park offers "exercise without having to go to the gym." "We like to say, there's no Wi-Fi in the forest, but it's the best connection you'll have," she said.
She also spoke of the benefit of the park's vast amount of green space to kids. One of her favorite phrases is, "We need to get young people off the screen and into the green." She said this often applies to adults as well.
The park also includes a batting cage, which Hannigan said can be used by individuals on a pay-as-you-go basis or rented out by sports teams. She said the batting cage is popular with little league teams. If baseball isn't your thing, you can take advantage of the golf driving range or the mini golf course.
For the arts-minded, there is the 400-seat Jean C. Smith Amphitheater, which Hannigan refers to as "Little Wolftrap" because it also has a stage, event seating and lawn seating. It's available to rent and also features live performances from April through September. Check out PWC Parks, Recreation & Tourism's Leisure
magazine (in print or online) for dates and times of future shows.
Popular shows at the amphitheater are Reptile World for the kids and Acoustic Night for the adults.
Playgrounds and Fishing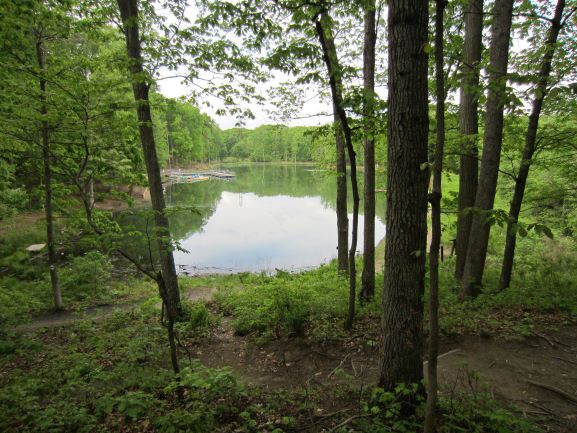 The park features three playgrounds for kids of all ages and eight picnic pavilions, which Hannigan noted are very popular. The pavilions are great for groups of 25 and larger groups up to 300. Fishing is very popular at Locust Shade Park. There is an 8-acre man-made lake that is stocked by the Department of Game and Inland Fisheries. In addition to the regular retirees who come out with their poles, Hannigan said that it's popular with families with little ones, too, when it's recently been stocked. "It's usually a good time to come down with the little ones, so they can generally come away with a fish," she said.
The lake is also a good place for boating, and you can rent kayaks and canoes.
A Gem in Prince William
Locust Shade Park is one of the county's 70 parks and part of its 4,400 acres of parkland. "Locust Shade is an experience, and it's something that everybody should visit, and it's one of many gems of parkland that we have," said Hannigan.
She pointed out that what makes this park stand out is the diversity of the amenities it offers. "You could bring the whole family and everybody would have something that's of interest to them," she said.
Amy Falkofske is a freelance writer and photographer. She has a Master's degree in Film-TV with a concentration in screenwriting. She lives in Bristow with her husband, two boys and two Beagle dogs