By Jane Fullerton Lemons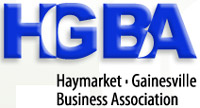 What began as a grassroots effort nearly 30 years ago has grown into the premier association supporting business and community involvement in the Haymarket and Gainesville areas.
The Haymarket Gainesville Business Association (HGBA) advocates for local businesses by providing networking opportunities, sharing relevant information and promoting collaboration. The result is an organization of business people who are driven to be successful as well as support the larger community.
"We offer a forum for information sharing, and we promote community projects that positively impact businesses and residents," said Terri Aufmuth, HGBA's immediate past president and the owner of Cornerstone Landscaping.
Reflecting the Region's Growth
The history of the HGBA mirrors the history of the area it represents – following the ups and downs of development to become a key crossroads in a thriving region.
The town of Haymarket dates to 1799, when it was chartered by the Virginia General Assembly. A half-century later, the Manassas Gap Railroad reached the nearby area with a stop that became known as Gainesville in 1852.
After the Civil War ended, the area set about recovering, slowly regaining its former size and prosperity. Haymarket was incorporated in 1882, and Gainesville thrived as a shipping point for grain, timber and cattle into the 1960s.
The HGBA was established in 1990 when local professionals and business owners recognized the area's potential for growth, which was underscored in 1994 when ground was broken for Gainesville's first townhouse community.
"It was a real small grassroots effort," said Aufmuth, who was involved with the original organization.
After a couple of years, those early efforts receded. But Northern Virginia continued to grow, with an explosion of commerce, home building and recreational amenities.
To meet that need, the HGBA reorganized in 2007, and its expansion has reflected that of the Haymarket and Gainesville areas.
"With the growth of the residential market and the business market, we decided to form this association for the local businesses and also the community," Aufmuth said. "A big part of it was making sure that the HGBA was a community member as well as a business association."
Networking Opportunities
The HGBA currently has about 235 members, representing a wide swath of the local business community. "We've almost doubled our membership in six years," Aufmuth said. Members include all kinds of businesses from restaurants, realtors, and retail to home improvement, travel planning and health care, and both professional and trade services. Many members are self-employed and don't have a brick-and-mortar location, but according to Aufmuth, still need an organization to represent them.
While the HGBA supports businesses in the Gainesville-Haymarket area, it also has a regional ripple effect via enterprises from other areas that support Gainesville and Haymarket businesses and residents. That means it has members from places such as Warrenton, Centreville and Fairfax, who serve clients in the Prince William County area.
Fostering those business relationships is the HGBA's mission, said Aufmuth, "We want to support them and make sure that they're heard and they're known and they're recognized."
That recognition holds true at meetings, too, where members have the opportunity to network. The group meets on the third Tuesday of every month, from 4-6 p.m., with the location rotating among members.
"We give everybody the opportunity to introduce themselves, so you get to see who's in the room," Aufmuth said. "You get to learn about who's there to network and learn more about other local businesses."
The group also regularly partners with the Prince William and Fauquier chambers of commerce. In addition, it sponsors quarterly educational events at Eclipse Restaurant, Bar & Billiards in Gainesville.
"We invite our membership to come and learn during lunchtime panels," Aufmuth said. "We call it bite-sized business tips."
Information about upcoming meetings and events can be found at the HGBA website, its Facebook page and on Meetup.
The organization has introduced a new HGBA mobile app for phones and tablets with features for members and area residents. It allows users to find member businesses, learn about special discount
offers, and be notified about networking meetings and local events. It's available from the Apple App Store or Google Play.
Where Business Meets Community
From the beginning, the HGBA also has supported nonprofit organizations in the area. Representatives from local nonprofits have the opportunity to speak at the monthly meetings and join the association at a reduced cost.
"We try and promote all the things that they're doing in our community because our tagline is: Where Business Meets Community," Aufmuth said. "We're trying to live true to that."
The organization sponsors a scholarship for Battlefield High School graduates. Members also take part in civic events, such as the City of Manassas Park's Preparedness Fair, set for Sept. 21.
In addition to meetings and events, HGBA members also participate in the annual Haymarket Day festivities, handing out more than 1,000 shopping bags with information and coupons from members during the parade. This year's event is scheduled for Oct. 19.
The HGBA is an all-volunteer organization run by active business owners and professionals.
The current board consists of president Doug Burum of Danaher Skewes & Associates, vice president Deborah Jewell of GFWC Dominion Woman's Club, treasurer Bob Moe of Moe Technologies Inc., and secretary Dennis Taylor of Paradigm Solutions.
Other board members are Jason Knight of Schoolcraft Insurance Agency, Deborah Trnka of Edward Jones, Joe Turpin of New Media Horizons LLC, Asha Sedalia Bruot of ASHA Public Relations LLC, Jason Shriner of City of Manassas Park Department of Parks and Recreation, Dianne Lemanski of Keller Williams Realty, Robert McGlothlin of Avery Hess Realtors, and Shalini Kapur of United Bank.
Aufmuth's tenure as president ended in June after four years at HGBA's helm.
"It's really bittersweet because it's been one of the most amazing things for me," she said. "I've really grown as a professional and as a person, and I learned a lot about dealing with nonprofits by being involved with the HGBA."
To learn more about the HGBA, visit the organization's website at hgba.biz.
Jane Fullerton Lemons (jlemons@princewilliamliving.com) is a freelance writer and journalist. A longtime resident of Prince William County, she holds an MFA from Goucher College. Follow her work at janefullertonlemons.com and on Instagram.