Provided by City of Manassas
Manassas Bee Festival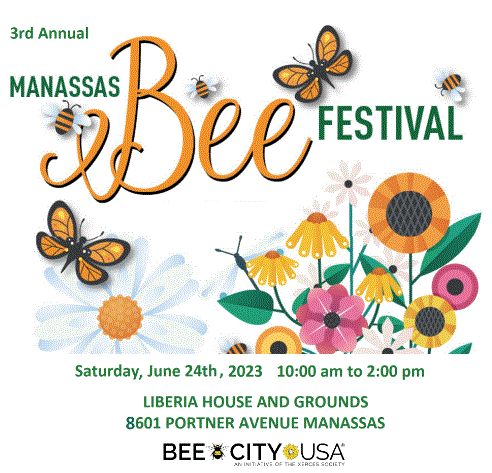 Get buzzing at the third annual
Manassas Bee Festival
June 24, 10:00 a.m. to 2:00 p.m. on the grounds of historic 19th century
Liberia House
, which will be open for self-guided tours.
Attendees are encouraged to dress like a pollinator and join the costume parade! This family-fun event offers live music, vendors, local honey, bee hives plus native bee houses, plant experts, farm animals, food trucks, mead garden, bounce house, games, and crafts.
Manassas is the first city in Northern Virginia to receive the 
Bee City USA®
 designation, bringing awareness to plant native, and save declining pollinators.
Manassas Mayor Michelle Davis-Younger added, "The City could not be more happy with the 3rd annual Bee Festival at Liberia House and Grounds. This event has helped to create a culture of awareness for our natural surroundings in our lovely City."
Parks, Culture & Recreation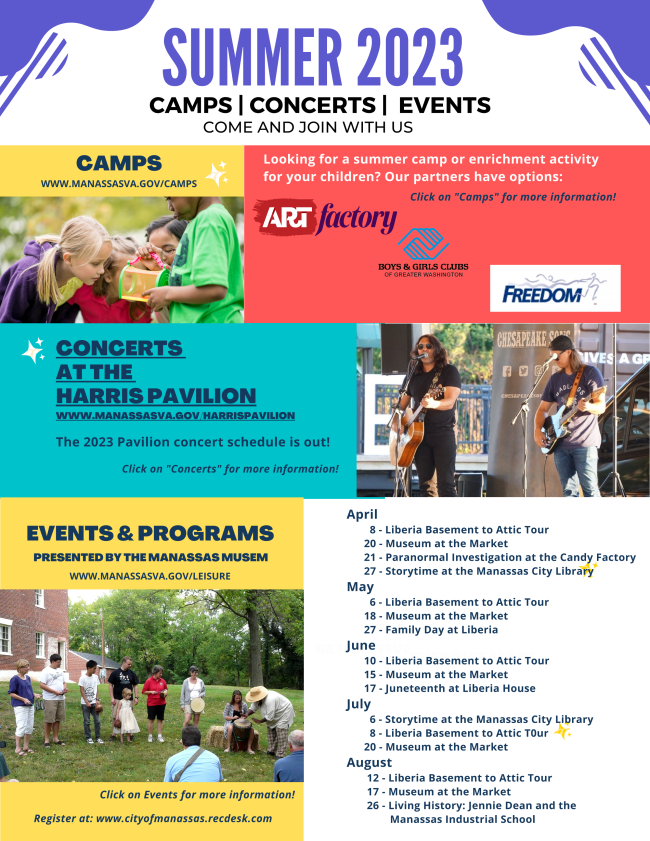 It's summer. Time to schedule some fun!
Click here for program registration and more info on the City's Parks, Culture & Recreation + Community Calendar.
Hints of History
School's out. But history's in.
Osbourn High School's roots go back to the present site of the Manassas Museum. That's because in 1890 Frances "Fannie" Osbourn moved a private school that she had opened to the Isaac Baldwin House, which was on the grounds of today's Manassas Museum. Her younger sister, Eugenia Osbourn, moved from Maryland to Manassas to assist Fannie in teaching at the school.
Over the years, the local school system underwent several changes and additional structures were built, including Manassas Industrial School for Colored Youth, which opened in 1894, founded by Jennie Dean. Buildings that were part of this private, residential institution no longer stand, but today, the grounds include interpretive signage and the 
Jennie Dean Memorial
.
Fast-forward to the early 20th century, and a new brick high school on Lee Avenue opened in 1928; it was called Manassas High School. A decade later in 1939, that school was renamed Osbourn High School in honor of the two sisters; in 1982, this brick structure was torn down.
To ease overcrowding, a new Osbourn High School building was built in 1953 on Tudor Lane replacing the earlier one on Lee Avenue. (The photo above dated June 19, 1953, shows the school's construction and the photo below is of the 1953 yearbook.) Schools desegregated in 1966, eliminating the separate school systems.
In 1975, Manassas was incorporated as an independent city separate from Prince William County, so the new City of Manassas established its own school system. In the fall of 1977, the building at 9005 Tudor Lane opened as
Osbourn High School
. The eagle was chosen as the mascot, and today, the official address incorporates the 1977 year of the school's opening – plus the mascot name: 1977 Eagle Way.
Like the eagle, Manassas students continue to soar – thanks to two Osbourn sisters who paved the way.
.