By Erin Pittman
We are now well into our stay-at-home orders. Have you finished that knitted blanket? Has your to-read pile of books shrunk down to nothing? And are you so tired of walking or biking that same loop in your neighborhood that you see yourself going round and round it in your dreams?
It is time to shake up your routine a bit. Plan a (social distancing-appropriate) outing to take in some of the 42 miles of trails managed by the Prince William County Department of Parks and Recreation. And if you take into account the state and federal trails in Prince William, you're left with more than 100 miles of trails to explore. Here are a few to get you started on your local hiking and biking adventures. (Be sure to check
with individual parks before visiting to determine changes in operations due to COVID-19.)
Conway-Robinson Memorial State Park
dof.virginia.gov/stateforest/list/conway-robinson.htm
This beautiful 444-acre state park located right here in Prince William offers 5.1 miles of trails for biking, hiking and horseback riding. Trail difficulty ranges from beginners on up to the more advanced. Visit Conway-Robinson at Heathcote Boulevard and U.S. Route 29, adjacent to Manassas National
Battlefield.
Leesylvania State Park
dcr.virginia.gov/state-parks/leesylvania
Leesylvania State Park is located in the southeast corner of Prince William in Woodbridge. This 556-acre park is home to 8 miles of trails, many of which run along the beautiful Potomac River. Take a break and take in the water views as you stroll or cycle.
Locust Shade Park
pwcgov.org/government/dept/park/locustshade
You'll find Locust Shade Park located next to the Marine Corps Heritage Museum. This Prince William park provides 3.2 miles of scenic trails, and like Leesylvania, visitors can take in soothing water views. Who doesn't need a little stress relief during these times? Being around a beautiful body of water can provide just that.
Prince William Forest Park
nps.gov/prwi
This national park is home to more than 12 miles of paved trails, 9.2 miles of gravel and dirt roads for cyclists and 37 miles of trails for hikers. Each has varying conditions to make your ride or hike challenging and fun. Within the park, visitors will find a multitude of paths to follow including:
Scenic Drive – Steep grades and blind curves make this most suitable to the experienced cyclist.
Burma Road – This is a difficult crushed-rock trail for the experienced cyclist.
Lake One Road – This easier crushed-rock course is 1 1/2 miles and well-suited for beginner cyclists.
Old Blacktop Road – This 1 1/2-mile one-way trail is a great next step up from Lake One Road.
Birch Bluff Trail – This easy-to-moderate hiking trail is 1.8 miles long and follows along the creek.
 The Crossing Trail – This half-mile hiking trail is a nice and easy stroll featuring a number of historical features.
North Valley Trail – Follow along Quantico Creek on this 2.8-mile trail that features beautiful small waterfall views.
Visit the park's website for a complete listing of all trails throughout the park.
Silver Lake Regional Park
pwcgov.org/government/dept/park/silverlake
Silver Lake Regional Park provides visitors with 4 miles of multipurpose trails for hikers and equestrians. This beautiful 230-acre park in Haymarket features rolling meadows, pine forests and a 23-acre lake with tranquil views.
Stay Safe As You Hike and Bike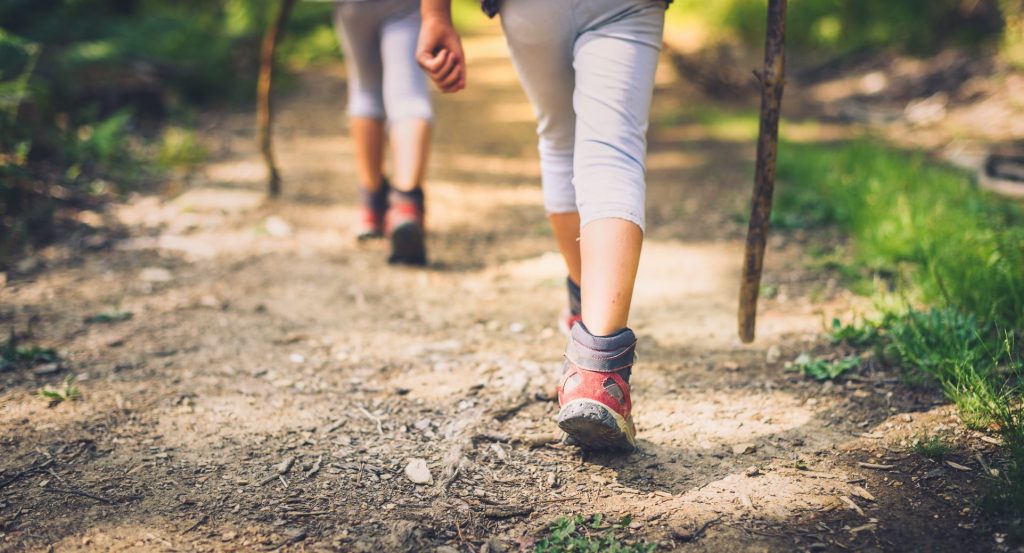 While parks are open, it's important to practice proper social distancing and take needed precautions to keep yourself and your loved ones safe. Keep these things in mind before heading out to a Prince William park:
Stay home if you are sick.
Do not congregate with other people while out in the parks.
Maintain 6 feet of distance between you and other people at all times.
Avoid touching any shared surfaces. Remember that picnic areas and playgrounds are closed.
Take all trash with you when you leave.
If you're heading out on a bicycle, remember to:

Wear a helmet at all times.
Bring plenty of water with you.
Check your brakes and tire pressure before you leave.
Search online for park maps before you head out.
Yield to hikers.
Visit emergency.pwcgov.org for the latest information on the availability of Prince William parks and included facilities. Individual park websites may include additional COVID-19 information specific to each park.
Mixing up your hiking and cycling locations can help beat the stay-at-home-order blues and allow you to enjoy some of Prince William's natural beauty. Happy trails.
Erin Pittman has been a writer for 10 years, but a lover of words her entire life. Her work is published in local magazines and on local and national blogs. Contact Erin at epittman@princewilliamliving.com.